Musalman, a Chennai based newspaper is surviving the rush of digitisation and is hand-written every day, writes Alice Sharma
In a world that is obsessed with digitisation, this is a quaint story of nostalgic resistance where an 88-year-old newspaper in Chennai survives because its editor, Syed Arifullah, wants to keep his grandfather's dream alive. An MBA in marketing, Arifullah took over as the editor in 2008 after his father passed away.
In 1927, Syed Azathulla started the Urdu newspaper Musalman, the four page daily has managed to retain its old style despite the availability of modern printing. With a staff of just seven people, three calligraphers, three reporters and an editor, the newspaper caters to its 23,000 subscribers across India. It is also available at newsstands for a meagre 75 paise.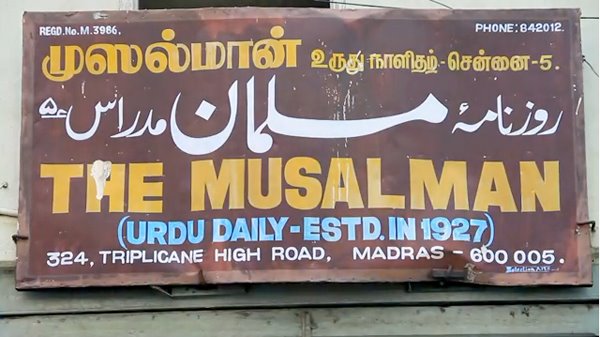 It is made up of four crafted pages. The front page carries local and national news. Page two has international news and editorials. The third page gas quotes from the Qu'ran and the last page usually has advertisements, the newspaper gets enough of these to sustain itself. Since taking over, Arifullah has focused on improving the paper without taking away its essence. And while many have urged him to digitise, he feels that the newspaper will lose its unique charm if it does.
Although he does have a computer installed in his office, it is mostly used for advertisements and feedback only. The newspaper is still completely handwritten. It takes its katibs (calligraphers) two-three hours to complete one page with quill and ink. If something goes wrong, they have to re-do the page. Although mistakes are rare because the staff is experienced and has been working at the Musalman for long (30-35 years) after the writing is completed, negatives are made from the handwritten pages and pressed onto printing plates.
This is surely a dying art when we prefer moving our fingers on the keyboard rather than on ink. In the chorus cries of 'Print is dying' Musalman stands out.