sbcltr caught up with Chinmayi Tripathi to understand the process behind Music & Poetry Project 
Twenty-seven-year-old, singer and songwriter, Chinmayi Tripathi grew up in Sagar, a small town in Madhya Pradesh. It was here that she trained in Hindustani classical music till the end of high school at the behest of her parents. They were both literature teachers (Sanskrit and Hindi) and encouraged her to train once they realised she could sing. "But I wasn't very sure what I wanted to do with my life, so I carried on with my academics."
Arts and literature featured quite prominently in her childhood home, "our house was full of books," she says. Therefore it was no surprise that while in college, she was drawn to writing and composing her own songs. "I released my first song , Aali, around  5 yrs ago on myspace.com and got some really interesting comments and response. That motivated me to write more music .Then I formed a band called, Spice Route and since then have been regularly performing and creating new music."
Tripathi was recently been in the news for using crowdfunding to combine Indian poetry with music in order to launch, Music & Poetry Project, to popularise Hindi poems through music. sbcltr caught up with her to understand the logistics involved in launching such an ambitious project, her process and the journey so far.
Read excerpts below.
Your project is very interesting, how did you come up with the idea of combining music and poetry?
It was last summer, and I was chilling with my friends in Cyber Hub, Gurugram. We were talking about arts for some reason and someone mentioned Kabir  and how no other  Indian sage has had such as massive appeal in the contemporary music. Then someone mentioned Nirala (I think it was me) and one of my friends said "who"? We all laughed then, but while on my way back I started thinking how I used to love reading poetry of Bachchan, Mahadevi Verma and Nirala while in school and how slowly I became distant to it in the mad rush of life….That's when I thought if I could compose some of the poems of my favourite poets into songs, and can sing them, it will be really cool. That's how it started…Then I started reading more poetry from the point of view of music and got really excited while composing some of the songs, that's when I decided to do an album based on timeless poetry of some of the great poets of Hindi Literature –Music & Poetry Project. I bounced off the idea with a few friends and they suggested that maybe I should try crowdfunding this project as it has a larger purpose and maybe a lot of people may like to support it. So I started this campaign on Wishberry last year. Fortunately, it garnered a lot of support from people in general who believed in this cause and believed that we need to have more music based on great literature of our times. Here is the reference link of the project. Because of the support of the backers, I could achieve the funding required and therefore now this is happening.
The objective of this project is to:
a) To give a musical tribute to the legendary poets of India
b) To make great poems popular through contemporary music.
c) Raise the interest of youngsters in great timeless poetry.'
The music album that has been produced is based on poems of some of the most eminent poets of Hindi Literature such as Mahadevi Verma, Nirala, Shivmangal Singh Suman, Dharamvir Bharti, Dinkar. There are some recitals as well. A couple of recitals have been done by the great actor- singer – Piyush Mishra. Some phenomenal artists have contributed to the album such as Madhu Mukherjee- the great producer, composer and teacher. Also  Tapas Roy  has added magic through his  strings and  Joell Mujherjii who  has  given  life to the  songs by his soul stirring  arrangement.  There is a song produced by Baiju Dharmajan- one of the finest and most respected Independent artists of our time. 
Here is the first music video of Music & Poetry Project – 'Khushgappiyan'. The poem has been penned beautifully by …

Gepostet von Chinmayi Tripathi am Mittwoch, 20. September 2017
How did you curate the poems? Can you share your process with us?
Most of the poems I have picked up are written by chaayavadi (neo classical) poets – Nirala,  Mahadevi  Verma, Shivmangal Singh Suman, Dinkar– all are legends of the same era.  Most of the themes are the ones that touch all of us as some level- self-expression, sense of freedom, relationship with nature. What is exceptional about their poetry is that these are timeless themes and the poems are timeless too, they will always be relevant. And moreover, they have the power to move and touch people of all times. I felt the power when I read beautiful poetry of Nirala – it's like a fountain that flows endlessly. And when you read Rashmirathi, by Dinkar, the kind of passion and motivation you get is incredible. I wanted to share the same inspiration and beauty with others through the songs.
When it comes to selection of poems, I don't think I chose the poems, I think the poems chose me. I don't have false impression about myself, I am not a scholar, I haven't read enough to judge or select poems of such legendary authors/poets. I am just someone who is inspired by them. There is no scope of selection, it's purely instinctive. If a poem touches you while you read it, if it moves you, you get instantly connected to it and then you don't do anything. Then it does to you what it has to! It may inspire you to sing, compose, or to paint. Or it may rewire your mind and will change your perception forever! It can be anything. There are some poems in this album which I don't think I have composed also, they were so loaded with music that they were ready to be sung. The first time I read them, I started singing them.. As if the composition was hovering around the book, it was there with the poem like a twin sister, was born at the same time with the poem, just wasn't sung by anyone..:)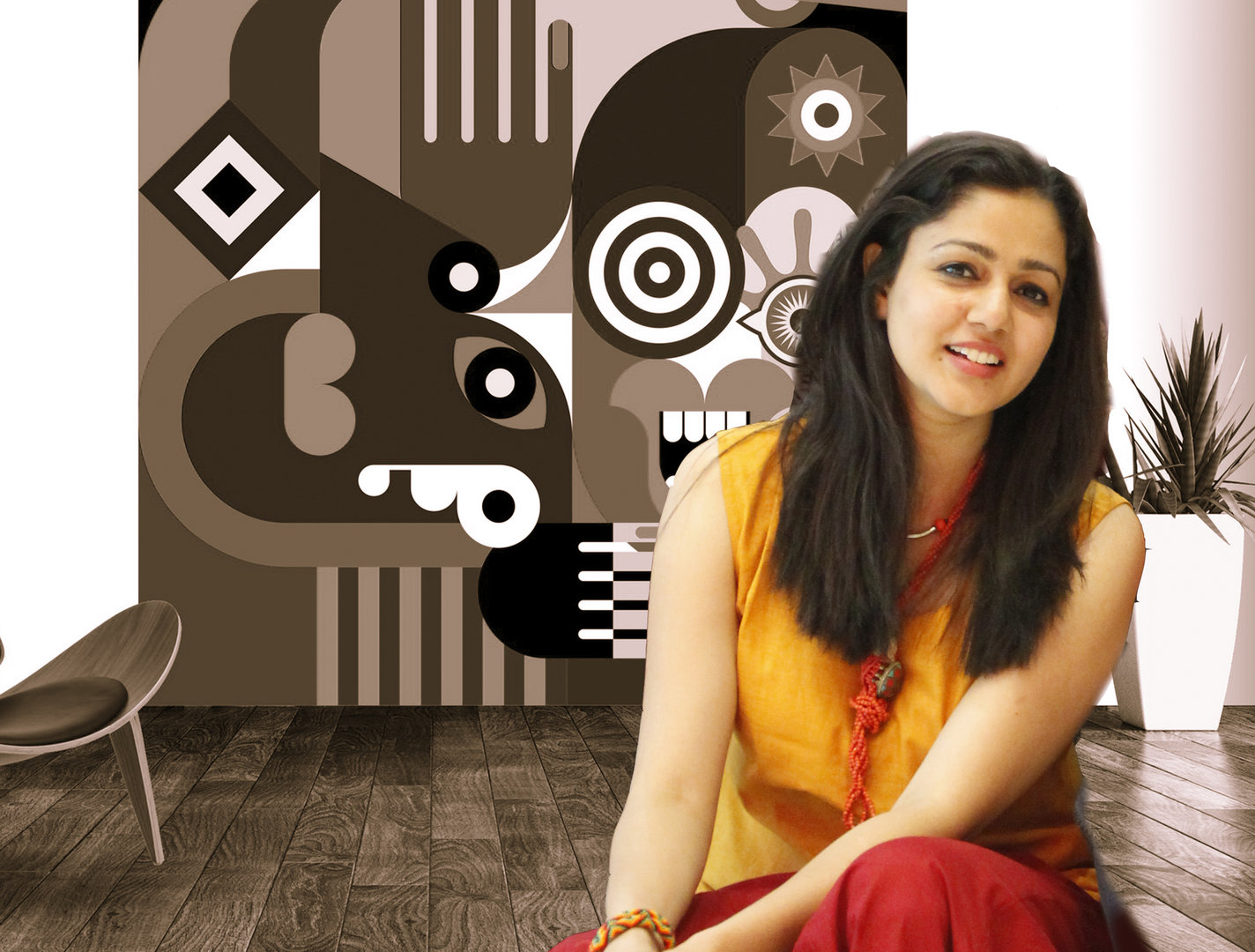 Tell us some your favourite bands and writers
Some of my favourite bands are Raghu Dixit Project, Kailasa and Indian Ocean. As far as writers are concerned (if this is specific to Hindi Poetry) then I would like to mention Harivansh Rai Bachchan , Dushyant Kumar and Nirala.
How hard was it to crowdfund for this campaign?
Initially it was hard. I think in general, musicians are not good at asking for money. I'm not very proud my skill set in this domain either. There is a general mental block as if you are asking for a favour. But I decided to do it with some conviction in the concept. I believed that it can become a very interesting piece of work and my thought process was that if it has to happen it will happen. Luckily, a lot of like-minded people started showing support and that encouraged me so remained persistent and finally I could achieve the mark.
Would you encourage other musicians to take a similar route for their projects? Any tips?
Sure! If you have an idea and you feel that it has a larger appeal and can benefit large number of people, go for it! My advice would be to be very  clear as to why and how you'll do it. The purpose has to be crystal clear. Then give it a definite time- you have to make sure that almost 3-6 months will have to be kept aside for something like this. Patience and commitment is the key if you have to make it happen.
What has been your biggest takeaway from this experience?
I learnt how simple it is to ask for support if you need it. Also, how easily people extend their support if your objective is right! Other than that, I also learnt how difficult it is to get permissions in our country for any poem for any creative work. We say we are living in digital age where any information is a click away, its nonsense! It is such a mammoth task to find who owns the rights/permission for a piece of work, where is the person, how to contact them! It was so painstaking that I literally lost it a few times and wondered if I would ever be able to do this! But somehow then things happened.. 🙂 But more importantly, I learnt tremendously by working with such great artists on the project and that has been the greatest takeaway!
What next?
Making some new songs and videos is definitely in the pipeline. Other than that, live performances at some of the music festivals and Literature festivals are something I'm looking forward to.
---
Click here to play the album on Songdew