Inspired by the story of a sperm whale that washed up dead on Spanish shores because there was 29 kgs of plastic in its stomach, Abhimanyu Chakravorty decided to take matters into his own hands to make a difference .
We live in a world where 90 per cent of what we do and how we feel is controlled by what we consume online. With time, our human responses have accustomed themselves to temporary outrage that is perfectly timed to change the moment we are distracted by something else. This leaves little time for a measured response and even less time for real, live, action. How refreshing it is then to see people who can convert an online experience into an inspiring real life moment. Take 31-year-old, media professional Abhimanyu Chakravorty for instance, inspired by the story of a sperm whale that washed up dead on Spanish shores because there was 29 kgs of plastic in its stomach, Chakravorty decided to take matters into his own hands to make a difference. He will now ride across 10,000 kms, across 5 countries—Nepal, Myanmar, Thailand, Laos and Cambodia—to generate awareness about the hazard of single-use disposable plastic on environment and the human food chain. On this journey, he will take part in beach-cleaning initiatives, work closely with NGOs, and participate in plogging exercises (collecting trash while running). All this, so that he can not only generate awareness about how plastic is destroying the eco-system, but also exchange
ideas with other countries on how they manage their waste.
In order to understand the cause better, sbcltr spoke to Chakravorty. Read the excerpts below.
Tell us a bit about yourself
I am a media professional working for an English daily based out of Noida. I write on health, Fitness, climate change and world politics. In that order. Of late, I have become some sort of a climate-change, plastic-shunning campaigner after being deeply inspired by three women who will be rowing across the Atlantic in December 2018 to challenge the everyday use of plastic. Closer home, Afroz Shah, who was part of one the world's largest beach clean-up in Mumbai's Versova.
How did the idea for this campaign come up and how did you decide to go about it initially?
In March this year, while looking for clean ocean initiatives across the world I read an article about a clean-up activity in Sweden popularly called Plogging, a fusion of two Swedish words Plocka Upp (pick up) and Jogga (jogging). Means picking up litter while jogging. The idea resonated instantly because I love running and spending time in nature and if all I had to do was take a trash bag and a pair of gloves with me to the nearest public park, that was easy! I have always been very environmentally conscious but plogging was my first affirmative action towards making a real difference towards our country's trash problem. I just didn't want to let garbage just sit there and run past discarded plastic water bottles and cellophane. It all happened organically and plogging was simply a nudge for me to join the growing global movement against plastic pollution on land and seas.
When I started out in March, I roped in a friend who is as motivated as I am about beating plastic pollution and loves running. We documented our runs, clicking pictures of the trash we found and collected at Jahapanah City Forest in Alaknanda. With help of a fitness app we also clocked the distance covered while picking up trash. This was a great exercise in itself and we would end our clean up session everyday with a tall glass of fresh fruit juice and our conversations centered around re-evaluating our plastic consumption and explore sustainable alternatives to single-use disposable plastic. The timing of my clean-up exercise was also important because from beginning of this year I had already started to read up on the environmental impact of marine litter and the problems posed by landfills on the human food chain. So plogging was a natural fit in the larger scheme of things and this activity could eventually be scaled up with the help of more volunteers.
What were the reactions of your friends and family when they found out what you sought out to do?
When we started posting our plastic clean-up activity on social media with #Plogging, most friends and relatives were very supportive and frankly, a little pleasantly surprised at this 'new' initiative. But this was hardly new as Plogging had already become a big trend in countries like Sweden, US and Germany. We aroused a lot of curiosity among our peers on social media with that hashtag and in our respective work spaces. People would ask us stuff like, "What's this odd hashtag you guys are using to describe your clean up drive?" "I literally get so much joy from following this effort". So we already sparked a conversation around plogging and people became genuinely interested to find out more. Some were also quick to discredit the initiative as a mere 'fad' and told us that no matter what we do, all the plastic collected is eventually going to end up in our ever-increasing landfills. And while this was something to think about, I knew that this wasn't just a passing fad. I am not too much into the name 'plogging' as such but I loved the idea behind it and how it spurred a whole paradigm shift in the way I perceive plastic and garbage in general. That was the real inspiration and continues to be.
Please share some of the challenges that you faced along the way
The biggest challenge was and still is mobilisation of volunteers for this initiative. While many supported in spirit and also promised to join this initiative, very few took the effort to wake up early morning and be a part of this. Picking up trash early in the morning sounded ludicrous to many, some said they will only join me for a run and see what we do, others simply didn't want to get their hands dirty. And I see the reason why, partly because of the stigma attached with picking up garbage as people usually see it as a job limited to trash pickers. And that's also the mindset I wanted to attack and change. Why should picking trash be confined to only safai karamcharis? The thought process is surely changing, slowly but steadily.
The other big challenge was to keep the communication simple and succinct because people can interpret it very differently. So we kept two aspects to it: First, pick up trash while running and throw it in the dustbin. Second, if you can't reuse a plastic product, refuse it. Other thing was that some passerby who saw us clean-up with garbage bags and gloves lauded the cleanliness drive but were quick to attribute it to the current government's cleanliness initiative. We didn't want this initiative to be clubbed under that umbrella. We wanted to de-link this activity from any political initiative already in place, without being confrontational. It started as a people-driven cleanliness initiative and it should be this way.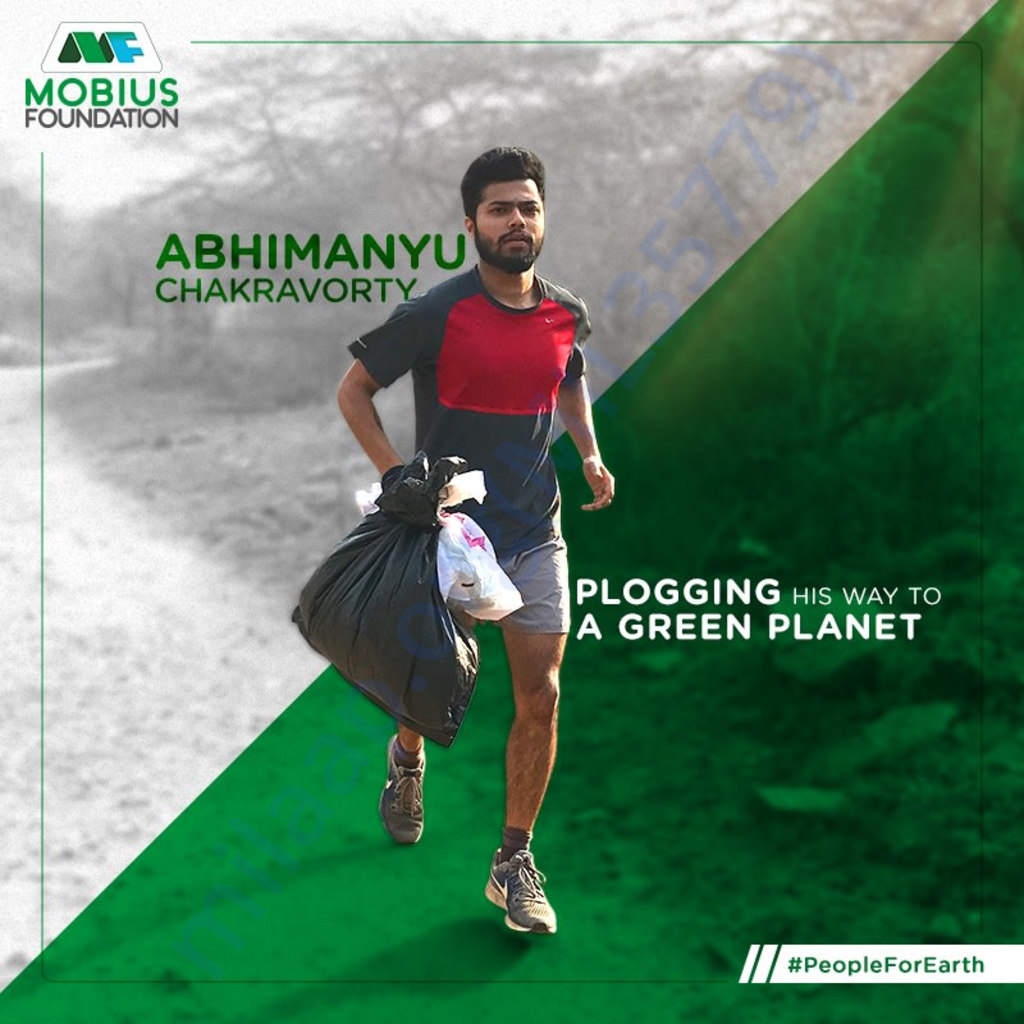 Who are the people who have partnered with you and what does the road ahead look like?
As of now, only friends and acquaintances who have seen my activity on social media have joined me for plogging. But that number is very small. Presently, we are only 8 people and we undertake this activity every other day at two public parks in south Delhi: Sanjay Van and Jahapanah City Forest. We plan to extend this to other public parks because I feel that if people in these parks watch us clean up on a regular basis, they will know it's not a one-off thing and eventually start cleaning up public spaces themselves. The key here is to sustain this initiative, be more visible in public eyes and promote the cause responsibly on social media.
Going ahead, we plan to rope in school students to participate in the plastic clean up drive as part of their summer camp programme. Secondly, we have scheduled a community clean-up drive in Chittaranjan Park (this is where I stay) on the occasion of World Environment Day on June 5. We will follow the clean up drive with a small talk explaining to residents of the colony about the hazard of single-use disposable plastic and discuss how existing plastic can be reused in our homes.
Thirdly, we plan to organise small distance (3km-4km-5km) plogging runs in public parks in south Delhi to raise awareness about collective responsibility towards cleaning up our surroundings. Later this year, I am also travelling to 5 countries— Nepal, Myanmar, Thailand, Laos and Cambodia—to raise awareness about plastic trash by working with NGOs and schools to share knowledge and implement some of the ideas back in India.
Anything you'd like to tell the people reading this?
Say no to single-use disposable plastic such as straws, shopping bags, water bottles, food packaging etc. If possible, cut down on consumption of certain goods that have excessive plastic packaging. If you know that it will leave plastic trash, refuse it. Choose paper, stainless steel, glass, wood and bamboo over plastic. Even a small, insignificant change in your daily lifestyle has the potential to make a huge difference. Lastly, have an open-mind and become a part of this global movement against plastic trash