Priya Bhattacharji on what makes the Dharmashala International Film Festival a must visit
Dharamshala, Himachal Pradesh, not only offers a place of respite from the maddening crowds of a metropolis, but it also holds a special place for being an oasis of meditative Tibetan culture. Its monasteries, momo-stalls , bustling street markets and yak cheese croissants make Mcleodganj (Upper Dharamshala) a fine example of cultural assimilation and a popular weekend getaway.
Little Lhasa (the city's sobriquet) recently made to the PM Smart City Mission. Long before 'Divine Dharamshala' made to the Mission(as it has been christened in the proposal the Union Ministry for Urban Development) , the city's iconic film festival—DIFF (Dharamshala International Film Festival) has been uplifting the local community with its mission of 'Bringing Independent Cinema to the mountains'.
Through the vehicle of independent film, DIFF has successfully fostered varied cross-cultural exchanges for both, the local community and festival attendees. In a city that lacked cinemas halls and theaters until recently, DIFF was conceived in 2012  by local residents and filmmakers Ritu Sarin and Tenzing Sonam with the aim of providing a platform for alternative cinema to the local community. DIFF as it stands today is one of Asia's leading film festivals. Unlike most other film festivals, DIFF stays remarkably distinctive by banking on its unique experience, instead of solely bragging about 'big names' in attendance.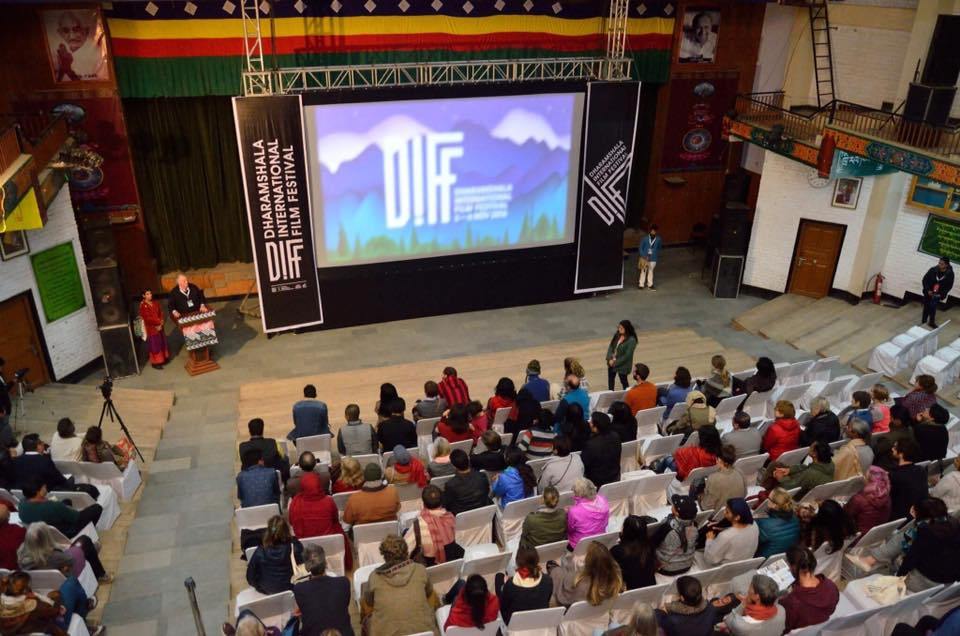 Year after Year, DIFF's edgy line-up and cosy vibes has fetched its attendees and filmmakers from far and wide. (Log on to DIFF's Facebook page to read the glowing reviews). Each year it offers attendees a wide fare of cinema—features, shorts, documentaries and of course, food. Relishing momos and cappuccino over film-induced conversations is one of the staple joys at DIFF.
Filmmakers who've premiered their films at the festival describe their experience as electrifying, one that is intimately connected with the audience.What's heartening to note is DIFF's commitment to enhance film literacy within the local community which was once completely devoid of exposure to cinema through employing the universal appeal of independently produced films. To generate interest in cinema and create enlightening forums for discussion, DIFF partners with Jagori Rural Charitable Trust to hold community screenings across the region.
The screening venues have varied from a health camp in the remote Chola village , Trimurti Garden Café in Dharamkot, the Government High School Kotwali Bazaar, Tong-Len hostel (a place for children of migrant workers), to the Dharamshala District Jail.
The line-up of these screenings have included Gitanjali Rao's magical animation, Printed Rainbow, the Ektara Collective's children's short, Jaadui Machchij, Bela Negi's Uttarakhand based comedy Daayen Ya Baayen and Ajay Saklani' Himachali feature Saanjh.

While these screenings help independent filmmakers find new audience, they also enable a much-needed culture of critical film engagement by building a new breed of film-literate audience. Besides reaching out to local audiences, DIFF aims to draw the local community to festival by inviting local schools and colleges to attend the festival, an encouraging gesture to widen the oft-niche film festival circuit.
Students are invited to DIFF's opening day to watch a short film, interact in drama and art activities and share lunch together. DIFF runs a Film Appreciation competition for local schools with around 40 students being introduced to the concept of active and critical engagement with cinema. The competition includes outreach workshops and an awards presentation on DIFF 2017's opening night.
In addition to its Community Outreach activity , DIFF conducts a Film Fellows programme – an  initiative aims to encourage and develop filmmaking talent in the Himalayan regions of India . Five promising filmmakers ,who are awarded the fellowship , get a chance to attend the festival and participate in masterclasses and workshops conducted by industry professionals. The jury for the 2017 Film Fellows Programme consisted of film editor and artistic director of the International Film Festival of Kerala, Beena Paul, feature filmmaker Shubhashish Bhutiani and Tibetan-American documentary filmmaker Tenzin Tsetan Choklay.
The festival that is to be held from 2nd – 5th November promises to be an exciting fare once again. This week, DIFF unveiled a highly anticipated line-up which was an eclectic mix of experimental, features and docus—films that will surely urge a film-enthusiast to make that trip to Dharamshala.
Rahul Jain's Machines , Karma Takapa's Ralang Road,  the Indian premiere of Out of This World (USA), a newly restored version of journalist and writer Lowell Thomas' fascinating account of his travels to Tibet in 1949 , a special screening of  A Death in the Gunj, presented in person by director Konkona Sen Sharma, Dain Said's Interchange from Malaysia, Yaniv Berman's Land of the Little People from Israel, Dechen Roder's Honeygiver Among The Dogs from Bhutan, Yoshinori Sato's Her Mother from Japan, Mano Khalil's The Swallow from Switzerland.
While the festival gears up for another scintillating edition, what's laudable is DIFF's commitment in developing a sustainable ecosystem for film in the Himalayan region.