Mirza Mosaraf Hossain on how women in Birbhum took to handlooms to earn a living and change their lives
Migration in India is neither a new event nor a region-specific issue. In fact, it would not be wrong to say that migration (from rural to urban areas) has greatly disrupted social lives across the country, and disturbed the balance in the society especially among the lesser-privileged states. Take the example of Birbhum, West Bengal, where a number of people, especially men, have migrated to cities in search of better employment opportunities and left behind families that often lack resources to fend for themselves. Thankfully, the handloom industry, namely the Kantha (cloth) industry, has come to the aid of the women in making ends meet, and often make much more than that.
"Our husbands have to migrate to Chennai, Kerala, Bengaluru, Lucknow, Gorakhpur, Kanpur, Chhattisgarh, Jabalpur Indore to work in bakery farms to earn an average of Rs 7,000 per month. They return home after more than two or three years. Often, we have to wait for long periods to receive their money and hence, we have to manage our families. In this respect, kantha (cloth) stitching handloom industry has turned to be a great boon to all of us. We feel secure when we undertake a cloth to stitch and after completion within a given time frame, we get a chance to tackle the inevitable money scarcity," says Hasina Bibi, a dweller of Shankbaha with a family of five. Her husband works in Kolkata as a tailor. The story of many women living in Nanoor block of Birbhum, West Bengal is similar.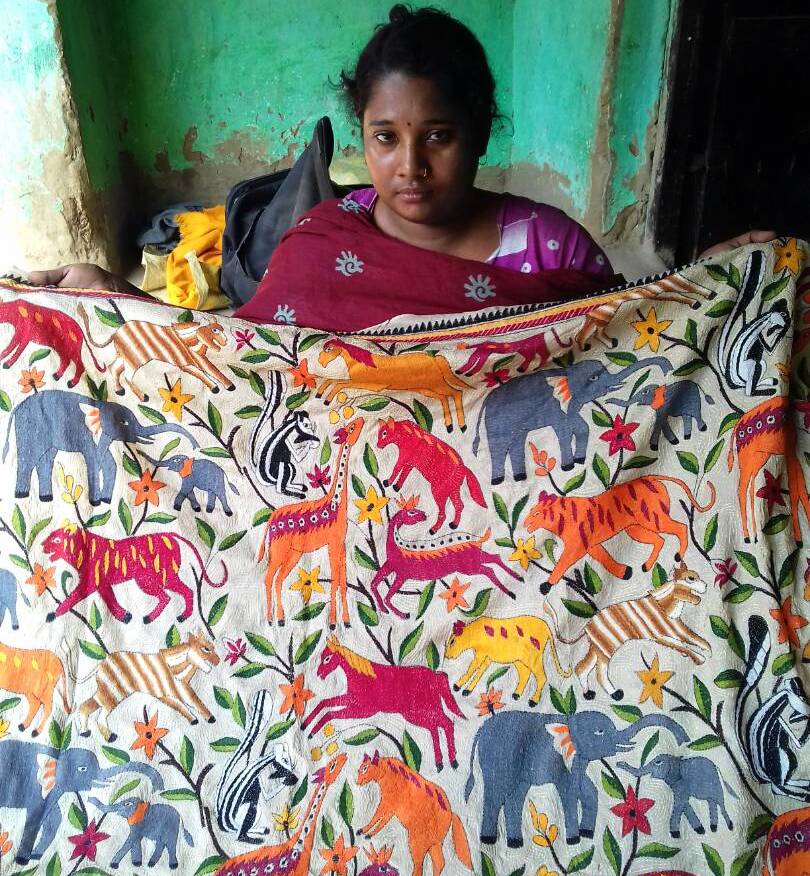 Kantha (cloth) stitching has grown as an important means of livelihood in this locality for the last two decades. Villages like Saota, Beluti, Datina, Agatar, Charkalgram, Khala, Papuri, Murundi, Shankbaha, Pilkhundi, Bandar, Gopdihi, Khujutipara, Nabasta, Bhepura, Baliguni, Kirnahar and many others have excelled at this business, so much so that despite being in local news for political skirmishes, Nanoor has managed to gain a new identity all over India as well as abroad for this handloom industry.
The success of this industry has also resulted in a pyramid-like structure, with people working at various levels for varying degree of profits. At the bottom, of course, are these women whose main task is to sew various designs on pieces of clothes as per the order. The money they make varies according to the size of the cloth and the intricacy of the design. For example, a long plain sari or bed cover earns the women about Rs 2,000 while they make between Rs 700 and 900 for medium bed sheets, table cloth, scarfs etc.
The dealers, who regulate the business, fix prices to be paid to the workers, manage market prices and make the most profit sit at the top of the structure. They are the ones who make the final sale, often in cities like Kolkata, Delhi and even abroad. The middle-level consists of agents who work as links between the women and the dealers, fixing prices at each level and earning a commission on the sale. For instance, if a dealer fixes the price of a saree at Rs 2,000 for its stitching, the middleman/agent will offer only 1800 to the sub-agents and they offer only 1500/1600 to the working women, thereby making a profit of Rs 200-300.
While one may of course, question the role of mid-level agents, there is little doubt that this industry has brought an important change in the economic as well as a social status of the topmost dealers. There are instances of people such as Salma Bibi, Ashoke (names are changed for any inevitable consequences) who have managed to soar to the zenith of success depending on this business. They had nothing before their stepping into this world, but now, thanks to this industry, they can afford to own homes. The industry has also brought an end to the abysmal poverty-ridden socio-economic condition of this locality. It facilitated a secure way of earning to the poorest of the poor. It not only empowers the working women, but also the agents and sub-agents whose cycle of life turned into a new direction.
Take the example of Hajera Bibi, a woman who works as a sub-agent. Abandoned by her husband, the stitching business gave her a new hope. "I have two children but had no means of earning after my husband left us. I had to spend many nights without eating anything. Now, thanks to this business I am stable, I taught my daughter up to B.A second year, got her married and I can now live a peaceful life." Another agent, Israfil of Saota, explains how this industry changed his life. "I used to work in our ancestral plot as a farmer but was failing at taking care of my family. So I sold some portion of the field and invested in this industry. Now I earn a handsome income and my children are studying without any disturbance and my family is stable enough." Another agent, Joy from Ramkrishnapur, echoed the same emotion.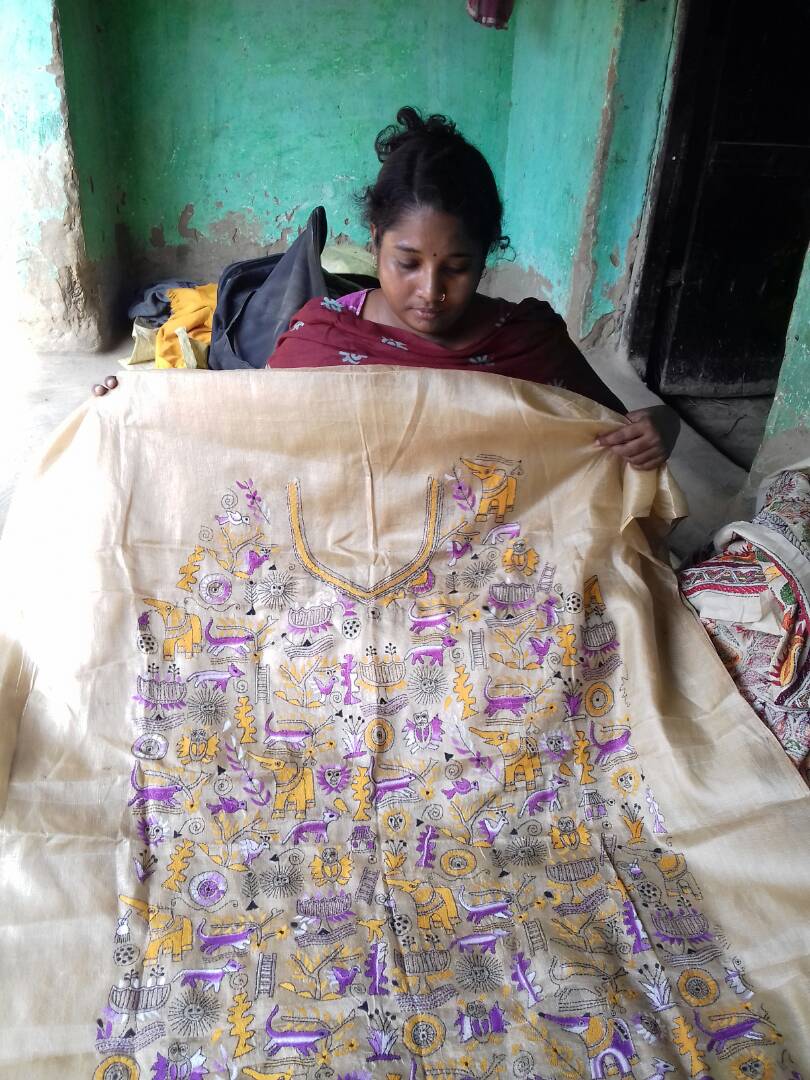 Even girl students find it as a great opportunity to fulfil their hearts' wishes. Kerima Khatun of Khala, a student of class 10, said, "I take 4-5 blouse pieces at a time for a week so that I can afford my tuition fees and buy notebooks, pen as it is difficult for my father to manage it after tackling our family of six members."
In fact, this industry has even caught the eye of people who would otherwise not be associated with such initiatives. Khandekar Mehebub Hossein was the Imam of his village for a long time and also a good religious speaker among this locality. But he now concentrates fully on this task of designing.
When asked about the designing on plain clothes, he said, "There are three types of designers into this work.  One who invents artistic creation, second who imitate the first one and add something to make it anew and the third are people who fully imitate the above two and convince people that it is his or her own work."
And he clarified about his own authentic unique invention of designing. He continued that he has been doing this job for ten years with a unique design that ranges from domestic animals to Hindu gods and goddesses. When asked how he was able to draw designs, he replied rather philosophically, "When passion meets profession, the output is always tremendously beautiful."
It is clear that while these families continue to fight in their own ways with the issue of migration, this Kantha industry has at least enabled the ones left behind to embark on something that is their own and feel empowered thanks to the financial rewards.
This story first appeared on twocircles.net