Rohini Kejriwal, speaks to the man behind Khaas Travels, the start-up that is changing the lives of disabled women who are denied employment opportunities
There is never a dearth of inspiration in a country as diverse as India. But one of the most special or khaas stories of recent times has been of Khaas, a New Delhi-based travel agency run by five visually-impaired women and Akash Bhardwaj, who founded the company. This unique startup hires only visually-impaired women, acid attack survivors, HIV positive patients, basically people who are competent to work but denied employment opportunities and dignity because society often ignores and fails to rehabilitate them.
In 2015, During a trip to Lajpat Nagar in Delhi, Bhardwaj came across a woman selling balloons. Her face was covered by her dupatta, "she sounded so professional but was hiding her face. I told her to find another job but she removed her dupatta and showed her burn scar, which extended from her face to her shoulder. A random boy had thrown acid at her, and following that, her husband left her and she lost her job as a security guard in a mall. She had two children and was working alone to look after them. It opened my eyes because people look at them from those skewed eyes, as if there's something wrong with them. That was the day I decided to use my experience in the travel sector and start a social startup to help people like her."

Bhardwaj who had experience in the travel sector and sometimes worked as a freelance travel agent discussed his idea with the others in the industry, but he was met with a lot resistance. "People told me that this won't happen because it's never been done in the world. That inspired me further to do it and prove a point that things are not always as they seem," he says.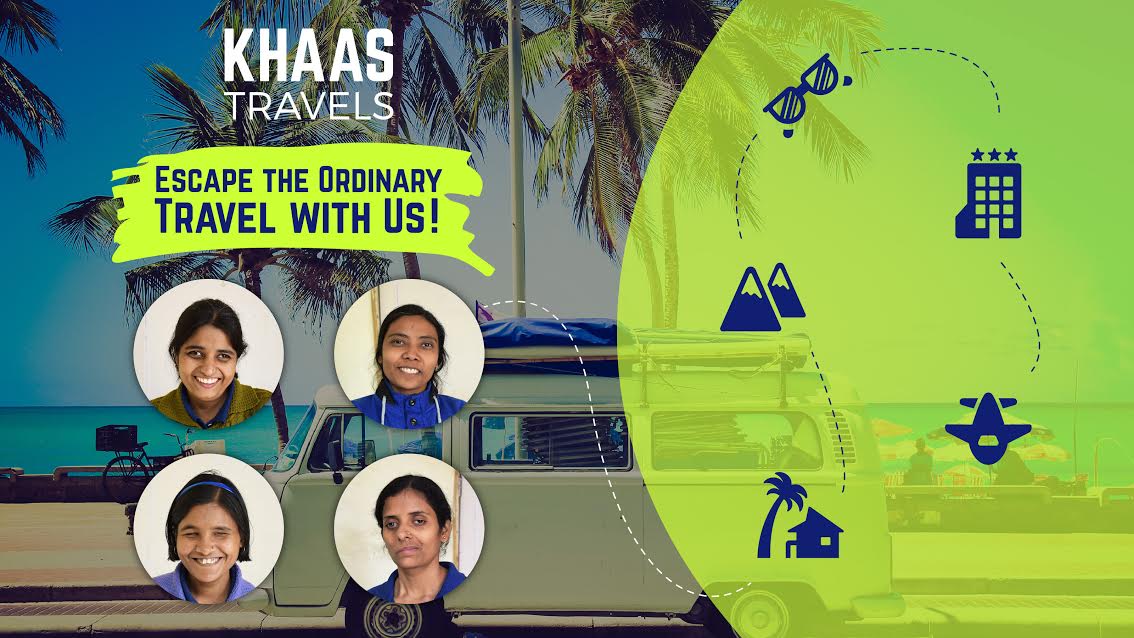 Thus began his journey with Khaas, which currently hires five visually impaired girls, while more are being trained on the job. "We are expanding and are soon going to hire acid attack victims and boys with HIV, who are deprived of jobs at good companies after compulsory blood tests.  I train the girls at using a screen reader software called JAWS (Job Access With Speech) and now they are all skilled at Braille as well and have technical knowledge about travel packages, destinations, customising trips," he says proudly.
The company offers domestic and international tours for its clientele, which primarily includes corporates, schools and colleges, but also offer family trips, adventure camps, honeymoon packages and more. "We don't have a third party model but find our own products. I've personally gone and surveyed all our destinations, spoken to hotels and transport organisers. Our focus is on schools and colleges because the girls Google them and approach the principals, tell them about Khaas, generate interest, and organise student trips for them.The main reason for this is that if the youth joins hands and see that our girls are making such trips a reality, they get inspired to do something good for society," says Bhardwaj.
Of course, running an operation like this is not without its own set of challenges. The biggest issue is funding. "To start with, JAWS (Job Access With Speech) is really expensive and costs Rs 60,000 to run on 3 systems. Instead, we are forced to use local softwares that aren't the best and prone to errors. I've sold all my jewelry and my bike to fund operations so far. We are running in minuses, not even break even, because it takes 7-8 months to teach them the skills. We are also in the process of shifting offices because currently, we work out of an office on the fourth floor, which is very congested and not disabled-friendly. One of our girls recently fell down the stairs and got stitches. I want to get an office on the ground floor and have bean bags instead of chairs so that even if they do bump into things, the girls don't get hurt. More so, the company we share the space with makes a big deal out of the 'noise' created by the walking sticks. When acid victims join our office, we'll be chucked out!" notes Bhardwaj, adding that despite approaching them, no investors or government bodies have come forward to support Khaas.
Hope is not lost though, and he informs that there's a crowdfunding campaign on Milaap to raise funds for the operations. "Crowdfunding is a great concept but difficult to execute! A few people donate but it takes time and too much convincing. People know how to clap their hands but to join hands with a cause is tough. But we've had both Indians and foreigners contributing, which has helped. The funds will be used for our new office, rent, furniture, and laptops."
But these problems do not deter the bold and courageous Bhardwaj from his vision. "Despite everything, Khaas is improving because these girls are so talented! They send emails, search anything on google, use smart phones, do all the social media for Khaas, and send Whatsapp updates to our clients!" he beams.
Bhardwaj adds, "Before I started Khaas, I'd go to NGOs and out of a sense of responsibility, would donate and feed everybody for a day. But after meeting that balloon seller, I realized that one day wasn't enough. I had to make them feel able and not dependent on any NGO. When I go for meetings with these girls, I feel disabled! Last year, the electricity went off and systems shut and I immediately stopped working. But they continued doing their work on Braille and didn't even realize that the lights were gone. We are so reliant on technology that we are the disabled ones. In society, if one body part is defective, they make it feel like the whole body is disabled. People consider these girls special but they want to feel normal. I want my office to be a place where a normal person comes and feels special, not the girls."
So what are the future plans for this inspiring startup? "We want to start Khaas Hostel/PG for disabled working women because there are lots of blind women and acid attack victims around who can't get jobs because they don't have any hostel that will take them. The next plan is Khaas Matrimonial, a portal specifically for the disabled in India. Both of these need a lot of funding, so we'll work on them once the company gets bigger. We're currently doing a project called Khaas Upahar, where the girls gift wrap chocolate bouquets and dry fruit bouquets. It doesn't require too much investment and it's a great use of their skill set," shares Bhardwaj.
On the bigger picture, he says, "Currently, India has the largest population of blind people in the world. 37 billion are blind in the world and 50 million of them are in India. My dream is for India to be the place in the world where not even one disabled person is unemployed. By 2020, Khaas wants to employ over 5000+ such visually impaired women, acid attack victims and HIV positive patients."
---
Book your travel packages here and support the crowdfunding campaign here