Named after the famous outlaw, this organisation gives food to over a million people across 22 cities each week, writes Alice Sharma
Children adjust themselves in queues, their excitement thick and palpable. When they see some people approaching in green T-shirts, their faces light up. "These people come every Sunday and they bring us food," says one of the children.
They are the Robinhood Army and their green T-shirts are embossed with the logo on the back. Discussing how they have to distribute their loot, they march towards the inner alleys of the small clusters of Gurugram. Armed with food packets in their hands, they aim to render abundance of two things, plentiful of free food and smiles on the faces of the impoverished.
We all remember Robinhood as the heroic outlaw from English folklore who used to steal food from rich and give to the poor, but these robinhoods don't break any rules. Tying up with the restaurants in cities, they get all the food they can to give away. Some restaurants even give them freshly cooked food.
The organisation was recently awarded the Sree Narayana Guru Award for Social Service. The brainchild of Neel Ghose and Anand Sinha, the Robin Hood Army works across 22 cities in India—not counting the ones in neighbouring Pakistan.
As the story goes, in 2014, Neel Ghose, one of the founders was living in Lisbon, Portugal, where he met Hunter Halder, an American who decided to make Portugal his home and launched a voluntary organization called Refood, which collects excess food from restaurants through a network of volunteers and serve this to less fortunate people. On his return to India, Ghose started the Robin Hood Army alongside Anand Sinha. Using a hyperlocal model, they started to grow the organization, which initially had membership of only friends and colleagues from their close community.
Today the army has nearly 7000 volunteers and has served over a million people across 20 plus cities without accepting any donation.
The ideology of Robin Hood Army revolves around decentralisation. Small teams of young professionals scout for local restaurants to convince them to donate surplus food and identify clusters of people in need of the food. Such distribution is arrayaed at the homeless and orphanages, where they carry out weekly distributions.
The cluster in Gurgaon is grand, people of all ages come to get their dinner plates full. "Today my kids will sleep with their stomach full." says Sarla, whose husband works in a plastic factory and earns 5k per month. "There are times when it becomes too difficult to manage the crowd. We also sometimes fall short of food because of a huge turnout of people," explains Swasti, the head of Gurgaon chapter.
A boy in the cluster walks to and fro in the middle, monitoring the children and asking them to sit quietly, or else they won't get the food. "I am the monitor in my class also. Last time didi gave me a geometry box as a reward,"he says. His name is Salman and he's a 12 year old who studies at a government school nearby.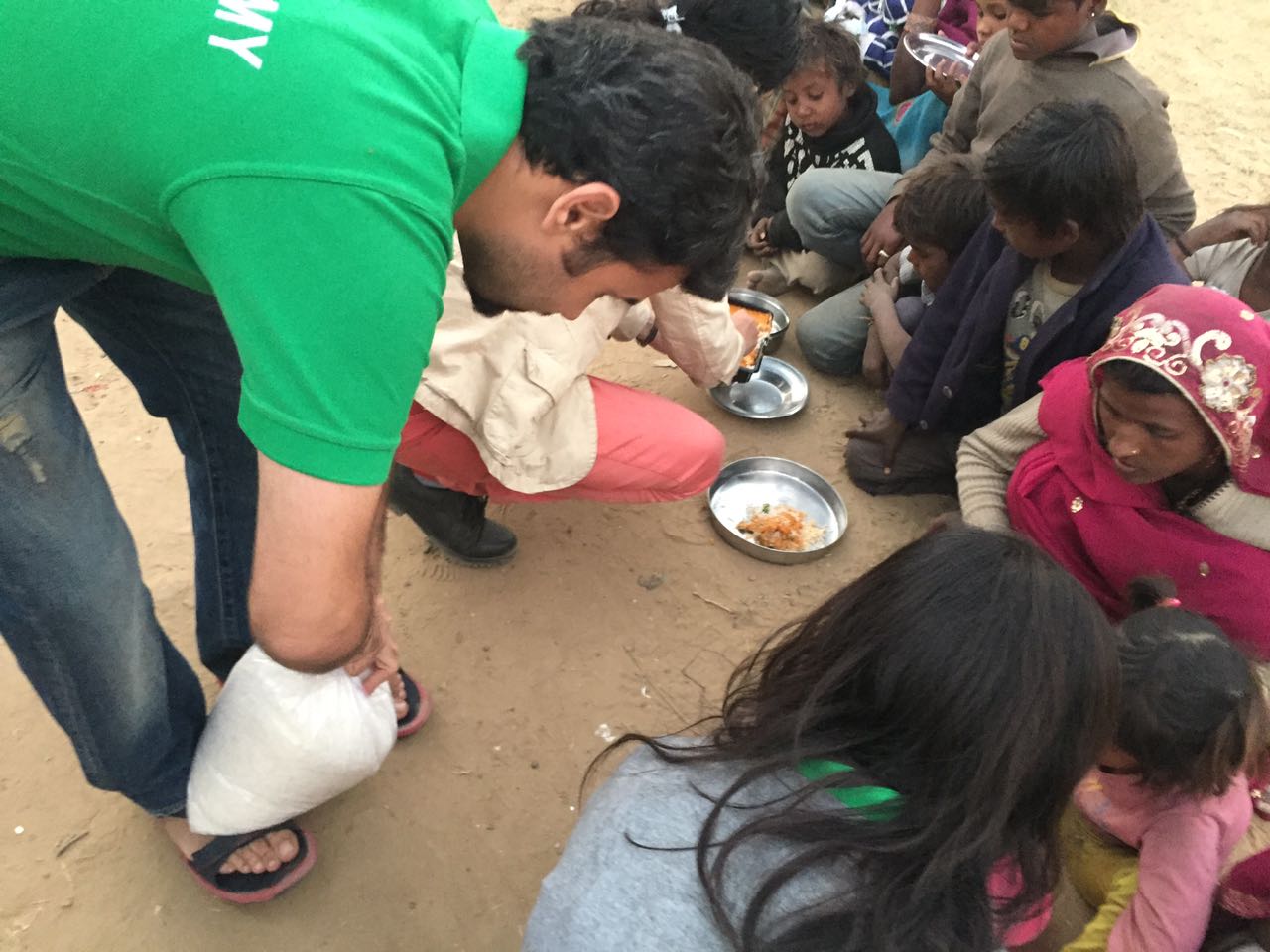 On Christmas, Gurgaon robins gave away gifts to HIV kids, whereas Noida robins distributed blankets on the onset of winters. The objective is to inspire the community to give back to those who need it most. While food waste management is the prime concern, spreading smiles to the less fortunate sections of the society is the ultimate goal.
The impact that The Robin Hood Army creates is also a major motivator for many out there to continue doing good or begin something good.
The only change that is required is the thought process of people. "I think the attitude of people is the key. We need committed people and not those who come here only for clicking pictures," says Swasti.
But we have to click pictures and the children as excited about it as they were for food. Flashing their best victory signs and smiles, the children seem satiated, at least for now. The Robin Hood Army exhibits that there is no dearth of opportunities to contribute towards a meaningful society. You just have to give it a try.