Rohini Kejriwal spoke to Padmini Govind about the working of the studio, the history and revival of blockprint in India.
In a time and age where everything is going digital, a charming studio in Bangalore continues to revive the age old craft of fine handblock printing, as it has since 1977. Founded by late Lakshmi Srivathsa and run by her daughter Padmini Govind, Tharangini is a niche blockprint studio that focuses on organic, eco-friendly and sustainable processes.
As one walks into the charming studio, there is a sense of belonging – the avenue of trees, old Hindi songs playing in the courtyard, chattering monkeys that keep popping by, the craftsmen busy at work. The space is as unique as the work that is done there and over the year, Tharangini has amassed one of the largest libraries of handblock print designs in India.
Lakshmi Srivathsa, who was studying art in Delhi in the 70s, fell in love with blockprint and stayed inspired by pioneering textile artisans like Kamaladevi Chattopadhyay, the driving force behind the handloom revival movement. When she returned to Bangalore, she realized that while blockprint was known to the city, it was not as widespread as it was in Delhi, Jaipur or Banares. She invited a team of artisans from Banares to go live with them in Bangalore and help set up the studio. In 1977, the studio was fully functional and concentrated on blockprint on silk because Karnataka is the home of silk. For two decades or so, Tharangini was popular for its gorgeous silk saris. Padmini shares that while they do still make silk saris, it has become a subset of the business because silk is so expensive and because sari wearing has become a special occasion thing.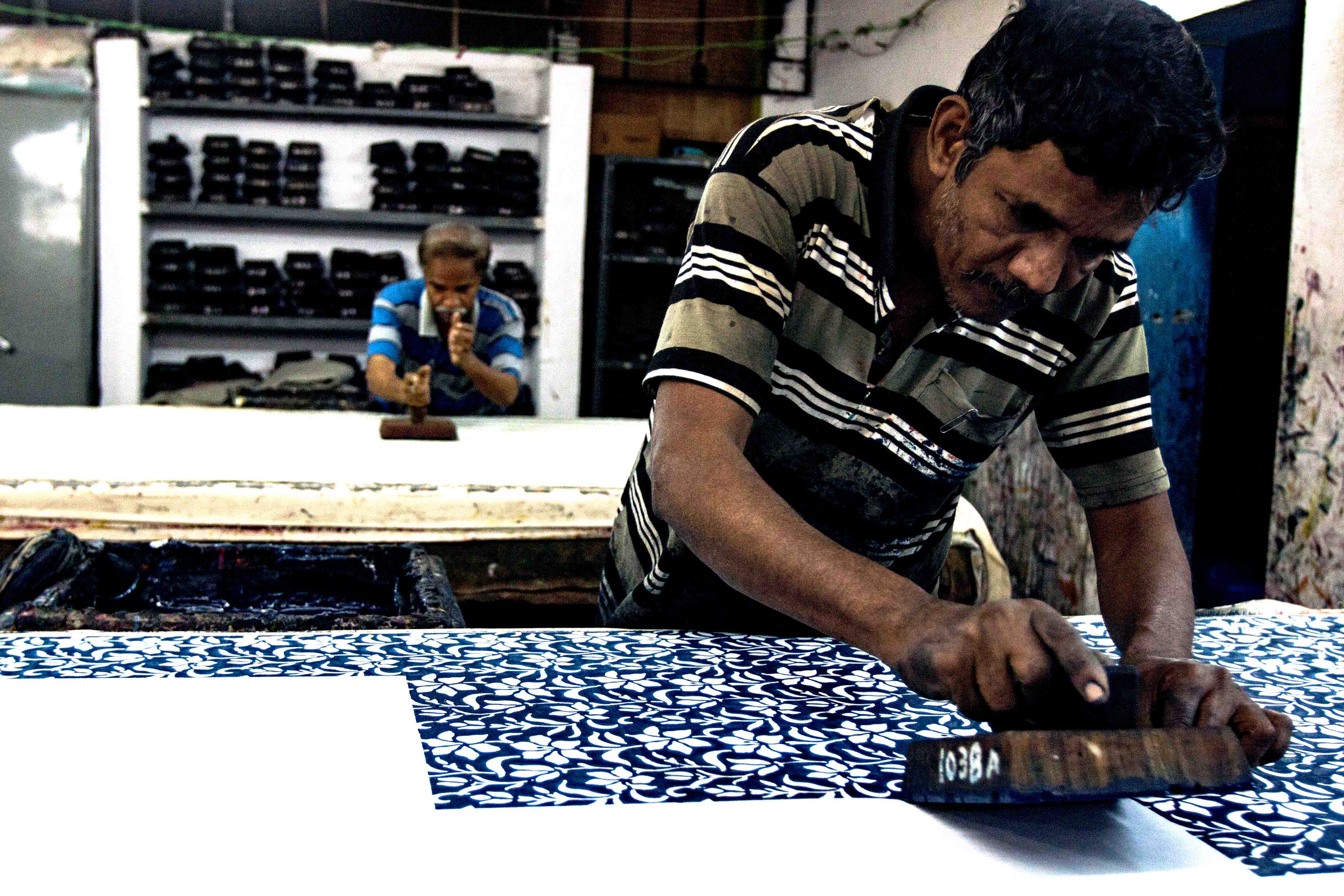 In 2011, when her mother – a visionary – passed away, Padmini decided to leave corporate America where she had been for over 15 years and return to Bangalore and take the studio forward. With an artisan family of master blockprinters, wood block carvers and eco-friendly and organic colour experts who had decades of handwork skill, she set about a new revival while keeping the core principles of Tharangini in mind.
Elaborating on these principles, Padmini explains that the first and foremost attribute is that they are completely fair trade. "That's the reason why Banu, our colour mixer, has been with us for 26 years. Unless you pay them well in a city like Bangalore that is so expensive, they won't stay. They also have families to support. We have to pay them corporate wages and provide benefits, be it annual profit sharing, paid leave and sick leave. In India, many craftspeople are paid by piece but that becomes a situation where the studio owner is benefitting more than them, which is against what we stand for," she says.
Padmini adds that there is no hierarchical structure within the organisation. "We work with artists like Seema Krish, Susan Hahn, Pollack, Fab India, Anthropologie and various brands. So when those catalogs come out or it hits a rack somewhere, we share that excitement with the full team. That way, they know where their end reach is and get a global perspective on what they're doing."
The second aspect that has been followed since the beginning is that everything is eco-friendly. "We have mastered the art of discharge printing, silk printing, pigment, resist and metallic prints. Sustainably harvested Gum arabica crystals and custom water-based binders form the basis of our special eco-friendly dyes," notes Padmini.
The process of making the block itself is whole other challenge. After receiving a design on paper, the block printer and wood carver collaborate and figure out how to dissect it into a piece of wood. The biggest difficulty is planning the design repeats – where one block meets the other without the joints being visible, the thickness of the lines, the balance of negative and positive space.The carver then uses seasoned teakwood rubbed with limestone paste, traces the design by pencil, and chisels it out of the wood. The block is then seasoned in oil for 4-5 days to avoid breakage of any part and ensure that they are preserved well. Once that is complete, it ready for use. Padmini feels fortunate to have a small team of master wood carvers here in Bangalore that have worked with the studio for decades.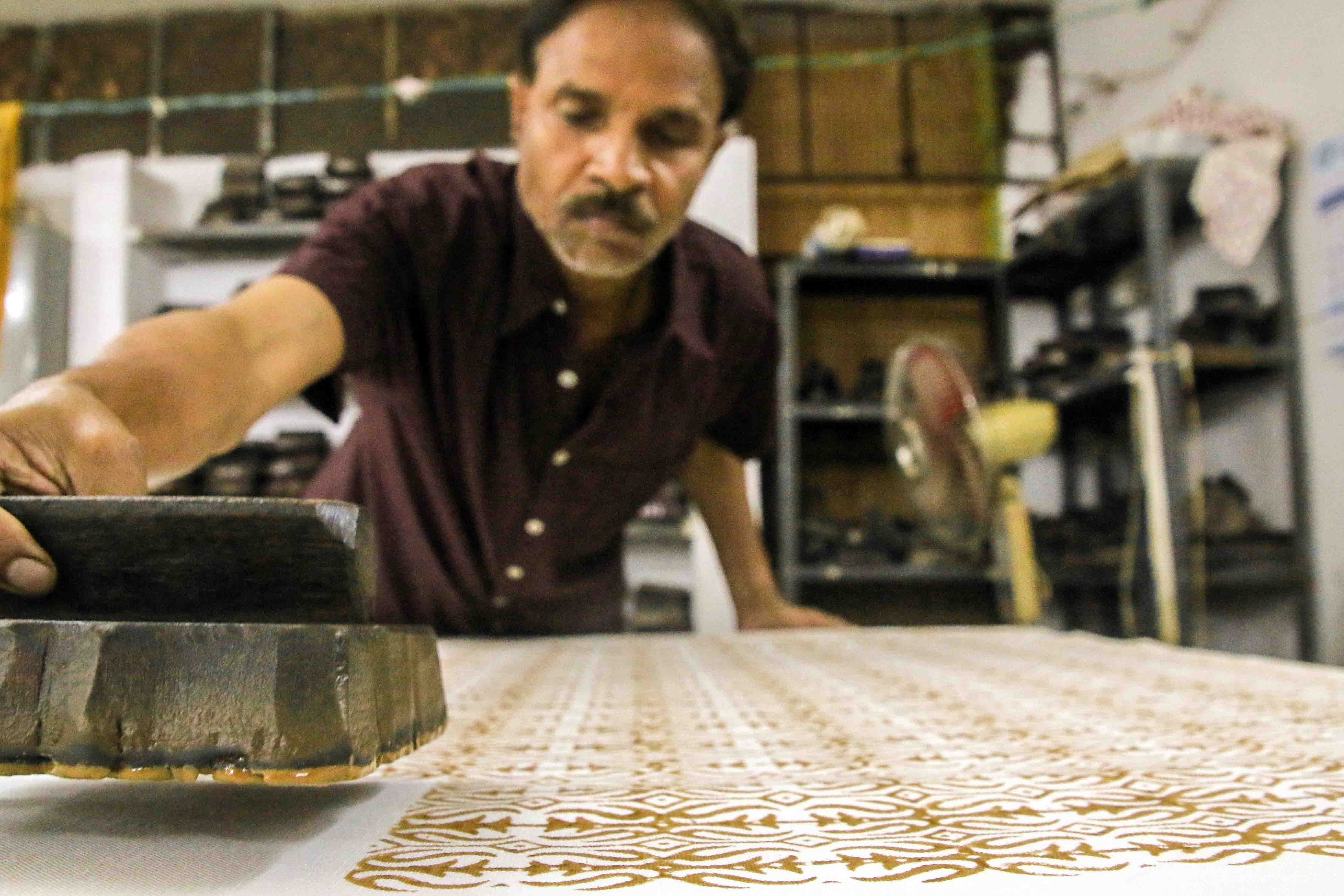 The third important element is the outreach programmes. Working with organisations like Karnataka State Women's Welfare Board, Association of Physically Disabled, Drishya, Spastic Society and many other organisations, the senior artisans train them to sustain the skill of blockprinting and have a positive impact on their social environment. "We started our outreach by doing free training for women, who were essentially housewives with no formal education but wanted the dignity of labour. Some of them picked the craft so beautifully that we could retain them," she says, adding that now, the main outreach programme is with Asha Foundation for the Autistic. "In three of their centres in Bangalore, we've donated a blockprint setup and they're do an amazing job! We don't want somebody to buy a blockprinted product out of pity – it should look stunning and the background story speaks for itself."
Padmini excitedly adds that another project that Tharangini is embarking upon is working with the visually challenged. "I'm working with an educator who already plans a lot of material for them. We are taking the blockprint for a test run to a few blind schools to see what comes out of it. It's very exciting and challenging!"
But how does she reinvent the craft and stay contemporary? Padmini answers, "The process of reinventing oneself in a traditional craft space is a tricky situation because you can reach a wider global audience while staying true to your principles. To reach a younger audience, we have to come up with something that looks like it's digital printing but is actually done by hand. It has to look contemporary, chic, not necessarily with a traditional Indian aesthetic. And that process never stops."
One of the ways that the studio does this is through workshops and open house sessions where one can come and explore the craft firsthand. "We just want to run this as holistically as possible as a handcraft studio. The perfect example for me is a family coming in during the open house, exposing kids to design and heritage crafts which they don't normally see, and going home having learnt a lot. We also work with some schools and have their student groups come in often. The middle school is about the time when children come into the awareness of what it is to be a conscious consumer and sustainable. Kids are extremely savvy and smart these days and get these concepts easily. They are the consumers of the future. And yet they go into malls or buy online without knowing who made their product, how it was incepted, what is the value or ethic behind it. This history is going to shrink into a further niche like it has in countries like Japan, Germany or UK where handcrafted textiles have almost disappeared whereas they should have been kept alive by young consumers!" she comments.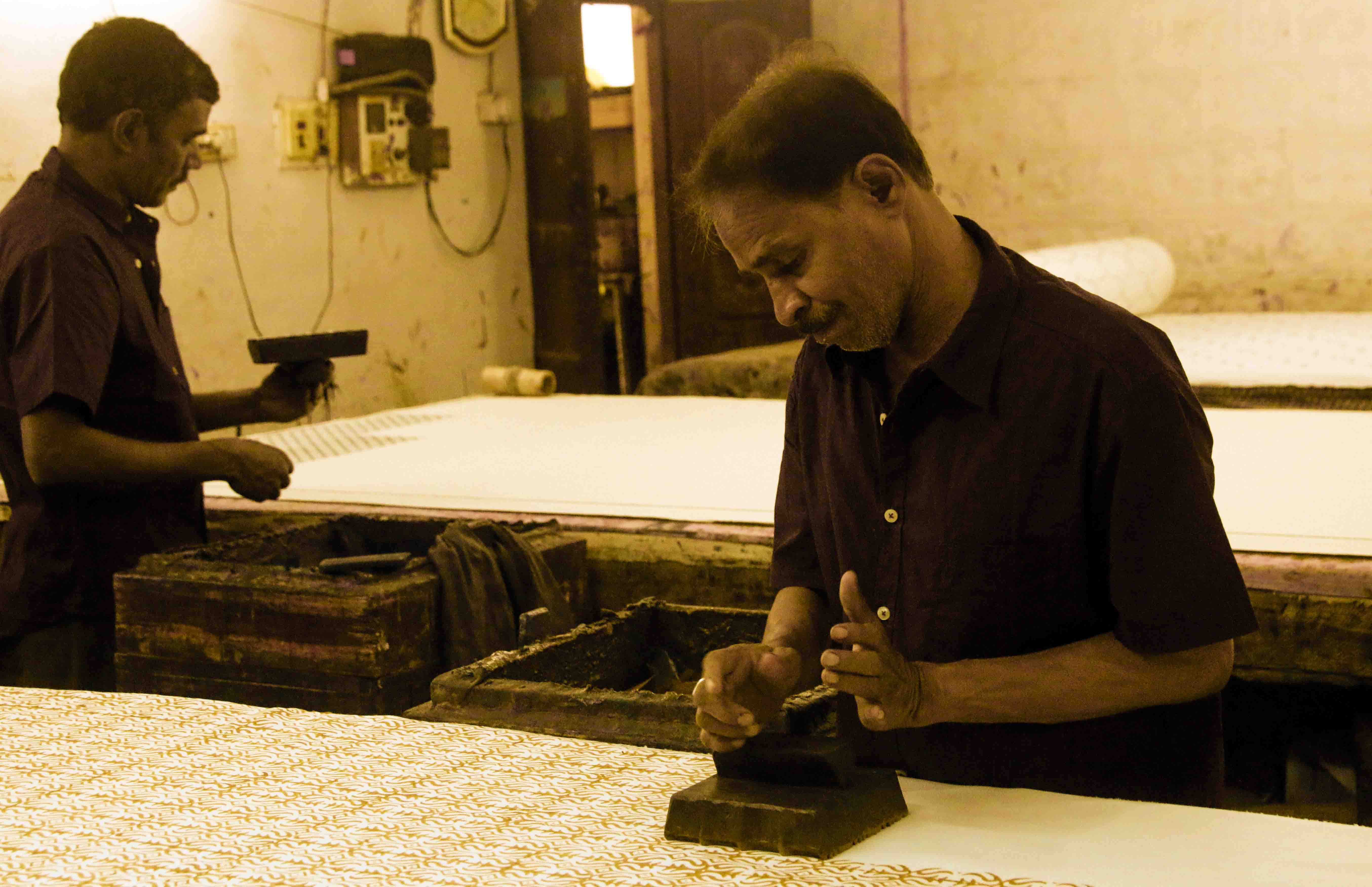 Padmini adds that design inspiration for the blocks doesn't necessarily come from a certain source. "The nice part about block printing is that it reinvents itself very beautifully. In a four-part design that's 50 years old, you can pull out a few elements, mix and match them, and it looks radically new! But what we try and do is to create innovative blocks by combining techniques. We don't do block printing in one particular way. For instance, we don't confine ourselves to traditional notions of blocks being only 8" x 8" and experiment with all kinds of sizes! We want to show the flexibility of the medium."
So what's the future for Tharangini as she envisions it? "Things have been going well for us. Our space hasn't changed much since my grandfather got this estate in 1952. We've kept it green and while the studio started with 2 tables, we now have 5. It's a family of 14 people and everyone has their own specialty that they bring to the table which makes it all come together. We don't advertise but people somehow find Tharangini," she grins.
On the craft itself, she concludes, "Blockprinting is seeing a revival and I'm grateful. But the onus is on us to push the message out to young consumers who aren't aware of the craft because of lack of exposure. That's the challenge ahead of us that will take it into the next step."
I thank her and am about to leave when a beautiful Kishore Kumar tune fills the air. Before I can ask, Padmini shares one last story: "The karigars love old Bollywood music and are always play these tunes on the radio. Our master blockprinter Govind Anna used to work in another blockprint unit 30 years ago. Apparently, there was a theater somewhere in Jayanagar and the blockprint studio in the basement. So whenever they felt like, they'd go catch the matinee. I think he's still living the past. Then again, aren't we all?"
---
All pictures provided by Tharangini. Follow them on their website and Facebook page.