This ancient esoteric art looks like contemporary paintings, writes Neha Pant.
We've all seen the Mandana paintings of Rajasthan, the hallmarks of the Meena tribe where women paint detailed motifs on their mud walls using rice paste and milk. But did you know that for centuries Rajasthan tantriks hand painting art-work that was used to aid meditation in a haunting style that is as evocative of the past as of the present. Unlike any of the traditional figurative and detailed art that is associated with tantra, the uniqueness of this style lies in its stunning simplicity. At first glimpse, one would mistake them for twentieth century minimalism or even Daniel Buren or Paul Klee, but the beauty of these images lies in the fact that they existed so far beyond modern time and yet perfectly amalgamate into today.
The paintings come from Tantrik Hinduism, (fifth/sixth century) and are simple representations of the absolute or the shunya—the supreme. Traditionally, after hand-painting these, the tantriks would meditate to them in order to evoke the divine beings they represented. They were copied generation to generation until the seventeenth century and would have never caught the eyes of the world if not for French poet and author Frank Andre Jamme.
In 1970, Jamme was going through a catalogue on Tantrik Art in a Parisian art gallery when he became drawn to the images. "The first time I saw them was in little catalogue for an exhibition that was in Paris in 1970, at Le Point Cardinal Gallery. I was intrigued—they seemed so modest, compelling, and almost naturally abstract," he told The Paris Review.  He then travelled to India in the 1980s to find their origins and got nearly killed in a bus accident that forced him to return to Paris, but he came back to continue his quest. This tale of mad obsession was strengthened when Jamme encountered a soothsayer who told him that his tribute to Shakti had finally been paid, but he would only find what he was looking for if he vowed to visit these tantrik families alone or only in the presence of a loved one. Over the course of the next couple of years he traced and befriended many such families that explained to him the esoteric meaning of their art. He's said that he needed around 20 years to find the good nests, the good families where people were still making these marvels.
His collected works were first exhibited in 1994 at the gallery of Agnès b. in Paris, where Jamme hung this triumphant notice: "Perhaps rarely in the universal history of painting have works at once so mysterious and simple, yet so powerful and pure, ever been produced — a bit as if, here, man's genius had been able to assemble almost everything in almost nothing."
Almost twenty years after they were first exhibited, the artworks continue to draw fascination across the western world. Ironically the subject remains largely ignored on the subcontinent that inspired it all.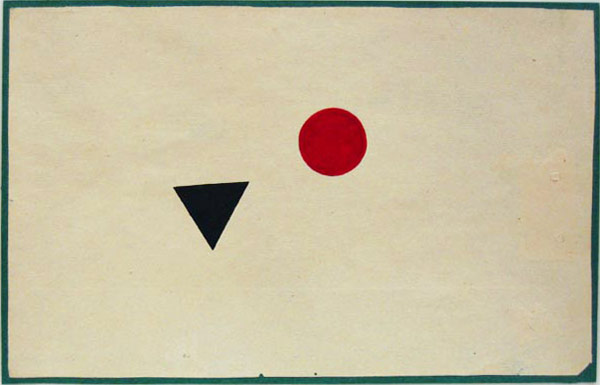 ---
All images courtesy Tantra Song: Tantric Paintings from Rajasthan