sbcltr speaks to Shiraz Hussain, the man who is single-handedly reviving the love for Urdu literature in the country
Thirty-year-old, New Delhi based artist and teacher, Shiraz Hussain, has been trying to popularise Urdu on the internet through his Facebook page, Khwaab Tanha Collective. The name of which literally translates into, 'a solitary dream', which is quite appropriate for this ambitious solo project. Through his art, Hussain dreams of making a whole new generation develop an interest, in not only dying Urdu literature, but also the subjects behind them. Read his interview with sbcltr, where he speaks of his roots, his inspiration behind the project and the dream that keeps him going.
Tell us a bit about yourself.
Although I was born and raised in New Delhi and did my schooling, graduation and masters from Jamia University, my family is originally from Amroha, Uttar Pradesh. Amroha has produced poets like Mushafi, Jaun Elia and even the Ustaad of Mir Taqi Mir. My Grandfather was an activist and an educationist, who opened a first of its kind school in Amroha, Markaz-e-Taleem. My father was an Urdu teacher in the Anglo Arabic School, New Delhi, and a freelance columnist who practised Urdu poetry as well. From a very early age, I was exposed to pastel colours, blank sheets, poetry symposiums and ghazals of Begum Akhtar, Ghulam Ali and Mehdi Hassan.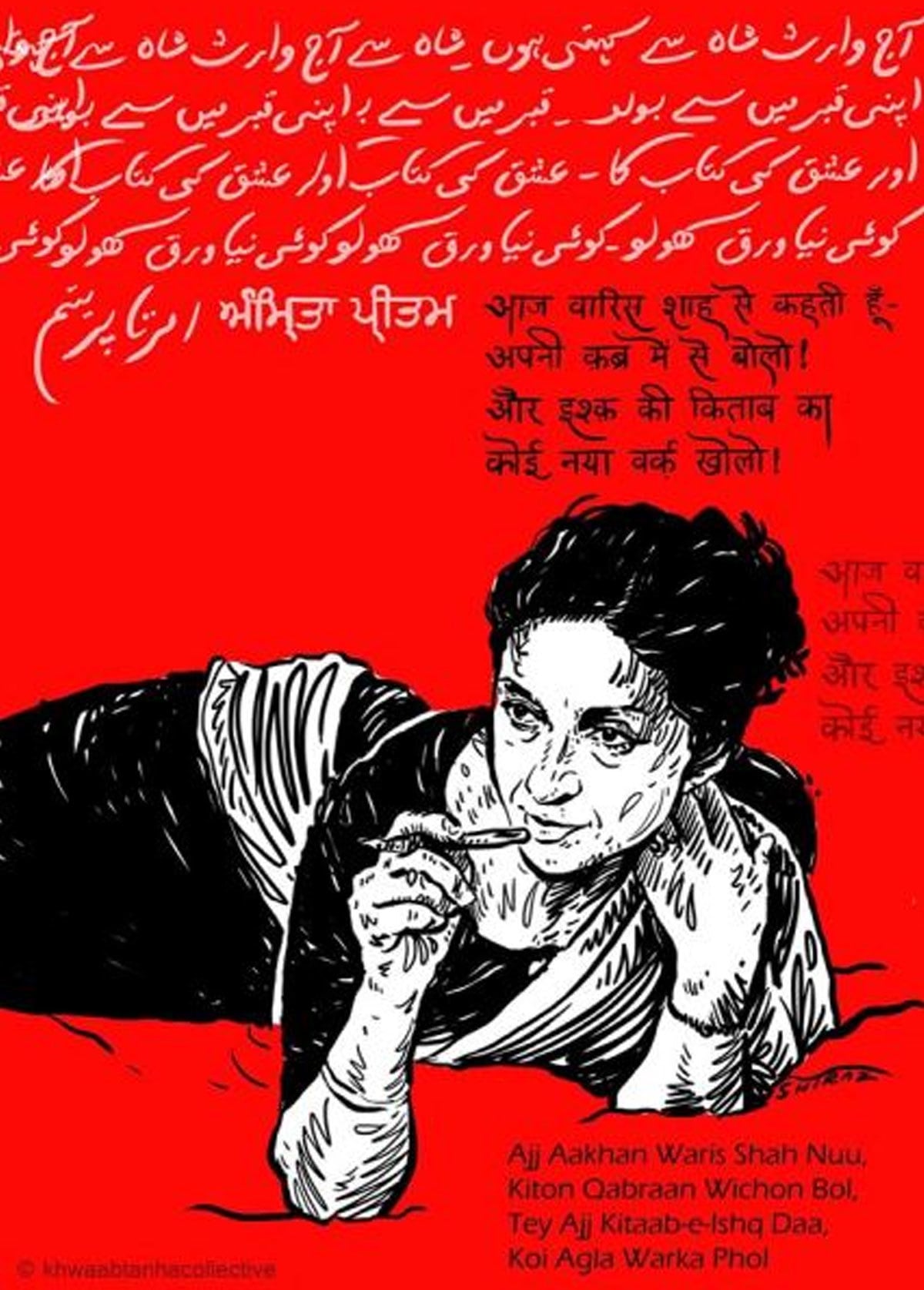 What made you start the page Khwaab Tanha Collective (KTC)? Tell us about the moment of inspiration that motivated you to create a page dedicated to Urdu poets.
I was going through some of my older work while shifting my studio and I came across many poetry inspired works, paintings of shayars. I found self-portraits composed with Urdu typography. The idea of Khwaab Tanha has been gradually active for a long time. I don't remember a particular moment of starting the page, but yes, one of the main reasons of starting it was to share my work with a wider audience, so they could see their favourite poets and writers in a different and interesting visual style.
As an artist, what role has literature played in your upbringing, that you have created a style which speaks more to literature enthusiasts than art lovers?
Well there are things that you learn indirectly from your parents, school and friends. As a teenager I used to wonder how my father has written hundreds of articles in Urdu newspapers. I also remember the illustrations in Urdu magazines like Pakeezah and Mashraqi Aanchal, which my mother used to read. Also the ghazals on the tape recorder, played by my sister and brother. On the other hand my Urdu and drama teachers also guided me well to understand this language. My personal paintings are different from the work I do as KTC. My paintings are quite abstract at times, but the work of Khwaab Tanha is for everyone, so whatever I do for KTC, I keep in mind the simple aspect of visual communication alongside its creativity. When I say simple, it isn't to be confused with easy. As Abbas Kiarostami has said "A work of art doesn't exist outside the perception of the audience," that is why KTC is gaining popularity among literature enthusiasts.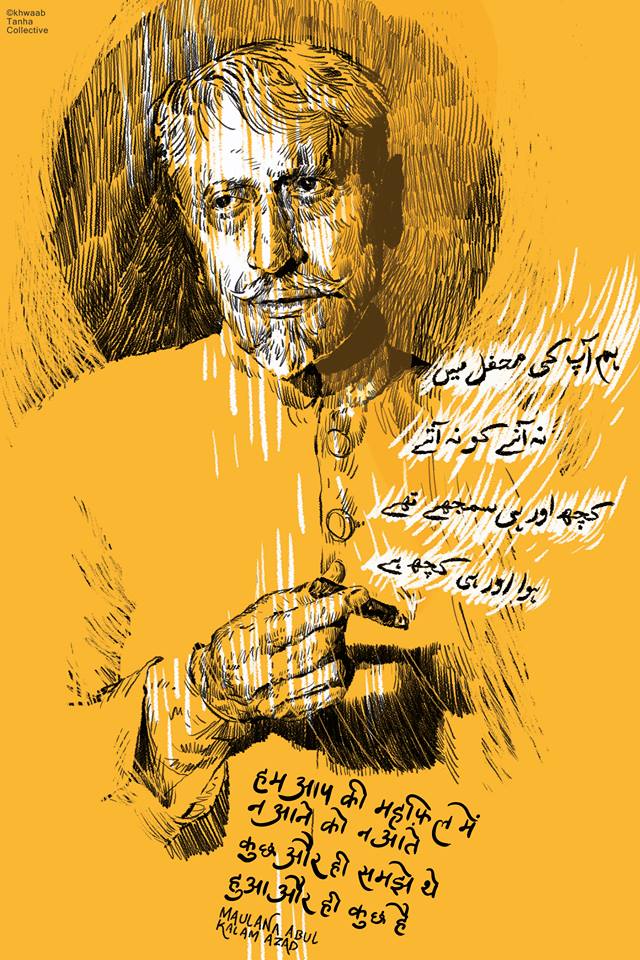 What is the aim of Khwaab Tanha Collective? You want to promote these Indian writers as role model for the youth over Che and Tolstoy, but they were more of revolutionary and cultural icons than literary figures. How do you think, this change can happen?
Apart from the art and aesthetics aspects, one aim of KTC is not to bore people. I believe that in some way, everybody loves literature. And as a literature enthusiast and poetry lover, I am trying to promote our writers, but not over Che and Tolstoy. I just want people to become aware of the literary legacy that we have. They are free to choose or follow their own cultural icons or revolutionary figures, but at least be aware of the stars we have. Also, I have mentioned Che in connection with the cliché and over repeated design. How many of us know that Bhagat Singh has written beautiful poetry. From many decades, couplets of Faiz and Pash are inseparable from agitations and so is Hasrat Mohanis's, Inqalab Zindabad. I don't know about the change, but I just want to make them more familiar and visually appealing.
What interests you more, the language (like shayari, poetry) or writers and their lives?
Both of them. I love reading about their work and 'behind the scenes' of their work. It's very interesting, how their struggle, tragedies, melancholy and triumphs shape their personality and craft. I assume that Akhtar ul Iman's poetry will interest you more after reading his autobiography Iiss Abaad Kharabay May or Ismat Chughtais, Kaghazi Hai Pairahan which is a wonderful read and an insight into the human behaviour. For me, it's just the same as enjoying Vincent Van Gogh's paintings and then reading Lust for Life (a novel on the life of artist Vincent Van Gogh) time to time.
Do you think Hindustani and English medium education is the reason for the death of Urdu language?
People still believe Urdu to be a shereen zubaan and shayari still interests a lot of people, but since in daily communication Hindustani is what is preferred in the region where Urdu was born, people don't communicate in their native language anymore. I don't think English medium education is the reason for the slow death of Urdu and our other languages. English is very essential and necessary, one cannot ignore it. But if the school is not teaching my child Urdu or my mother tongue, it's my reasonability to teach them at home or manage a tutor. We cannot fully blame the government for the downfall of our beautiful languages.
Do you think globalisation is the reason why the youth today prefers to follow and read western authors, than even think of discovering Indian sub continental writers?
I don't blame globalisation, but yes, aping the west is a problem in too many fields other than art and literature. Secondly, design, marketing strategy and good advertising play a very important role when it comes to books and literary programs or films. Sadly, just to gobble down big money, some of the publishers and even government bodies, hire the cheapest graphic designers, actors and theatre personalities to work on the greatest writers of all time. Which results in boring book jackets, boring literary programs and boring theatre shows. Young or old, no sensible people would like to entertain such material.
Who is the writer that you love the most?
I am yet to decide between Mirza Ghalib and Akhtar ul Iman.
Who is the one artist that has been an inspiration for your work?
I would like to share a quote here which I strongly believe in—do not quench your inspiration and your imagination; do not become the slave of your model, Vincent Van Gogh.
---
Catch Shiraaz Hussain live this Saturday here