The journalist who was vocal about death threats becoming a "common factor" was shot dead in Bengaluru yesterday.
Gauri Lankesh, one of the few editors who was fiercely critical of any form of extremism was shot dead at her Bangalore home last evening. Lankesh was the daughter of late journalist and editor P Lankesh of the Lankesh Patrike, a regional tabloid that gathered a loyal following for its honest critique of the government. In 2005, Gauri started her own magazine, Gauri Lankesh Patrike (GLP) and in just over a decade, GLP built a reputation similar to that of its predecessor.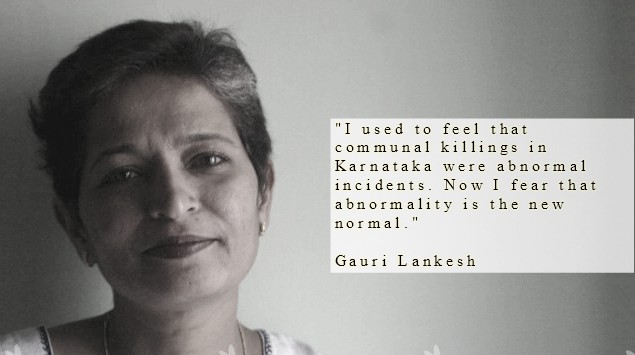 Last year on November 28, Lankesh was convicted in two cases of criminal defamation for a story she has published in 2008 which alleged that three BJP workers had duped a jeweller of 1 lakh. Lankesh said at the time that several local dailies had published the story but hers was the only one that was sued for defamation.
Eventually she paid a fine of Rs.10,000 and applied for bail to move past the incident (she was given a jail term of six-months) At the time she gave an interview to Newslaundry in which she stated that
"Unfortunately, today anybody talking in support of human rights and against fake encounters is branded a Maoist supporter. Along with that, my criticism of Hindutva politics and the caste system, which is part and parcel of what is considered 'Hindu dharma', makes my critics brand me as a 'Hindu hater'. But I consider it my constitutional duty to continue – in my own little way – the struggle of Basavanna and Dr Ambedkar towards establishing an egalitarian society."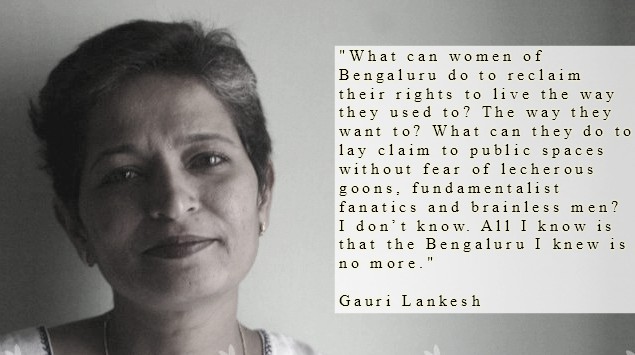 She also said that
"In Karnataka today, we are living in such times that Modi Bhakts and the Hindutva brigade welcome the killings (as in the case of Dr M M Kalburgi) and celebrate the deaths (as in the case of Dr U R Ananthamurthy) of those who oppose their ideology, their political party and their supreme leader Narendra Modi. I was referring to such people because, let me assure you, they are keen to somehow shut me up too. A jail stint for me would have warmed the cockles of their hearts!
Anyway, last night when I was boarding the train back to Bengaluru someone called me and said that I was 'trending' on Twitter! (I did not know about this since I am not constantly hooked on to the Internet.) I was shocked by the ridiculousness of the whole thing. 'Trending' because of a defamation case? I burst into laughter."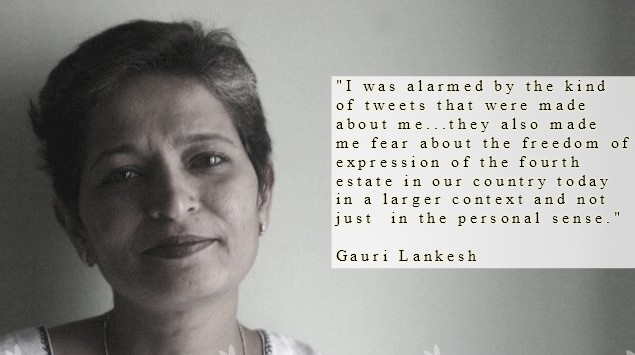 "When I looked at the tweets and the kind of comments that were made about me, I was alarmed. One, because the tweets showed the rabid hate the Hindutva brigade and Modi Bhakts have for its critics and naysayers. Two, most of the tweets were targeted against liberal/Left journalists/journalism. Both those factors made me fear for the freedom of expression of the fourth estate in our country today in a larger context and not just in the personal sense."
Along with the work that she did, Lankesh was known for her left-leaning views, which she openly expressed on social media and that is what caused most of the vehement threats of violence that she often received. In one of the last talks that she gave, she spoke about the growing instances of violence by people who were threatened that their religion (Hinduism) was being insulted. She also talked about the Kannad shift from secularism to communism.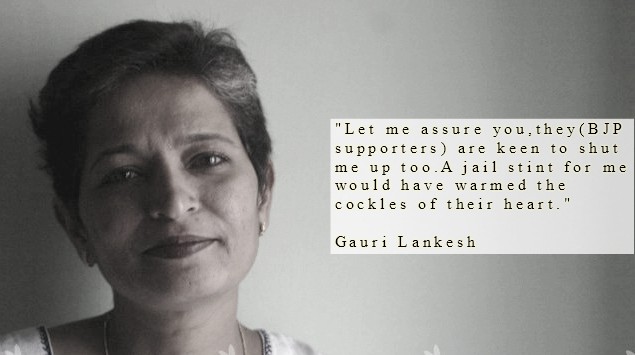 "We had UR Ananthamurthy, Kalburgi, my own father P Lankesh, Purna Chandra Tejaswi, all these people. They were all trenchant critics of Jawaharlal Nehru, of Indira Gandhi, of Rajiv Gandhi. But none of them were ever physically attacked, let alone [receiving] death threats."
She was equally critical of the media. In an article published for The Wire, Lankesh criticised the "parliamentary privilege" of politicians that lead them to bash the media and the latter's silence on the matter. She wrote,
"They are just as aggressive in shouting down participants with a different point of view, even more patriotic than the self-proclaimed nationalist himself and are prone to exaggeration while 'breaking news' every minute of the day."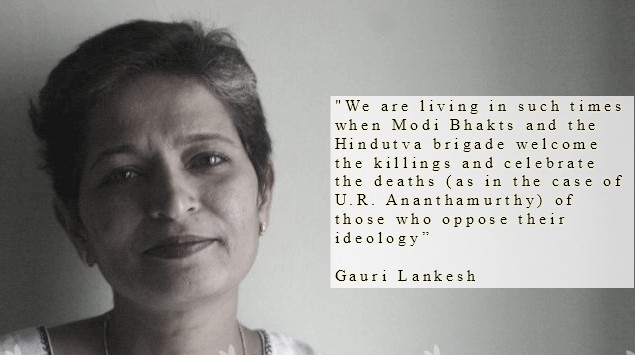 Watch her last public talk below.