Priya Bhattacharji in conversation with Nitin Das aka Filmkaar, the creator of Healing Forest Project
In Nature lies inspiration and nourishment like no other. Sights of sun-dappled landscapes, multi- coloured fauna,mountain mists and sparkling rivers, have moved the human heart and mind since time immemorial.In creative works and artistic expressions, Nature isn't simply an evocative element but a living character that breathes itself in.
With the rise of urbanisation, man's time with nature has diminished, but people such as the self professed 'wandering filmmaker,' Nitin Das aka Filmkaar, are gently pushing the urban population to find solace in nature through short films. For the last five years, this IIM graduate and former brand manager, has used his films to provoke people to adapt a Wordsworthian approach to nature. An approach in which nature and human life are inextricably complementing and augmenting forces.
We spoke to Filmkaar to know more—about him, his brand of film-making and his latest project—the Healing Forest, which focuses on the restorative powers of nature.  
From a 9-5 corporate job to a 'wandering filmmaker', how rewarding has this career switch been?
This career switch has given me an opportunity to exercise my creative abilities and introduced me to a large variety of issues, solutions, individuals and organisations. It has helped me find a new perspective of looking at things and a medium to share stories with a wider audience. Film-making allows one to live multiple lives in a single lifetime. Through the process of film-making, I am able to enter different worlds and share stories, which allow me to grow as an individual and also seed new ideas in our society. The journey so far has been a series of adventures, new experiences and learning. I think that in itself is a fair reward.
What kind of projects interest you?
I do a lot of work with youth and environmental issues. I try to tell stories based on social themes, through short fiction films. The idea is to create films of extraordinary people and uncommon places.Under the Filmkaar banner, I create entertaining films that are socially relevant , on issues ranging from environment to women's rights, from children's education to population control and much more.Occasionally, I organize workshops on movie making / ad film making for small groups. These fun filled workshops are designed to equip the participants with movie-making skills in a short span of time. Our clients include corporate houses, schools, colleges and non-profits.
Your current project—Healing Forest,seems quite a novel idea and garnered a lot of buzz online. It was handpicked by Films For Action, the leading international video library.How has this helped your project?
The concept of Healing Forests is very popular in Japan and South Korea. They have established many healing forests in their country. I came to know about the concept from an article in National Geographic.
After some more research I was able to create a short 5 min. film introducing the concept. The film turned viral on Facebook and has crossed over 10 million views. 
Through the outreach of the film, I was able to connect with a lot of people from different forests of the world.  We were able to form a small community of forest therapists, conservationists and nature lovers. The idea is to share learning with each other and grow the concept of Healing forests. We have created a resource page with different ideas for forest walks. There is a collection of forest games, activities and meditations. It also has links to helpful articles and research papers.  
Why do you consider Healing Forests relevant to our times?
Anger, impatience and intolerance are rising all over the world. Across the world more than 350,000,000 people suffer from depression. WHO has declared 'stress' as a global epidemic and linked it to many of the leading causes of premature death.In the last few decades, our lives and lifestyles have undergone an exponential change. The influence and dependence on technology is creating new challenges and altering individual and social behaviour 
Besides films,what other initiatives have you taken to spread awareness about this concept?
To get different communities to experience this concept, I have been conducting walks to explore different forests of New Delhi. Some of the walks are silent walks, while others involve a collective of like-minded storytellers, musicians and artists.The turnout has been encouraging and many people are surprised to experience the many city forests that Delhi has. However, we live in a world of distractions and the grip of TV, social media and other technologies is a big challenge to overcome. I'm in the midst of making a series of short forest films, which show the beauty of the natural world. Hopefully, these stories and films can serve as a nudge to get people out of their homes and explore the healing benefits of nature.
You had a Healing forest event planned during the Diwali weekend at Charabara, a remote village in Shimla. Isn't Diwali a occasion people prefer to spend at home with their families?
The Diwali event was specifically for people who want to avoid the pollution from crackers in Delhi and take a break in nature for a few days. It was also a way to celebrate some of the most beautiful days of the year in the right environment. You'll be surprised how swiftly the event slots got blocked.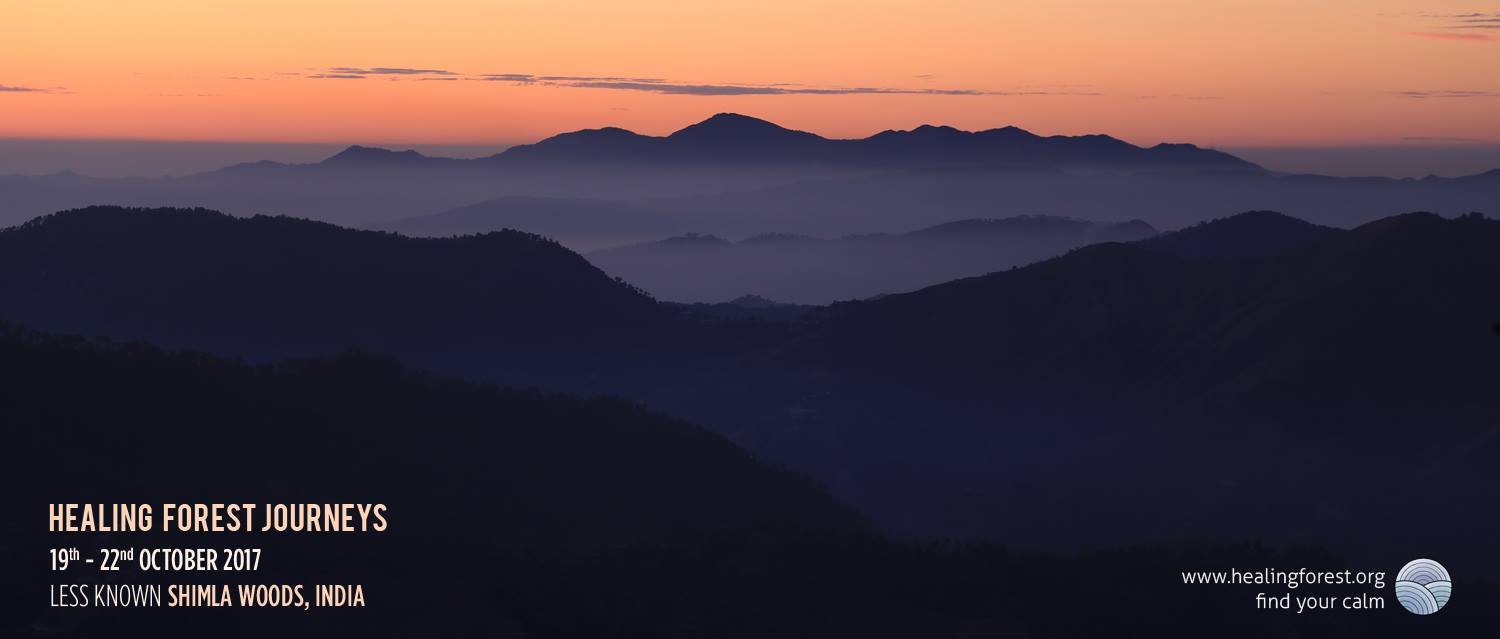 How do you plan to realize the full potential of this concept? What lies ahead in this promising journey?
I am in the midst of creating a longer 52 min. documentary on the various therapeutic benefits of being in nature and how it affects our body, mind and spirit. I hope this documentary will serve as a knowledge base and foundation ground for establishing forest therapy and healing forests across India. Healing forest has immense potential for addressing the issues of our times and reconnecting people with nature. It can alter the design of urban cities by highlighting the relevance of city forests. The concept will give a boost to ecotourism initiatives and create new opportunities for people living around our forests. It will also add a new dimension to conservation by giving people a much deeper reason to protect, heal and expand our diminishing forests.