Priya Bhattacharji, spoke to Nithin Kundathil and Manoj Pandey, on their cool initiative, StickLit
A movie character that tweaks our self-identity, embalming literary works that provide succor, compelling narratives that offer perspective or even change our value-systems. At some point in life, most of us seek coherence through literature and movies.
Invariably, there begins a critical dialogue that triggers a spirit of inquiry and self-understanding. Perhaps, it for this very reason for centuries, libraries were regarded a venerable space for like-minded connections and civilized discourse.
In the last decade, this process of cultivating reflective thought has made way for the ephemeral joys of posting and sharing on social media. The constant streaming of wise status updates, erudite articles and noble messages on a personal screen, ironically ring in Socrates's renowned statement "the unexamined life is not worth living".
With their initiative, StickLit, Nithin Kundathil and Manoj Pandey, reimagine the thrill of online sharing, not without a clear objective and sustained efforts. For a while, street artists have transformed urban spaces into personal galleries and exhibition spaces. By posting literature on the walls of public physical spaces, StickLit aspires to create the 'World's Largest Public Library.' What makes StickLit even more interesting is that they're doing this in public spaces, to make good literature and art more accessible to the common man.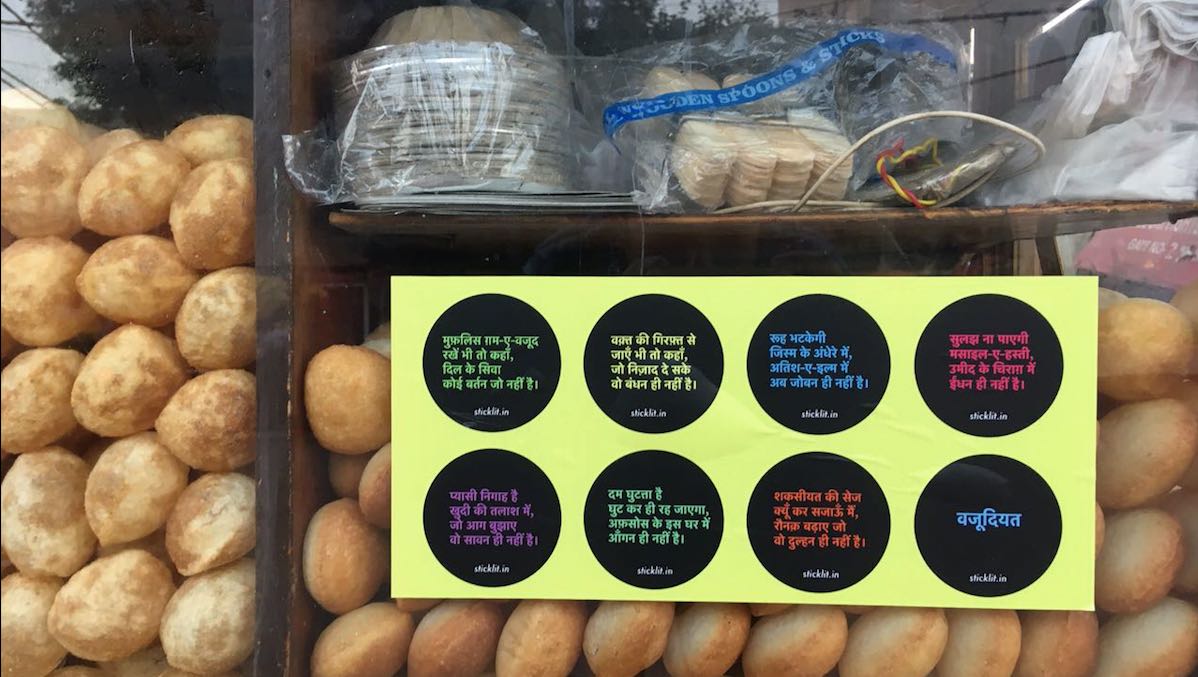 Pandey, who describes himself as a'bonafide hack' and Kundathil, a 'lapsed artist' says, 'I want everyone to have the luxury of thought. I want two disparate worlds to get together. A rickshaw puller can be receptive to Aristotle's works if it's made accessible to him.'
The very idea of StickLit was born as a reaction to the startling disparities of literature and art consumption in India.
"Nitin belongs to Kunoor and I belong to Kalimpong. Two very picturesque small towns of India, yet we didn't have equal opportunities to read and write. Another case in point is a young boy from Orissa, who writes screenplays for B-grade movies in Mumbai, films he'd never watch but he does them to make ends meet. What he grew up reading was Anton Chekov and Rumi and wanted to write his own book."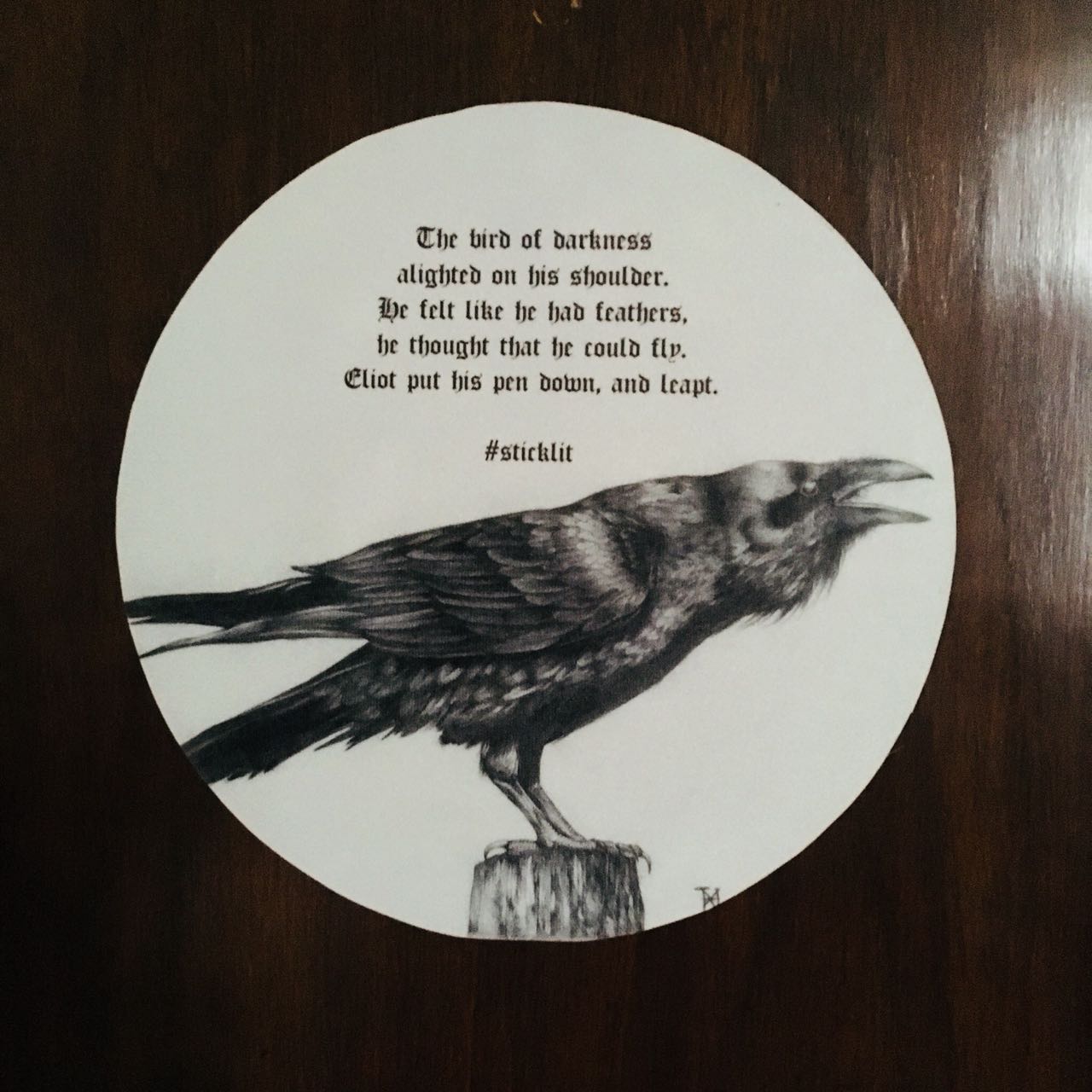 StickLit doubles as a counter-reaction to the seemingly dominant cultural narrative of Digital India. Pandey reasons 'Online reach is still low which is why we've decided to take it offline. Also, this print medium is a kind of anarchy. StickLit should not be mistaken as street art which is a fairly new phenomenon. If you look at the very genesis of books, it began on tablets, scrolls, and pamphlets until people started binding it together. The Chapbooks were popular in early modern Europe. It was a small book or pamphlet containing poems, ballads, stories that were publicly circulated. We plan to do something similar with StickLit.'
While the project does rely on online media for promotion, what necessitates its guerilla offline publishing is the fading 'seriousness' of writing. Pandey elaborates 'Today the book has become a product. It is sold like a bottle of cola. While we do want to make literature and books accessible to everyone, we want to establish a community of writers, artists, designers who are serious about their pursuit and are keen to give out their work as part of StickLit. If you truly wish to make people read your work, it needs to reach the proletariat class, the common man."

Salman Rushdie, Shashi Tharoor, and Margaret Atwood, are a few noted writers who've to accede to StickLit's vision and supported it with their work and words of appreciation. "I have a lot of elitists smirk at this project, doubting its relevance. The common doubt raised is there is so much material available through other mediums, but then how many people actually have access to it? Today, StickLit is a fairly huge network of writers, content curators from Amsterdam to London. We use Facebook and Instagram to build our community, to share pictures of our work. We wish to include those who write with psychopathic precision, not to cater to market forces. It's hard to explain that many write simply for the joy of writing"
In a world dizzy with likes and hits, one does wonder about the metrics of 'success' of this project. Pandey retorts "Its acceptance lies in the fact it's a fun, simple project. Today,what is that goes viral? It's basically offline stuff that shot on camera, a talk show or people doing funny things on the street. Someone shoots it and it goes viral. That's ironic because most of it is pushed by a brand or paid for.
People aren't going to be fooled for long when it comes to cool and relevant things. Both Nithin and I have worked closely with online media and we understand it well. For StickLit, we use a mix of both online and offline but for very different purposes"
The use of stickers, posters, wall murals to post literature on public walls enables the initiative to travel to spaces across the globe. These strikingly simple exhibits are made with plain fonts on coloured backgrounds. Some of these stickers can be downloaded on the StickLit website for printing and pasting purposes.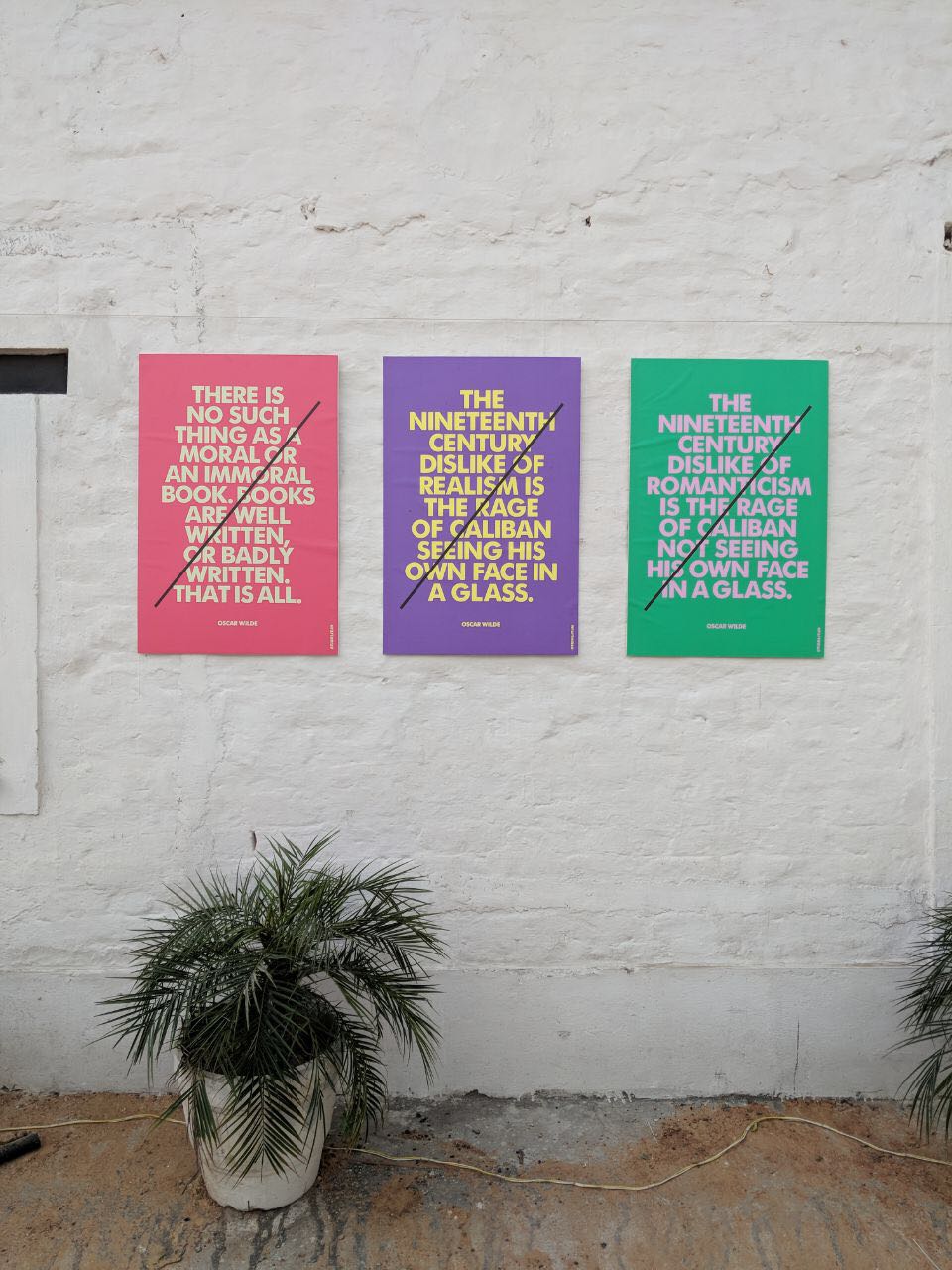 Since its conception in October 2017, StickLit has traveled to pillars and walls of various cities including Delhi, Kathmandu, Amsterdam, Kalimpong. It also made an appearance at the recently concluded India Art Fair this year. The road ahead is to evolve the format it currently works on
"A story can come in different format and we want to experiment with these. We plan to work on the book format, publish an anthology of short poems. The idea is to get as many people to read and know of good authors, know their name and their works. It's just not pasting their work on walls but publishing it in a way that people know of it.Stick Lit is a constructive, creative way of making people notice literature through stickers, posters, wall-murals and rubber stamps.
As a new-age proponent of literature, what StickLit offers is a much-needed 'non-hierarchization' of literature. There is no mass-class divide that allows it to flow and fit into diverse spaces.It recognizes the universality of story themes to make literature more inclusive. "We plan to pick up a particular community, say the magicians colony (in Kathputli) and we take something like Agatha Christie or a Harry Potter and do a little literature festival around it. It'll create an interesting dialogue. At StickLit, we plan to explore more spaces and community to start dialogues. This might include just cyclostyling books and leaving them at bus stations and railways stations."