Mihika Jindal, speaks to Prasanna Natarajan, the founder of HipBar—a cool new app that lets you pre-order drinks from your favourite bars
Seen those Seagram's Imperial Blue Music CD advertisements on television? These finely crafted ad films often leave the ignorant viewers wondering what was this commercial all about — psyche of men (men will be men), the poised women, or is it really about music CD that's a playlist of really old songs that can be streamed on YouTube? Not really! It's only to grab your attention towards a liquor brand that is hiding under the garb of varied merchandise. Because our sanskaars and culture come in the way of a whopping $35 billion liquor industry in India.
"No new liquor brand has come up in the last 10 years. That's because of the blackout on advertising, and also because everyone is spoilt for choice, anyway. No one really has the confidence to take a new product to the market and make it win", says Prasanna Natarajan, founder of HipBar, a latest technological addition to the liquor industry.
Brace yourself; this is for real.
HipBar is your on-cloud bar, hosted on an application available for both iOS and Android. "What we have set out to do is a fascinating journey," says Natarajan, an erstwhile investment banker-turned-entrepreneur. "I own Sipping Spirits, a bottling and marketing company in Goa. It has been my full time commitment, but, I started feeling like I haven't done justice to the opportunities that have come by. I realised I should realigning myself with technology oriented businesses, as that is the way ahead. And that's the genesis of how HipBar came into being."
HipBar launched on 8 March this year, and has taken about a year and a half to become a fully functional organisation. "We started in 2015. The blue printing, getting the nuts and bolts right and RBI approvals took its own sweet time. But the response has been overwhelming."
How HipBar works?
You can pre-buy liquor from your local neighbourhood bar, and the bottles will get stored on a cloud through the app. Every time you feel like grabbing a drink, you can just walk to your favourite hangout place, have your drinks and it will get deducted from your app. No need to pay.
Can I start using it?
Soon. The company is based in Chennai, but the first (and the only) city they have targeted is Bangalore. "Bangalore easily adapts to technology and the people are forward looking. We have a network to work with across cities. But we want to first learn everything in one city, get it right and then move forward. Our idea is to fix Bangalore first and then take this ahead"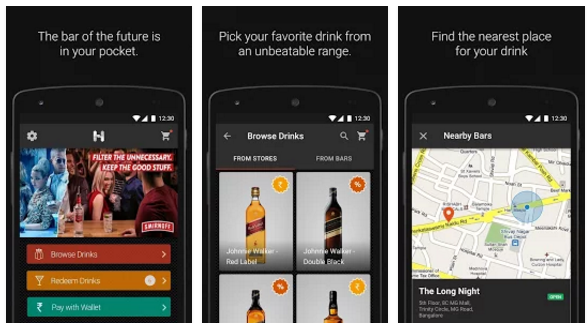 But…
Right at the outset, there emerge a couple of questions. For starters, what about price parity across cities? Will it be possible to top your HipBar account from a state that offers liquor for lesser price and then consume it anywhere else in the country? Not as of now. "The distribution will be state specific. We can't do business and then take it out of context. But within restraints, we intend on making HipBar the most user-friendly and a no brainer kind of an option," says Natarajan. But that doesn't mean they are not considering the option. "It's too early to comment. We're looking at all possibilities. Ideally the case should be that we buy liquor from anywhere and consume it anywhere. We're working with brands to figure the best possible solution."
Next question that struck us was how will they tackle people under the legal drinking age? "Checks and balances are in place, that keeps the younger lot away from the system," he says. And of what Natarajan told us, government didn't pose any issues either. "Government, in my view, is just to everyone who is looking to be fair in their trade. We made our intentions very clear to RBI from the starting, which fell in sync with RBI's thought of getting into a cashless society. We actually got our approvals once demonetisation came into place so it all worked out."
Way ahead?
Considering it's only been 30 days and a little more since they launched, they have already come a long way. "No innovation has happened in last 100 years in the liquor industry and we can't change anything much in about 30 days. We'd take our time to get everything sorted in the right way."
In the first month, Natarajan told us, the intention was to roll out and prove that the app can run without any regulatory issues, and they have proved that point with conviction. "We are still evolving. Now that the first month has gone by smoothly, we will soon be launching new products and features on the app in the near future."
For now, with 60,000+ downloads on Android and iOS, HipBar seems to be on a neatly chalked out path. Where does the founder see it go? "HipBar will definitely contribute to the overall drinking experience. And in the next two years, HipBar should be everywhere."