sbcltr caught up with the Chandigarh based artist to understand her process, her influences and her ever evolving mediums of expression
Gaurvi Sharma is a Wonder Woman of sorts, she juggles her time between visual art, embroidery, collages, her child and family life, and of course, dreaming. Constantly inspired and experimenting with new styles, she is one of the coolest artists on the block, creating waves and recognition with her contemporary appeal to different artistic expressions.
Sharma started off with drawings and paintings and eventually moved to mixed media and collages. Her latest obsession has been embroidery, with her own world of colourful flowers and spaceships and innocence.
But what is most intriguing about her world, as is the case with many artists, is the process itself, for Sharma views art as maintaining a visual diary for the first-hand account of her thoughts and experiences. In fact, her need for expression is so strong and linked so directly to her emotional and mental state, that if she doesn't pen down new experiences, the emotions pent up inside. sbcltr caught up with the artist on her love for the arts, her childhood, and an insight into her process, among other things.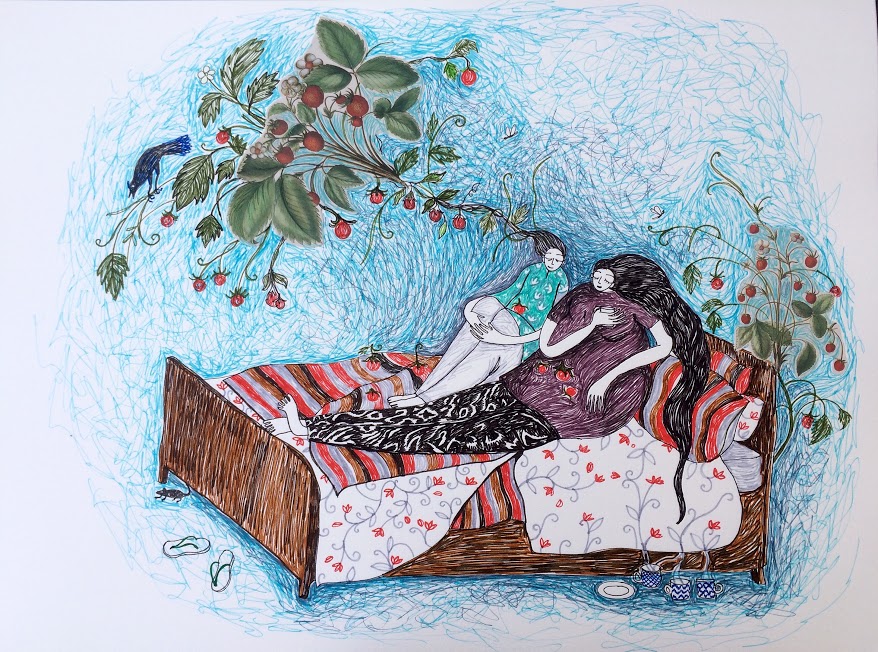 Tell us a little about yourself, your childhood, your education and how you found art as your calling.
I'm a dreamer, a creator and sometimes a poet, a mother to a 6-year-old and a wife to a husband who shares the same dreams. I love creating whimsical versions of my everyday experiences. I believe that every child is an artist and is born with an ability to see things differently. But society conditions him/her and takes away their abilities. Thanks to my parents, I survived the brainwash. It all started with crafts and the habit of always creating something, which probably came from my father who used to spend his spare time tinkering with different things. He had a big role in nurturing my creative outputs. Both my parents were working so everyday after coming back from school, I used to have a lot of time to myself. I learnt very early on to express my emotions visually.
When I was not drawing or painting, I was writing poems. Expressing thoughts through poems came naturally because it allowed me to look at things differently. This was my first experience with 'abstraction' and also formed the core of my visual language and how I perceived my world.
The first time I could see my expressions or 'hobbies', as my relatives would call it (I grew up in a typical middle class family), to be developed as a career was when I met a cousin who was studying fine art. Till that point, studying was something forced upon you to pick a career and earn a living. But a visit to my cousin's studio and watching her create art gave wings to my dreams. This is when I decided I wanted to be an artist. I did my graduation in fine art from Govt. College of Arts, Chandigarh and post graduation from Jamia Millia Islamia, Delhi.
Are there any particular themes that you enjoy exploring?
My work evolves around my daily experiences. Anything I feel consciously or subconsciously initially flows out of me in the form of a drawing. Each day brings a new story, a new emotion and a new visual. A simple act of visiting a different city, a morning jog to the park, a small visit to my mum's place, a gentle monsoon shower, my struggles with daily chores and so on – everything stimulates me to create what I make.
You started with watercolours and drawings, and then dabbled with mixed media and collages for a while. How was that transition?
At the beginning of my career, I worked with linear, bold and flat forms. But this slowly changed into using mixed media as I liked playing with different dimensions and textures. My work totally changed when I got the opportunity to live in Japan as their culture seeped into my works. Manga, graphic novels, billboards, pop culture, fashion – observing all of these everyday left a deep impact and my visuals turned more graphic and detailed. I started working with pamphlets, fashion magazines and embellishments and found my love for collages there.
The process of collage making is very engaging and despite all the mess and chaos it creates, it is very satisfying to see the final result. While creating a collage, I look through hundreds of magazines and cut and compose thousands of pieces to make a composition. I draw whenever I am not making collages as I need to put my emotions on paper as soon as I experience them. If not, I start feeling the pressure of my pent up emotions.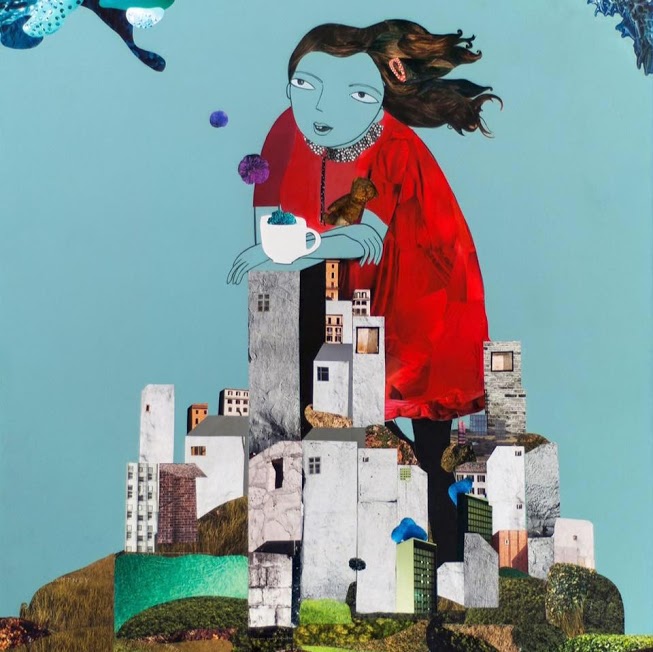 And you started exploring embroidery recently. How has that journey been?
Wonderful! For the past few months, I've been working on Yasmin, a bag series, where I have created tote bags with illustrated embroidery with my domestic help. The story behind it is that while I knew her by the name "Seema", after spending time with her, I discovered that she is a Muslim. When I asked her to disclose her real name, she said it's "Yasmin. She also told me why and how she had to change her name. After migrating to India, her own family insisted she hide her identity because of the absurd fears related to caste and religion that unfortunately prevail in our country. I call her Yasmin thereafter and she's thrilled to be called by her real name. She was the one who told me that in her village, all the girls are taught the art and tradition of embroidery and stitching. That's what drove me to play around with thread and when I saw her talent at it, asked her to work with me. We are now doing this project together!
For the playful imagery of my bags, I don't plan or pre-sketch the designs for my bags. I first get the bag stitched and then draw or sketch on it, which is completely intuitive.
How much of a role does social media play in getting your work out there?
I have found a huge fan base on social networking sites who actually relate to my visuals. Being able to create artworks which people can connect and let it affect their lives – is what inspires me.
You've been selected for the Punjab Lalit Kala Akademi awards. Did you ever anticipate this praise and recognition for your work?
More than anything, I like people connecting to my work and no award is greater than the honest reactions I get from people who relate to my work. Nevertheless, it's good to be recognised and I am honoured to be awarded. It indeed is a big motivation. This award is like a benchmark for me to reflect upon how my work has developed and reached this point.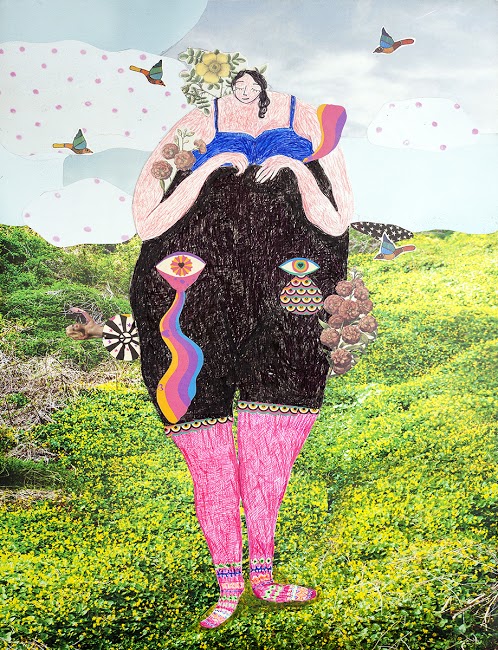 Any other exciting projects and shows lined up for 2017?
Currently, I look forward to my exhibition In The Woods, organised by Frank Schlichtmann of The 4Tables Project in June. I believe this will be a very different experience as compared to others. Frank himself is an artist and efficient curator, successfully known for his unique approach to events or art shows. His enriching ShopArt ArtShop art festival, in particular, happens every two years and wonderfully celebrates contemporary art and village life.
Into The Woods will feature not only me but also Frank and Mudita Bhandari, a very renowned name in the field of ceramics. There will also be workshops, theatre and jazz performances and other exciting things! I must confess though that I am not just excited but nervous too as it would be somewhat challenging!
Talking about challenges, how has your work evolved since you started off as an artist?
My art will certainly evolve as life does. I love capturing the moment in the form of sketches and going with the flow and not trying to fit anywhere. I just enjoy each day as it comes. Since the Yasmin bags, I have also been trying my hands at soft sculptures and ceramics. Let's see where it all takes me.
---
Text by Rohini Kejriwal
Art by Gaurvi Sharma