His provocative directorial debut, Unfreedom may have been internationally released by Netflix but Raj Amit Kumar is still fighting to get an approval from the Indian censor board that is dubbing it the most bold movie ever made in Indian history, writes Shillpi A Singh

Unfreedom is a contemporary thriller based in a society torn apart by political, religious and sexual turmoil. Alternating between New York and New Delhi, the film combines two powerful stories about religious fundamentalism and intolerance. One of which follows a Muslim terrorist Husain (Bhanu Uday), attempting to silence a liberal Muslim scholar Fareed (Victor Banerjee). The other story is about a young woman Leela (Preeti Gupta), who defies her devout father Devraj (Adil Hussain) and escapes an arranged marriage because she is secretly involved in a lesbian romance with Sakhi (Bhavani Lee). Through these stories, the film creates a compelling portrait of the troubled times we live in and depicts the lengths to which the protagonists go to hold on to their strong and conflicting viewpoints on freedom, faith, family and love.
The story is inspired by Faiz's poem, Ye Dagh Dagh Ujala, and marks the directorial feature film debut by Raj Amit Kumar. Kumar has also produced the film under the banner of Dark Frames and co-written the screenplay with Damon J Taylor.

The film's technical team comprises of Oscar-winner Resul Pookutty (Slumdog Millionaire) who has done the sound design for the film and was nominated for the Motion Picture Sound Editors' 63rd annual Golden Reel Awards. The film is shot by award-winning cinematographer Hari Nair (Shutter, Kerala Café) and edited by Atanu Mukherjee, who debuted as a director with the acclaimed film, Rukh (2017). Unfreedom was banned by the Censor Board of Film Certification, (CBFC) in 2015 (which was then headed by Pahlaj Nihalani) who were of the opinion that the film will ignite unnatural (read homosexual) passions and incite rapes and communal violence in India. Initially, the film was under review by CBFC who wanted director Raj Amit Kumar to cut crucial elements from the film in order to be shown to the Indian public.

Not to be bogged down by their demands, Kumar appealed before Indian Government's Information and Broadcasting Appellate Tribunal, (FCAT). And in response, the FCAT banned the film without any possibility of cutting or further appeals. Later Kumar and his team ran a campaign for a year during which they did around 100 screenings of the film globally in India and US among other countries. The film was screened to immensely encouraging audience response in cities such as Mumbai, Delhi, Bengaluru, Hyderabad, Kolkata, Los Angeles and New York. Following this, the film was released internationally by Netflix.

Talking about the film's release by Netflix, director Raj Amit Kumar said, "I am glad that Unfreedom finds such a popular platform like Netflix after the ban in India and the efforts of censorship guardians in India to stop the film. It also exposes the hypocrisy and divide between reality and fantasy of censorship system in India. There is no way they can control and censor content in the digital age, yet, they try their best to choke filmmakers like me who have something relevant to say that makes them feel threatened."

Elaborating on the film's ban by CBFC and it being labelled as one of the boldest Indian films ever, Kumar said, "The boldness of something is always defined by what you are allowed to say or not in a society. The boldness of an artist is always defined by what others artist around him have not said or what they are not allowed to express. Thus, it is not the content in my film per say makes it bold, but it the context of a society in which it is told, it is the fact that we have become such a weak and conservative society where we are asked to shut up all the time. Our voices are being crushed unless we are chanting slogans that the powers to be and moral guardians are ok with. And in today's time our art is being crushed in much more violent ways than ever before. Journalists are getting killed, films are getting banned for slightest of transgressions and the whole mediascape is turned into a trumpet sound. Any other vision, voice, expression has to be curtailed. So I guess it is the boldest film ever because I did not give a damn about anyone or anybody. I didn't care and I don't think I will care in future as well. Unless artists take that approach and risk their well being, we will soon be living in a world where everybody is frightened to say anything truthful."
Excerpts from an interview with Raj Amit Kumar.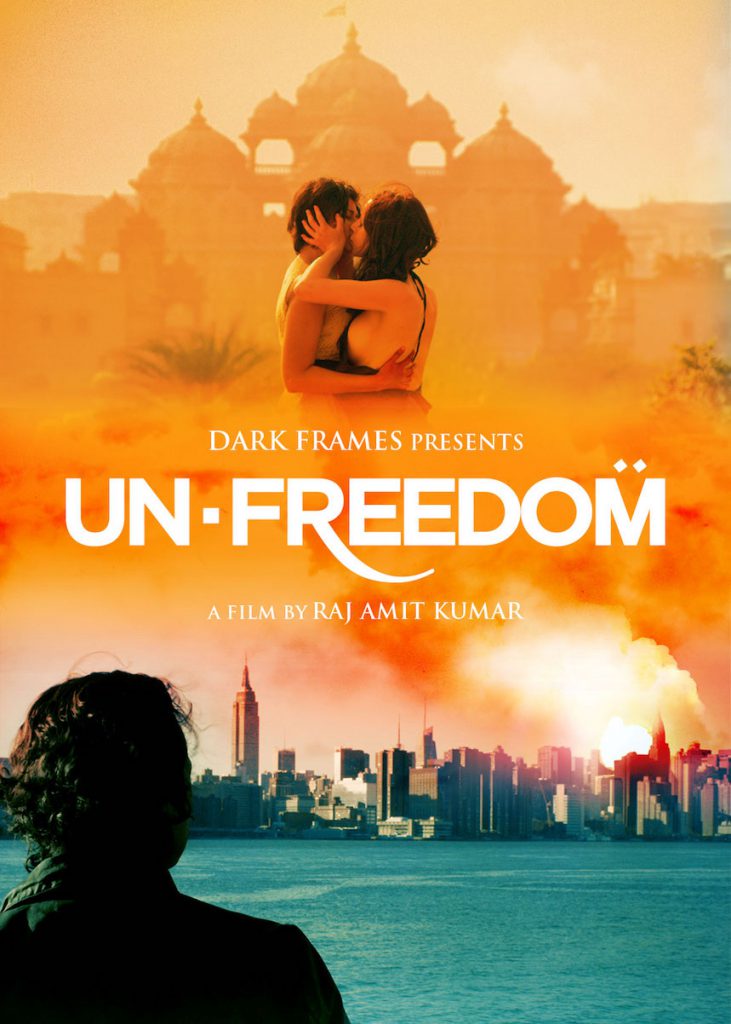 The film is layered. Why so many complexities?
Life is layered. The issues of identity, sex, and violence are layered. There are no simple answers, there is no simple expression. If you are complimenting me that I was able to make a layered and complex film, then I thank you for the compliment. And if you are saying that those complexities make it hard for the viewer to understand and follow, I would say, most can just read the first layer and will still get a lot out of it. It is a film that you may need to watch a few times to get to the core of it. And I am sorry that it is not a "pleasant and simple viewing."

What were the challenges that you came across while making the fim? How did you deal with them?
I am sure you go to any independent filmmaker and ask them to talk about their challenges of making a film, they all can write a book on it. There were immense challenges from raising finance for over four years to casting lead actresses, to shooting in India with such a subject, so on and so forth. The list is pretty long. But there comes a satisfaction after overcoming those obstacles and sticking to your conviction. I guess there is only one way to deal with any challenge when you make a movie: Determination. Motivation and determination that no matter what, you will see it to the finish line.
It is banned here in India. Did it come as a shocker or were you prepared for it?
How can one be prepared for a ban? How and why should one expect a ban? I was optimistic. I was very well aware that I am crossing boundaries that may not have been crossed before in Indian cinema, but so what, that should not make us fear that we will be banned. If we have a basic human right of expression in our country, there should be no reason for any filmmaker to "prepare for the ban". I wasn't shocked, but I distinctly remember thinking: How will I make my cinema in India? Is that how we should keep making films in India that we should first consider what Censor Board will approve of? It became very clear that how subservient Indian filmmakers have been to the moral police of Indian Cinema for seven decades. We do not have a basic human right to the freedom of speech and expression in India when it comes to Cinema.

The film has two of the best of Indian cinema—Victor Banerjee and Adil Hussain. How did you zero in of them and the remaining cast?
It's not hard to see that Victor Da brings the grace, peace and earthiness needed for Fareed. And Adil personality has the strength to show how someone can commit a heinous act out of shame and honour. I didn't want to create a demon out of Devraj personality but from his actions and choices. I wanted to show that contradiction, and he fits perfectly.

Bhanu was a surprise find. I was getting tired looking for Hussain character, and then he showed up to audition in Bombay, and I pretty much-closed audition after looking at him and his performance. He was so perfect. Finding Leela and Sakhi was a pain. Understandably, for Indian actresses to go that far on screen, and risk their career for a first-time filmmaker isn't easy. Many mainstream actresses I approached said no just because of the nudity in the film. We auditioned twice in Bombay, once in Delhi, twice in NY, and many times on Skype, before Leela-Sakhi happened. And I am thankful that Preeti and Bhavani trusted me to play these characters. I am sure they are proud today of the work they have done.

After Unfreedom, what next from you?
I just finished shooting a major portion of my second feature film titled BROWN. It is the story of an undocumented brown man who is running from ICE agents. He hides out in a small deteriorating mining town in the mountains of Montana until he is forced to work with a small-time crook and drug dealer to save an eleven-year-old white homeless girl. I guess it is another story of Unfreedom.