Anamika Chatterjee attempts to dissect the reasons behind the poet's phenomenal success
Overthinking, typically, can lead to angst. Rupi Kaur, however, turned it into an art. "As a child, I was an overthinker. I deeply internalised a few things and the only way I could express those things was through visual art," she says, explaining how her love for drawings eventually came to be incorporated into her verse. Today, a combination of the two informs her work in a genre she has masterfully owned for the past couple of years – Instapoetry.
At 24, the Canadian writer has a resume that could even intimidate poets outside Instagram. Commanding a robust following of over 1.5 million on Instagram, last year, she self-published her very first book of poems milk and honey that has sold nearly as many copies worldwide, finding its place among The New York Times' list of bestsellers. Come October, and her new book of poems, the sun and her flowers, will find its way to the bookshelves across the world. In a nutshell, it must feel pretty darn good to be Rupi Kaur.
Or so you think until you read her free verse poetry on Instagram. Written in lower case – a personal homage to her native Gurmukhi script (she's of Indian/Sikh origin), which has no case distinctions – her works revolve around poignant themes such as identity, gender, romance and heartbreak. Underlying these themes is an angst that is too personal to be stacked in neat categories. She has been anointed "patron saint of millennial heartbreak", while some critics have seen her work as being representative of the South Asian female experience.
Nomenclatures are reassuring in that they help us situate an artist in a social, cultural and political milieu. But, sometimes, they can be constraining. Amid the many labels offered to her work, Rupi's verse evokes an intensely personal response from readers. "The thing that you're most afraid to say out loud is the thing that is most universal. It's actually what we all feel. I think because I wasn't looking to get published initially, I could be as honest as possible. For instance, I was really scared of publishing the third chapter of my new book the sun and her flowers. I was away from my parents for many months, and missed them a lot. So, I dedicated a chapter to them even though I wasn't sure whether people would understand it or not. I thought maybe this is too much of a personal experience to share. But those are exactly the poems that resonated with readers."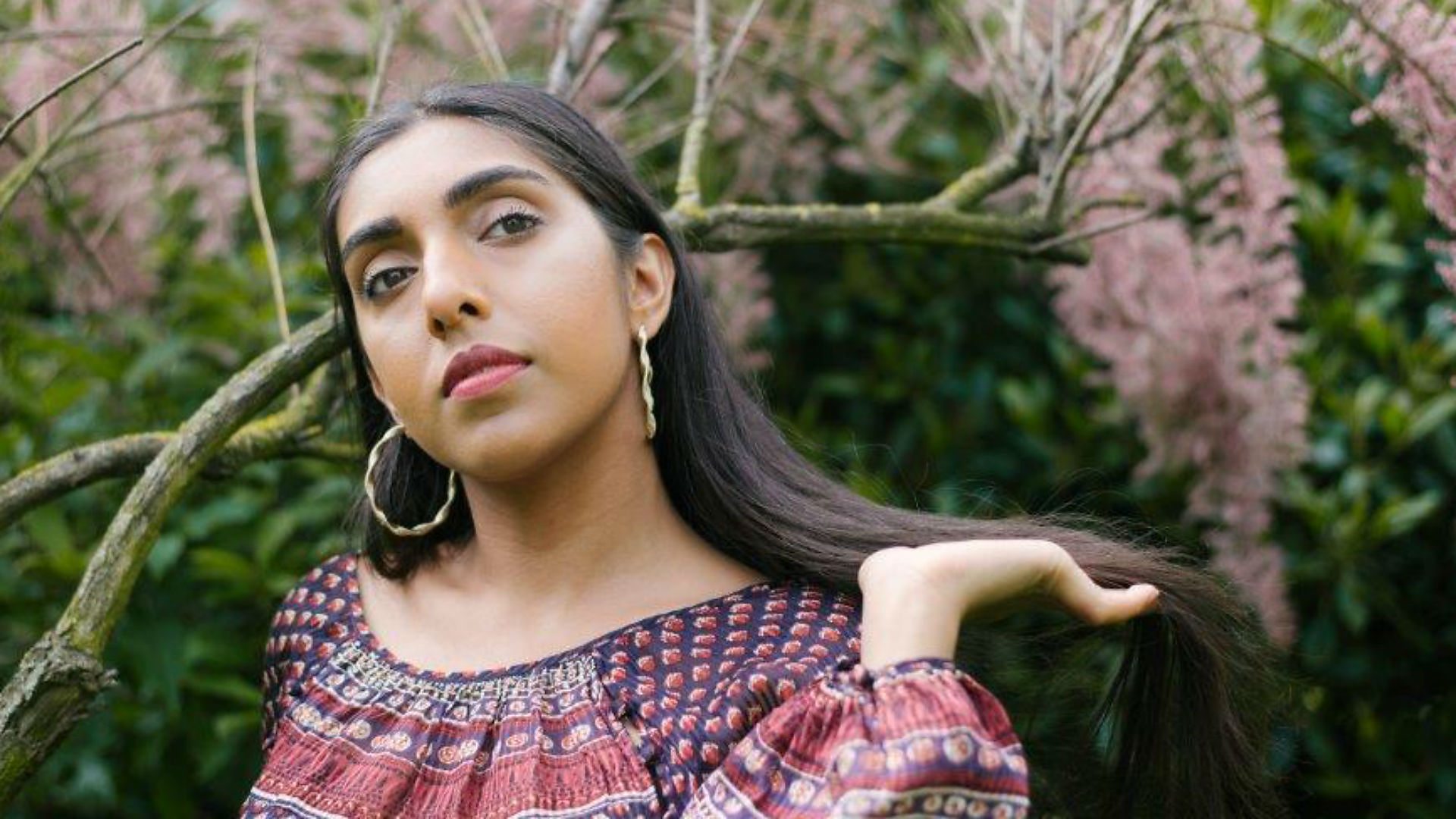 THE FORM
"do not look for feeling
at the feet of those
who broke you"
Much of the impact of her work lies in the visual narrative. For instance, a short poem such as the one above is accompanied by a sketch of human silhouette bowing down to another. For a digital readership leaning towards the visual appeal of content, this is a neat combination. Something that came in handy for Rupi when she started posting her work on Tumblr and decided to marry her artistic skills with her writing. "My original poetry in 2013 did not have artworks. It felt like cheating on your first love. I felt I was ditching it because I had found someone more handsome. So, one day, I went to a store and blew my money on paint brushes. My process now is simple: when a poem is finished, the very first visual that comes to my mind is what I draw," she says.
The format of her poetry – simple, unambiguous sentences merged with visuals – resonated with many and her following multiplied in no time. However, a humongous following on social media can also be a double-edged sword. While it indicates acceptance, it often tends to impact creative choices. Would the 1.5 million people on her social media like her next verse? Rupi admits it is a question she has often pondered over, but accepts it as a rule of the game. "Any person on social media goes through that stage where your following increases and you get caught up with that game. But I have eventually come to realise that there is no particular number of followers that will satisfy a person. If you are on 600 followers, you will aim for 1,000. As I was writing my second book, I wondered if I should write on something that had already been widely accepted, but that's when I realised you can't mix the art with the business." A wise decision on both counts!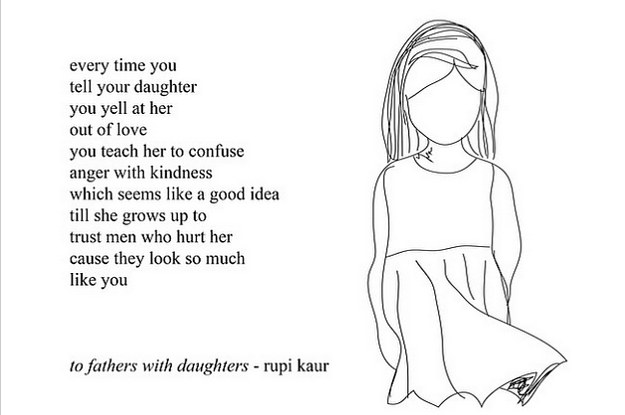 THE JOURNEY
Today, there is some romanticism associated with her wanting to carve a niche for herself on her own terms by refusing to go through a standard publishing process. However, Rupi assures the decision did not stem as much from the need to necessarily break away from convention as it did from her financial situation at the time. If she turned to the online space to showcase her work, that was primarily because of one reason: it was free. "milk and honey was published at a time when I was broke. So having access to social media was great in that aspect." With her typical candour, she adds that the mass popularity of her work does challenge the status quo in the literary world. "Naturally, the mass popularity of my work would lead to criticism, especially when it was achieved without going through that literary circle, and asking, 'Hey, can you validate my work?' When I first broke free from a standard publishing process, it was exhilarating because, in my mind, I did not expect a publisher to print my book. There are certain gatekeepers of Canadian literature, for example, and my poetry did not conform to those. I was submitting my poems for anthologies, but the process was such that I'd have to submit only a few poems. I felt my work needed to be experienced from cover to cover. When someone reads only five pieces, they wouldn't get it. I realised I was cheating on my work." However, that is not the sole reason. Rupi jokes about being a "control freak", who has always wanted to control creative aspects of her work. "I want to see how my pages look, how my covers look. The publishing industry does not give authors that much space. Because self-publishing worked out for me, it feels great. Had it not, I don't know what I'd be doing right now," she laughs.
Today, even as her popularity soars, there are critics who find gaping holes in her portrayal of the South Asian female experience. Dissecting her body of work, an article on Buzzfeed recently noted the criticism she has been receiving "for blurring individual and collective trauma in her quest to depict the quintessential South Asian female experience". Rupi is not unaware of this line of criticism and admits that she is not even attempting to be a spokesperson for South Asian female experience. "But that identity is important to me. I can speak about the lived experience and that's what I am documenting. I am just one person from a community belonging to a certain social and economic class. How can one person represent an entire community?" She adds that more such voices need to be heard because "my voice alone cannot represent the South Asian female experience". Making her thoughts on the subject abundantly clear, she explains, "I think where this criticism comes from is this essentialisation argument that's used as a tactic to segregate and dismantle people within a particular group. So, it's almost like saying that only one of us brown women can write about the South Asian female experience. Also, the other thing is only one person can't. I may have gained some sort of mass popularity, but there are so many South Asian women writing and sharing their work online even before this generation. I want people to find these women and experience their work. So, this argument is myopic and shallow and needs a more purposeful perspective."
THE PERCEPTIONS
The universal language her poetry speaks is often seen as a reason for her growing popularity among the millennials. Gunjeet Sra, editor-in-chief of the alternative culture website sbcltr, says, "While challenging the status quo, even disrupting it to an extent, is part of the genius of her work, the reason Rupi Kaur is so successful is because she does not offer specifics. She goes into universal emotions of loss, love, abuse, etc. She has consciously positioned herself as an immigrant." Paring that criticism down further, the question that needs to be asked is – must poetry address the specific? UAE resident Kruttika Kallury, who has been an ardent follower of Rupi Kaur's work suggests that in addressing the universal, her poetry speaks to readers across cultures. "Like any other woman, I also battle with body image issues, much less now perhaps than earlier. But her poetry about accepting and nurturing yourself physically and emotionally is a lovely reminder of why we should be comfortable in our skin," she says.
Last year, as Rupi set out to read passages from milk and honey at Toronto library, an article in the Canadian magazine Flare reported, "That night, Junot Díaz – Pulitzer Prize-winning author, MacArthur genius – happened to be speaking in another corner of the library. He did not draw the same crowd."
Recalling that evening, Rupi almost jumps in excitement. "I am Díaz's biggest fan and I wanted to leave my event and go upstairs and get my book signed. It was wild, but I am still dreaming of meeting him some day and apologise. But knowing him, he probably wouldn't want me to apologise. He'd be like, 'Great job', and then, of course, I'd get my book sign."
For now, though, she is confidently marching towards realising her dream.
This story first appeared on Khaleej Times,a UAE based newspaper.