From New Delhi to Kolkata, India's museum came alive for celebrations,
writes Rohini Kejriwal
Once upon a time, long before the digital era took over our lives, museums were the center of attraction for the masses, especially children. In 1977, the ICOM (International Council of Museums) created the International Museum Day (IMD). In an attempt to revitalise museums and get people to enjoy history through their unique experience, the world has since celebrated IMD on May 18 every year. Over 145 countries participate each year and India is one of them.
The theme for IMD 2017 was Museums and contested histories: Saying the unspeakable in museums, which aimed to highlight the role of the museum as a learning and peacemaking tool for society.
With this in mind, Bangalore had a range of museum walks, talks, workshops, film screenings and other activities lined up on as the Department of Kannada and Culture joined hands with prominent museums in the city like Visvesvaraya Industrial & Technological Museum, Government Museum, HAL Heritage Centre and Aerospace Museum, Karnataka Chitrakala Parishath, National Gallery of Modern Art, Gandhi Bhavan and Human Brain Museum (NIMHANS). The theme Once Upon A Time was used to highlight stories of of art, culture, heritage and technology from museums. The #MyMuseumStory too encouraged people to share their own experiences.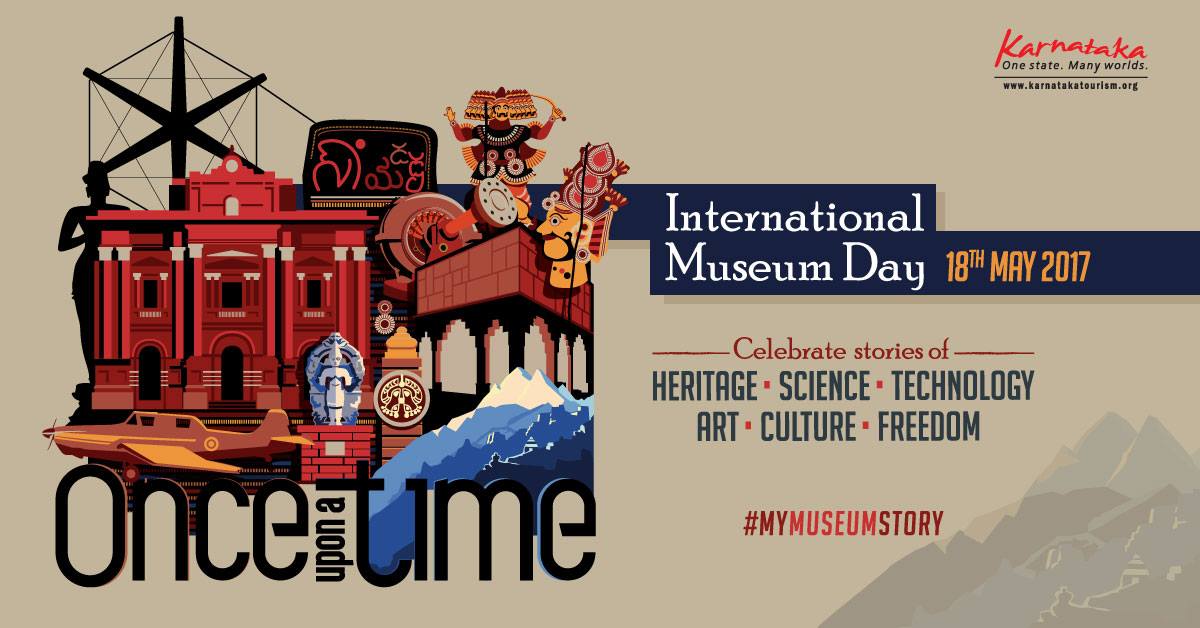 Another hotspot is the State Archeological Museum, where a host of ongoing interactive and educational activities have been designed for both adults and children by ReReeti, a Bangalore-based organisation that revitalises museums. Tejshvi Jain, founder, ReReeti says that, "ReReeti sees itself as a bridge between the audience and the museum. In order to communicate how interesting and relevant museums are to our current reality though the museum is associated with the past, ReReeti works with families and schools using engaging activities to foster this relationship early in life."
Sponsored by the Department of Tourism, the celebrations take place between May 18 and 21.
Author Andaleeb Wajid is celebrating Museum day on May 21st to conduct a creative writing workshop, "Museum day is a great way for children to understand the past as something that has really happened; for them to take history out of textbooks and put themselves in the shoes of those who have lived before us," explains Wajid, saying that she will use her class to educate children about historical figures and craft stories around them.
Katharangam, an organisation that uses storytelling as a tool in education and communication is conducting a session for children and their families between 3:30-5:00 PM on the 20th of May, to help them understand the different notions of peace and empathy through stories. "There are fascinating stories that help them explore different dimensions of love and understanding, not just for another human being but also for animals and our surroundings. The stories will have references to the articles and artieacts displayed in the museum so that kids can relate to it," says Shreya Biswas, founder, Katharangam.
ThinkArts, a Kolkata-based group which aims to bring imaginative, out-of-the-box experiences for children through the arts has been running the popular, The Indian Museum Detective Trail. The project is the brainchild of Ruchira Das, founder of ThinkArts, who believes that trails are an interesting way to involve children to examine and engage with various elements and facets of a museum. "During a visit to a museum, it is virtually impossible for a child to grasp everything that's exhibited. However, a trail gives the opportunity to direct their attention towards the key features and the highlights of the collection. Moreover, because the children can take these trails back home, they extend the experience to beyond the visit and it serves as a tool for recalling the experience," says Das.  To celebrate IMD 2017, ThinkArts curated a storytelling session by Santanil Ganguly from Jhalapala, a theatre organisation for children, and organised a trail which highlighted the important artefacts of the Calcutta Gallery at the Victoria Memorial Hall.
In New Delhi, the celebrations were no less, the National Museum of Delhi collaborated with UNESCO, The Partition Museum and DRONAH Foundation to hold day-long discussions by Amitabh Kant, politician Nirmala Sitharaman and other experts on the subject of Expanding Vision for Best Practices in Museums. The Museum is also displaying drawings made by children from 24 countries under the title, Here Is My Life for a UNESCO art competition.
Rige Shiba, Assistant Curator (Education) at National Museum says that "IMD 2017 is an occasion for museum professionals and museum lovers to celebrate and raise awareness on how relevant are museums in the development of society".
Dr. Bhau Daji Lad (BDL) Museum is another place where IMD 2017 called for celebrations!  The museum's education team conducted a puppet making workshop on Mumbai's Communities: Peopling the City inspired by the clay models in the Museum collection, which represents Mumbai's traditional communities, their histories, lifestyle, cultures and occupations as the city developed in the 19th-20th century. "The workshop and tours have been designed to trace how Mumbai has developed and reflect on the changes the city's population has undergone over time. We will examine each community's defining style and traits and understand how occupation and representation has changed over time," shares Ruta Waghmare, Curatorial Associate and the head of BDL's education department.
The museums in other cities were also on the bandwagon. Allahabad Museum, for instance, held a discussion on the subject of Museums and Contested Histories, bringing students and teachers together to speak the unspeakable. Some even went beyond the museum spaces, for instance, under the patronage of the Jaya He art initiative, Mumbai's Chhatrapati Shivaji International Airport started its week-long celebration of IMD 2017 with workshops, tours, and traditional musical performances through which travellers will learn about India's unheard legacies, narratives and historical background.
The airport is also organising a 'museum safari' for travellers, which entails a 15-minute tour of the various artefacts and installations across four levels at the airport, giving them a chance to view over 7000 artworks by hundreds of Indian artists and artisans from across India.