The man behind All India Permit and his story of elevating the lives of the artists that hand paint commercial trucks
When he was growing up in Nagpur in the early 90s, 28-year-old graphic designer Farid Bawa, spent a lot of time at the site of his grandfather's business—Bawa Transport—a commercial transport business he set up in 1964, after he migrated from Rawalpindi, Pakistan to Ludhiana, Punjab and eventually Nagpur, Maharashtra. "We had 54 trucks and this was the time when most of these trucks would be assembled in the workshops before they went on the road. As a child I was fascinated with artwork and the artists who would paint them. I spent a lot of time with them and build personal relationships with these artists," he says. It was this love for vibrant colours; different styles and hand painting that lead him to pursue a degree in communication design from Pune. When he came back home after finishing his education, he realised that a lot of these artists, now in their middle age, were losing their livelihood and switching careers. "The world had moved on—trucks usually came pre-assembled and painted, people started using stickers instead of traditional art. Hand painting trucks was no longer a viable option," he says.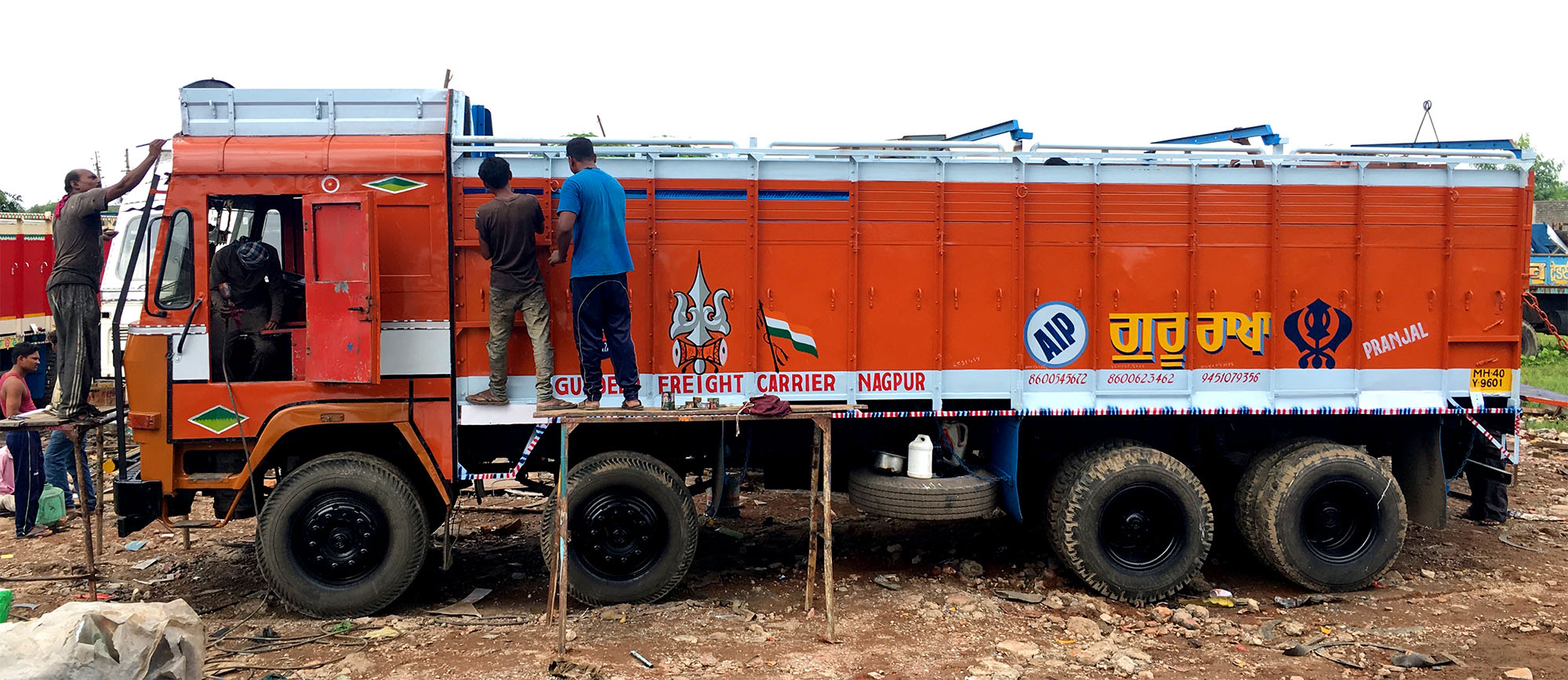 In fact, truck art, with all its intricate designs and vibrancy wasn't even considered a legitimate art form. "As a design student, I saw a problem and I wanted to fix it. For me, it became a challenge to get the craft legitimised and give it the status that I felt it deserved." Bawa then spent months being on the road, talking to various artists, realizing their problems and looking for a sustainable solution for them. Bawa says that, at first he thought of giving the artists a canvas to paint on, but then he realised that this would completely change their style and seem inauthentic. "These artists were used to painting on metal sheets so I came up with the idea of giving them cold rolled steel sheets which are used to make truck panels."
The work is then shipped to the All India Permit Project (AIP)—which was founded by Bawa to promote, save and legitimise truck art as a much loved art form.  AIP then puts this work up for sale. The project currently has artists from different parts of India since Bawa travelled and met up with various painters from across the country in order to encourage them to be a part of the project. "While they did go along with it, I think they didn't realise the impact this art form would have on the world because when I showed them newspaper clippings of their work being appreciated, they almost had tears in their eyes. Many of them told me that this was the first time that they actually got appreciated for their work." On their website, AIP has stories of each artist because Bawa wants the customers to know where their art is coming from. "When we sell an art work, more than 50 per cent of the proceeds go to the artist. Regardless of sales, we also pay our team of artists a regular stipend. The whole point of the project is to support them, these are very poor people and a regular income can make a huge difference in their life."
The project officially took off seven months ago and shortly after that, Bawa moved to Netherlands to work in an advertising agency. While he's away, there is an entire team ensuring that the project runs smoothly and Bawa, of course still continues to manage things and promote the cause. Since their launch, they have got a lot of positive feedback for their initiative, besides good press, AIP has shown in Amsterdam, Brussels and even collaborated with Levi's on its 501 project in India. It might just be the start of one long trip because according to Bawa, the end game is to open a designated art gallery, build a foundation that will help these truck art artists live better and have workshops for the next generation so that they can take this art form forward. Meanwhile, in the by lanes of Nagpur, Bawa transport still stands tall as a testimony to the power of love and legacy.
To buy All India Permit Art, click here. You can also follow them on Instagram