sbcltr spoke to the band Abiogenesis about howey music and their new single Up In The Mountains
Their three albums have been listed for nominations at the Grammy's and they are the world's only band to play the Howey and Bamhum—music instruments that are an amalgamation of their roots and the world. The former inculcates their ancient Naga chants with Indian folk and the latter is made of bamboo.
Their mission when they first started was to use music as a medium to heal. Abiogenesis also wanted to introduce the youngsters to their own cultural heritage through howie music. When they first started in 2005, they were a rock band that played originals as well as cover, with time, they felt the need to expand and started to experiment with their music, Howey music was a result of this personal journey.  This was around the time when Bamhum (2005) was first unveiled to the world by the Governor of Meghalaya, M.M.Jacob and the band was never the same again.
sbcltr caught up with the band to talk about their new single Up in the Mountains, their musical evolution and one-of-a-kind-music. Read the excerpts below.
Tell us more about your band, what is the story behind your name and could you all introduce yourself?
Abiogenesis means, the evolution of life or living organisms from lifeless matter. When the band was formed in 1991, many youngsters were hooked to drugs including fellow musicians and many regarded them as lifeless or living dead. We found it apt to name the band Abiogenesis as our mission was to give messages through our songs to deliver them from these bad habits and make them live again normally. The present youngsters in Nagaland are more inclined to western music and as such our culture has unfortunately become more of lifeless to them and as such they have very less or no knowledge of our rich cultural heritage. We thought we should reverse these trends through our music. So we have incorporated the elements of the past with our music to make it modernized and appealing so that it would arouse interest to them.
Abiogenesis are Arenla Subong  on  Vocals / Lead Bamhum/ Tikzik. Moa Subong   on Bamhum / Guitar /Harmonica/Tikzik. Meren on  Bass  and  Aso Yim and Drums/ Percussions/Tikzik.  
As veterans in the Indian music scene, can you tell us what has changed in the industry?
The music scene has drastically changed in these last 15-20 years not only in India but all over the globe. Those days good branded musical instruments and gears were almost impossible to buy in India, now it's available in almost all the major cities. As a teenager in Nagaland, we had to tune in our radio to Radio Rangoon to hear good music. We have seen the change from vinyl to cassette to CD/DVD to pen drive etc. We guess computers, internet and smart phones rules the music scenario these days. Youngsters listen and watch music videos mostly on their smart phones. Now musicians have to emphasis and rely more on  performance for earning One good transformation is that most Indian bands play original music and yes our India audience enjoy it too. Abiogenesis is one of the pioneers to play original music in India.
You recently won a national award from president of India on ground level innovation for the invention of native bamboo instruments Tikzik and Bamhum. Tell us more about the instruments.
It was indeed a wonderful moment for me to receive the National Award from the President on India on 4th May 17 at Rashtrapati Bhawan.  Let us remind you that both Bamhum  and Tikzik are not native instruments, on the contrary they are the two youngest musical instruments in the world. The Bamhum is a wind bamboo musical instrument that can be played instantly even by a novice. It was  unveiled by the then Governor of Meghalaya Shri. M.M. Jacob at the International Bamboo Fest on 3rd May 2005 at Shillong.
Tikzik is a new bamboo percussion with multiple sounds which was unveiled by Shri. Lipokmar Tzudir , the then Director of North East Zone  Cultural Centre during the Discover North East Fest at Mokokchung on 2nd May 2014.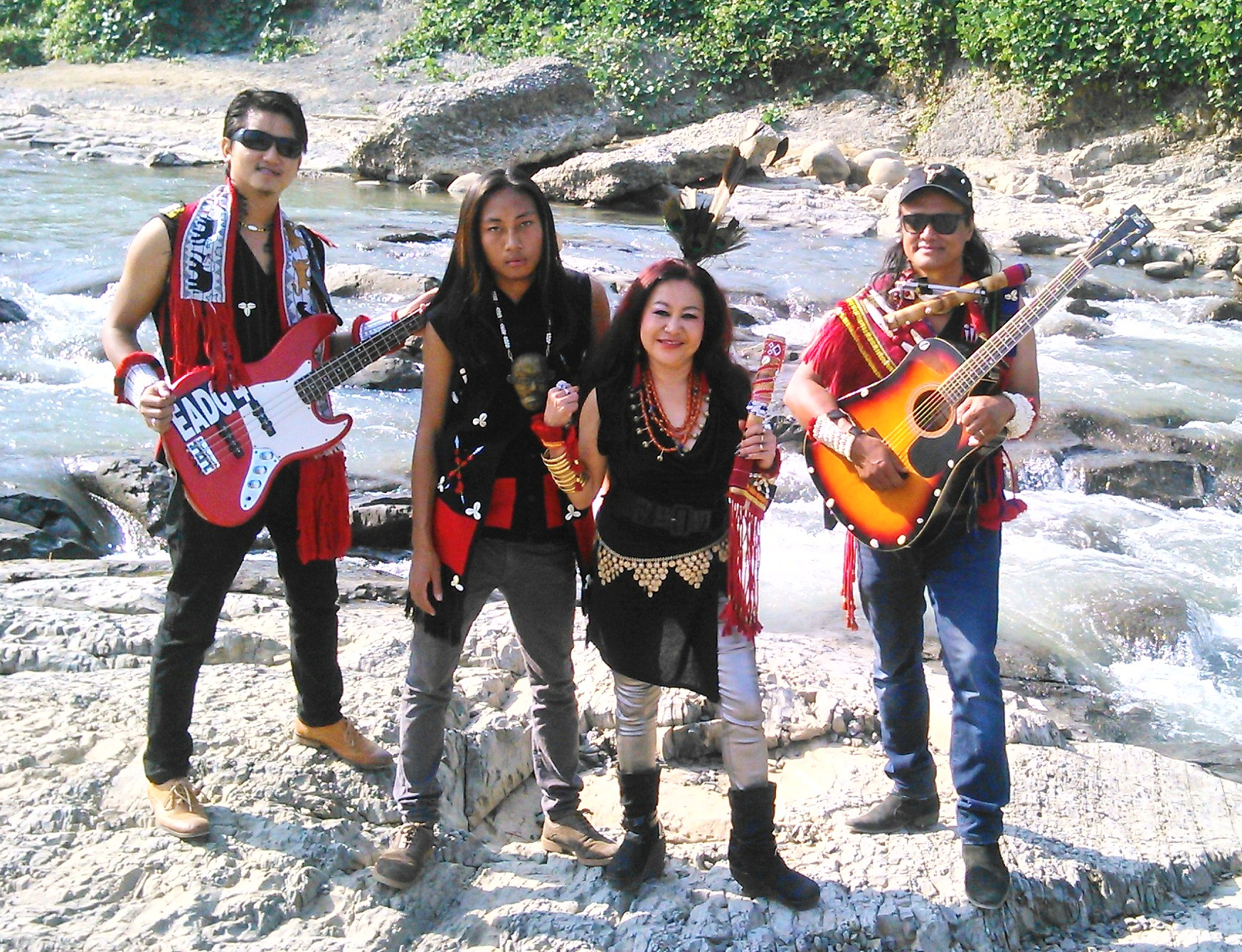 How does it feel to play music from a self created instrument and make sounds that has never been heard before?
These novelties  brought about a huge change to how Abiogenesis sounds today. Bamhum became the leading instrument of the band with Arenla playing the lead Bamhum, and Moa playing the harmony. Tikzik is played by Arenla, Moa and Aso in most of our present compositions. Performing with our own invented musical instruments on our own compositions and with the crowd going ecstatic, I tell you there has been no greater joy.
You have a knack for analog and folk instruments and fusion music but, the world is moving towards fast changing technology and digital DJ music. How do you see this change from a musician perspective?
Indeed we are a folk fusion band but it doesn't mean that we are out dated. Let me make this clear, we mix folk elements with various forms of modern music . In short we pick out the best elements from the past, blend it with the best of todays and create tomorrow's music. Sadly the advancement in technology has made the music sound more plastic and that natural human feel is almost amiss in most of the songs these days. With CDs almost disappearing, artistes will now have to move with the trend of releasing their songs in digital format. 

Your music has an ingenious sounds that is an amalgamation of Naga folk sounds and modern music. You call it Howey music. Tell us more about your sound creation process and what exactly is Howey music?
Howey music is a  fusion of Naga and other Indian folk with various forms of  modern music. This is our unique speciality, we create Indigenous and tribal sound in the most modern way making it exotic and beautiful to listen to, a sound never heard before. Each and every song or music explains the untold stories of Nagaland. It is not only entertaining but also a learning experience.
Who is the designated songwriter. The songs have an earthy effect and love for the mountains. Do mountains give you inspiration in song-writing?
The two founding members Arenla and Moa are the composers. Being born and brought up in the mountains, it does inspire and reflect us in our writings and compositions.
What is the ideology behind your music and where does that inspiration come from? Does it come from people and environment you have grown up listening to or is it something else?
Most of our compositions are free flowing and as good as instant brews. Definitely the surroundings and the people around us do influence us. We create our sounds and songs as time per se. We don't try too hard to have a different song or sound as it may destroy the ambience of the song. Arenla and I draw inspiration from each other as we have been together through thick and thin.. We both have the same zeal for creativity and complement each other in all our works.
What have been some of your most memorable live performances?
Each show has been special to us but in November 2005, when we were to perform Howey music with the newly invented Bamhum for the first time at New Delhi's Pragati Maidan we were not sure how the crowd would respond. But to our delight, the response was better than what we expected, with the media also giving good reviews of our music and the Bamhum. We were also featured on the cover of Northeast Sun Magazine. It was also a big honour to play for Bhutan's Royal family at the Indian Embassy, Thimpu on Indian Independence day in 2011. Another memorable performance was at Mumbai's Raj Bhawan the same year, where we performed in front of VIPs and more than 160 consuls. Interacting with all the Diplomats has been an experience which we will always cherish.
How do you guys manage producing music in Nagaland? Do you have enough jam pads/ recording studios to practice and record at? Tell us more about the independent music scene in Nagaland.
We are fortunate to have our own recording studio including a mini hall, so we can record and rehearse at our on leisure and schedule. Recording studios are mushrooming as of now in Nagaland but I can't say how many of them are good. Jam pads are also coming up. There are also quite a good number of good upcoming bands. Regular performance venues are almost none existent and bands depend on occasional events and festivals.
Any band you want to collaborate with from India?
Why not, we would love to collaborate with other bands and create something new though we cannot name anyone in particular.
What does your song with SongDew Fresh, Up on the mountains, signify?
It describes the beauty, freshness of the air and water. The tall majestic mountains in Nagaland is known for the evergreen forests in Nagaland. The forests and its resources are integral to the life of the Nagas.  The Nagaland flora and fauna vividly illustrates the diverse nature heritage that the state is blessed with.
Do you think with the advent of technology and digital music startups like Song Dew, Spotify, it has become easier for bands to let their music travel and to find new audience?
Indeed, the advent of digital music stores and promoters has made it easier for artistes to reach out globally.
---
For more of their music, follow them here