sbcltr spoke to Kahaani Wale about their idea of tapping into the repository of collective action in India
An artist collective based in New Delhi is using story telling to highlight voices of change and mobilise action. Their goal is to give an opportunity to storytellers to tell their stories and present their original voices to the world. To be able to fulfill that, they support, collaborate and produce independent work. The collective comprises of storytellers from the areas of film, music, animation, photography, illustration and design. For instance, in their latest campaign Hum Le ke Rahenge, they aim to exhibit different sides of protests. "We read about various protests, but do not experience them. Additionally, the unique ways in which protesters fight for seemingly untenable causes are a heritage worth preserving. Hum Le Ke Rahenge aims to tap into this rich repository of collective action in India and to amplify dissenting voices from all parts of the country, irrespective of political inclination," they say.
In order to understand more of their campaign and their work, sbcltr spoke to Samarth Mahajan from the Kahaani Wale team, read the excerpts below
Tell us a little about Kahaani Wale
Kahaani Wale is an artist collective based in New Delhi, India. We, at Kahaani Wale, produce and create visual and audio content to tell stories of change across South Asia. We aim to push the boundaries of popular culture through storytelling. We tell stories to engage, provoke and ultimately inspire to act. Our interest lies in telling stories of human resilience in South Asia.
As artists, we consistently witnessed how popular narratives were overpowering the conversations. These conversations were binary in nature and therefore devoid of diversity. We want to fill that gap and therefore we support, collaborate and produce work of independent storytellers. The collective comprises of storytellers from areas of film, music, animation, photography, illustration and design. Our body of artistic work currently spans over 80 fiction and non-fiction films that have been screened more than 450 times in national and international festivals and have been awarded more than 55 recognitions.
Who are the people involved in this organisation?
Our founder, Aman Kaleem is a Hubert Humphrey Fulbright Fellowship's India nominee, a Young India Fellow and has been recognised by the Government of India and United Nations as aMake a Difference Leader for her work in the South Asian region.  She is a faculty at the Vedica Scholars programme, Aligarh Muslim University and Jamia Millia Islamia University. Her latest documentary for Ministry of Information and Broadcasting called, Shaadi, Sex aur Parivaar, is currently being screened in festivals across the world.
I am Samarth Mahajan, the Creative Director at Kahaani Wale. I am a graduate from IIT Kharagpur and a Young India Fellow. My debut feature documentary, The Unreserved, about Indians who travel in the General Compartment, will screen at Film Southasia 2017, Kathmandu. My previous films have won awards at multiple international film festivals and screened on more than 50 platforms.
Tanvika Parlikar is the Business Development Associate at Kahaani Wale. She is a Young India Fellow and an alumnus of Sri Venkateswara College, Delhi University. Tanvika has been actively involved in theater for the past four years. She has performed at theatre festivals like Thespo, Old World and Atelier, across the country.
Meenakshi Pareek is the Campaign Manager at Kahaani Wale. She is a graduate from St.Xaviers College, Mumbai and Young India Fellowship.  She believes art to be the most powerful weapon to get voices heard and has been actively involved in theatre. She is currently running the #AchhiLadki Campaign at Kahaani Wale, to reclaim and renegotiate the term to create an alternative narrative of what an Achhi Ladki is.
Imtiyaz Ali is the Creative Associate at Kahaani Wale. He's a graduate in Literature from Deshbandhu College, Delhi University. He has a passion for the camera, which he is putting to use for Hum Le Ke Rahenge, his debut project as a cinematographer.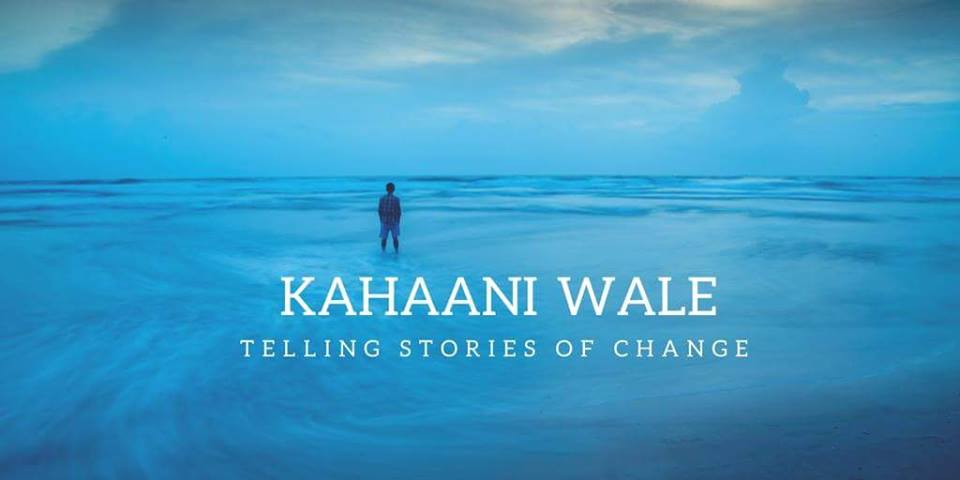 Tell us a bit about the process of your video-making, how long does it take, how do you decide the subjects you choose?
The treatment of the project is determined by the audience of the project. Who we are talking to is essential to us. We believe that to be heard, we need to speak the same language as our audience.  For example, we are doing an online campaign called #AchhiLadki, to reappropriate the traditional understanding of the phrase "Achhi Ladki". The campaign is much more cheeky, young and colorful as the audience is unapologetic feminist who has the spunk to ask difficult questions.
For the, Hum Le Ke Rahenge campaign, before going on the shoot, we had a faint idea that we wanted to explore India's protest culture. I had never attended protests before this project. Once we were attending protests, we realized how an observational treatment can let others experience the protests almost first-hand. This seemed important as most of the urban youth, who we were targeting, do not attend these protests. Moreover, protests are generally full of action and activists try their best to keep the protesters engaged by adding interesting elements like poetry, songs, and slogans to rhetoric. So we, a crew of two – me and Imtiyaz (Cinematographer) – decided to use only a hand-held 5D camera to minimize our intrusion into people's space. Many of the protests are one-day affairs, so we can shoot it and then create a video on it with 1-2 days of editing. But some protests, like the Tamil Nadu farmers', can take much longer as they are permanently living at Jantar Mantar and try out new methods of protesting every day. The trailer took much more time, almost ten days, as we had to go through the ~25 hours of footage that we have been able to capture. We are choosing the protests irrespective of political inclinations. So if we have attended the Not In My Name protests, we have also attended the Save Bengal protests organized by BJP, which was an outcome of the Basirhat lynching. Sometimes we come across protests which use unique methods of protesting, like the Gorkhaland March which used a 110 meter overhead Indian flag, so we try and document them.
Our stories emerge from our deep conviction in principles of democracy. We want to create narratives that push the viewer to recognize the different sides of the story and not consume any information as a monolith. We believe that in order to engage, provoke and inspire to act we need to consistently engage with our audience, therefore our project is for 3-8 months, depending on the scale and our resources.
Tell us a bit about your latest campaign.
Hum Le Ke Rahenge is a campaign to document India's protest culture through a series of short documentaries, photo-stories, and blogs. We launched its trailer on Gandhi Jayanti (02 October) to pay homage to the man whose life became synonymous with protesting.
We plan to release a short experiential video, focusing on one protest, every week. The videos will be supplemented by photo-stories and written accounts of what we experienced while we were shooting the protests. They will be available on our Facebook page and YouTube channel.
To follow Kahaani Wale click here