Celebrities in India could learn a thing or two from this campaign and get behind the important cause of gender equality, writes Alice Sharma.
All set to make a difference with their music Bon Iver has announced a gender equity campaign called #2 A Million.
The campaign comes in conjunction with the band's tour for their new album 2 A Million. The campaign seeks "to raise support awareness and effort to end gender inequality, domestic violence, and sexual abuse."
The band will tie up with local non- profits to create awareness about these issues and collect donations for the same.
On their twitter handle, Bon Iver explained the purpose of this campaign is to bring "gender equity center stage thru action, fundraising and education."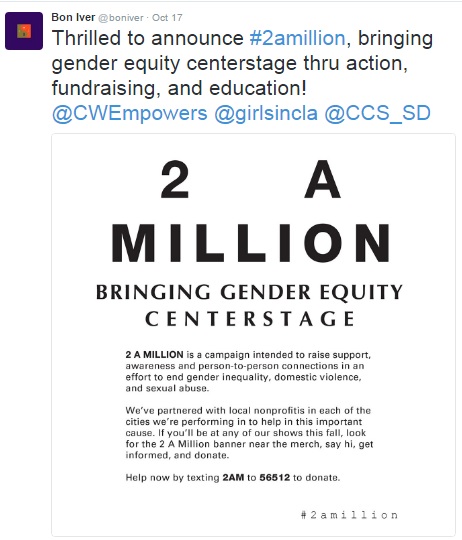 This isn't the first time some eminent person has spoken out publicly about gender equality.
Earlier, Aussie rocker Jimmy Barnes also spoke on this concern. He said Aussie boys need to be educated about domestic violence and gender equality before their teen years.
According to him cultural attitudes are ingrained in children by the time they get to high school and called for programs educating young boys about treating women respectfully to be implemented sooner.
Now only if some of our famous friends back home could take a hint and get behind the important cause of gender equality.