sbcltr spoke to the musician about his new album The Only Find and what makes it special
Sri aka Srijit Bhowmick was only 23 when he first released his eponymous 3 track EP in August 2017. Soon after, Apple Music featured him on a playlist celebrating Indian pop which only served to validate his strong debut. Like most music, the popularity and success of any piece of work is determined by its relatability to the listener, what works for Bhowmick is quality song-writing backed by strong vocals with a deep range that he is smart enough to subtly show off. The mellow poetics of his music resonates with people. So much so, that when he started a fundraiser for his new EP The Only Find last year, it raised the target amount in less than two weeks. As a result, this is his first professionally recorded release, the EP is now out and ready to stream. sbcltr caught up with Sri to discuss his new music and the process he follows.
Excerpts from the interview.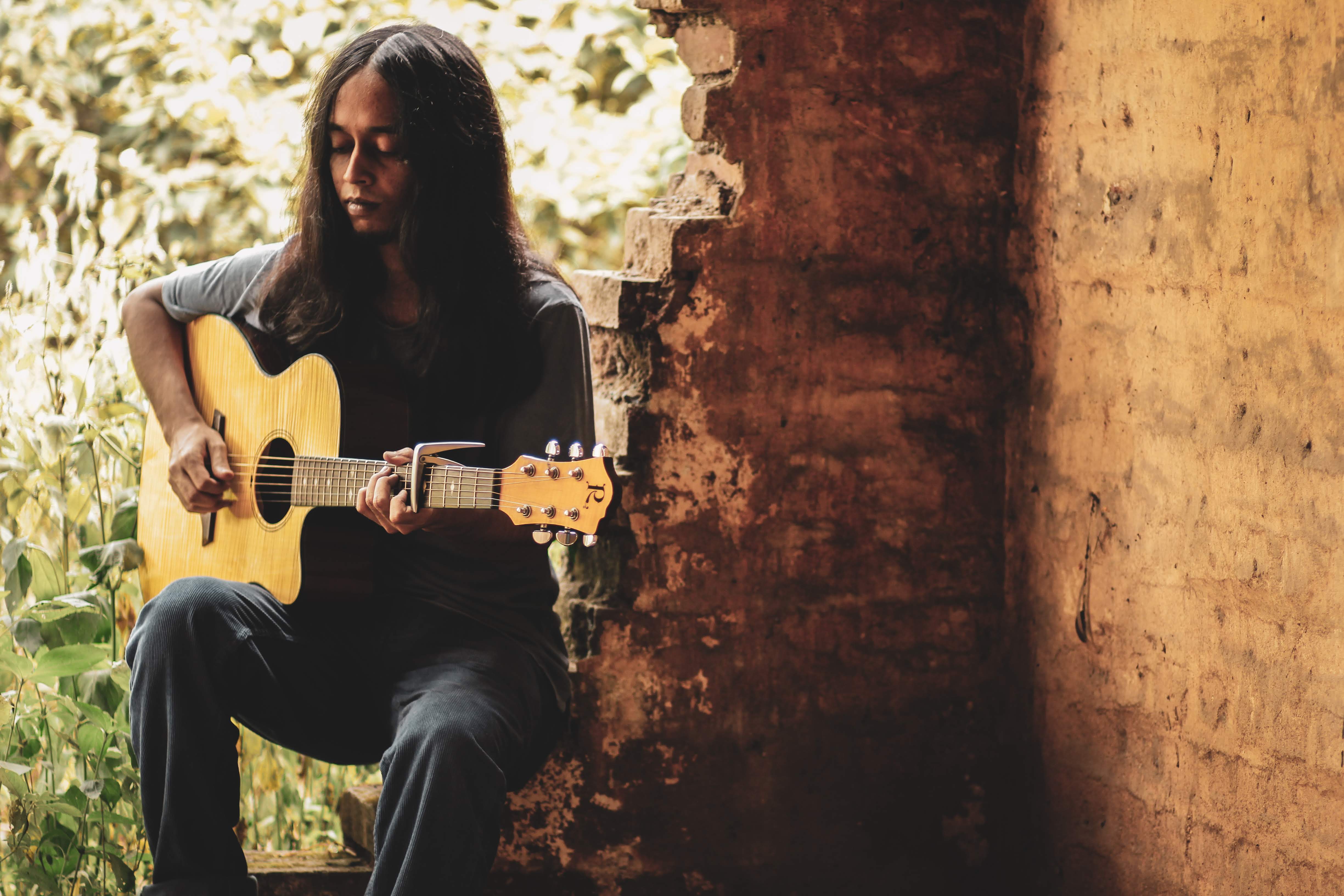 Tell us a bit about yourself and your musical journey.
I'm an indie singer-songwriter from Mumbai. I will have to go back to my school days if it's about songwriting and my childhood, if it's the musical journey. But it was always around me and I was always into it. Right now, I'm very happy and excited about the release of my second EP The Only Find. It's also my first ever professionally recorded release, and it's sounding insanely good. Co-incidentally, I'm turning 25 soon and expecting a few more grey strands of hair to pop out, so it's a good way to mark that occasion. It'll sorta be 3 years since I've been serious about my music and 5 since my songwriting materialised into its own confident shape. My debut EP Sri was out in 2017, and there were a bunch of shows, great reviews and articles including a mention by you guys at sbcltr, and an apple music playlist feature amongst others, but the seeds were sown long ago and so, here I am.

Tell us a bit about your new music, what was the inspiration behind it?
The Only Find consists of 5 songs about love, life and the constant search for the same. And like always, that's the inspiration behind this EP and even my music in general. I'm my biggest fan so there's that but all the texts I received from the crowdfunding backers has been full of love (there was an exclusive pre-release for them). As singer-songwriters, we all write for ourselves but if you're honest to yourself and your music, I think people see that and feel it and dig it. Major ups to them and to all the peeps who worked with me or were involved in some way or the other.
It'd be unfair to box these tracks up, but my songs have always intrinsically been of this singer-songwriter variety with an indie rock and indie folk vibe around it. Of course, a lot of what makes my music my own is the manner in which I sing, write, emote and all. But it's a, spiritual won't be the right word but a very soul-searching, digging-within kind of a process, which I guess is one of self-discovery. And I think that's the sort of the mood that's present throughout this mini-album.
Any particular process/rituals that you follow while making music?
My voice and my guitar, pen, pages, my bedroom or a space of my own where I have solitude. It's the same as always, and the songs are done. Could take hours, day, months. An idea, a tune, some words, an emotion, or a combo or anything really can ignite the fire. But you work out your own method to this madness as you keep doing it. Most of us singer-songwriters are like that. But having a good ear and a great command over my vocals helps me paint however I like.
Each song has all the cues. In the melody, lyrics, my singing and guitar playing, about how it would be, and branch out, about how I'm looking at it, my artistic vision. So, I'd know how I'll approach production, arrangement and the likes, maybe from the first word or note and easily by the time I complete writing one. I'll subsequently scout the right people to work with me and follow my lead. I also obsessively fret and work on the smallest details through all the stages. One tiny example amongst many—sang a few notes with the vibrato and all in a mock-guitar voice at the studio to have a musician play exactly that here and there on the electric. If it's your own music, and you have ideas and can imagine and feel that you can do it, then you should. It remains much more authentic that way and true to your own sound that you have developed over time.
What would you equate your musical evolution to, give us anything that comes to your mind.
Just being me, I guess. Having this desire to write and play better than yesterday while having fun. Obviously, a lot has to do with the musical landscapes you come across throughout your life from your friends, family, peer groups, mainstream pop culture followed by whatever counter cultures you come across or get hooked to. But that's only up until a point in your journey because music is within you.
Things beyond music affect your musical evolution too—the life you're living, it's a major source, all the places you've lived at, the sounds you've heard, the people you've met, the things you've smelled, your experiences or how you talk, your pronunciations, if you're bilingual or a trilingual, your idiosyncrasies, your ideals, battles, failings, learnings, trying out new things, your way of seeing the world, or all that of others even. As a musician, my job is to tap into it, feel the pulse, and express. That's when there's a connection and your songwriting will be an extension of you and it'll hard to pin point the musical evolution to one particular thing because it's a journey. And those songs don't deserve that, at least coming from me.
How do you think the music scene and the audience has evolved over the last couple of years? Do you see any palpable change? What would you credit that to?
Things have grown, more people have joined in, the net is getting expanded as we go along, and that's how the wheel spins, and the cart moves. It's not a scene anymore nor an industry yet. Artists, acts, listeners, locations, and folks on the business side of things are going up. Barriers of entry and exit has decreased, the ones who have done it before us have paved the way just as are we now and as those who come after us will. And all that is positive news. Some are making a career out of their own music for now. Also, this bridge between indie music and Bollywood helps them if not purely artistically, then financially in the long-run.
Change is a slow process, the kind that frees us is tougher. As our music culture and consumption habits changes for good, like in developed music markets where music in its own right is a product, I guess then it'll be great. How the next few years pan out will be interesting. Much of it has also got to do technological advancements, the internet and its penetration, writing in popular or local languages, global exchange of sounds and trends and pop culture, an increasing middle-class, more urbanised and educated young people and the likes. These parameters affect the ecosystem and create a demand—for more shows, stages and platforms, gets sponsors and businesses on board, creates revenue and jobs, gives people more options for a recreational night out, and brings in traffic to newer forms of entertainment, causing this whole domino effect and eventually, helps to create a more vibrant progressive society in a way. Comedy is doing great. And I genuinely hope theater, parallel cinema, indie music, even sports and all such amazing things grow too.
Any gigs lined up?
Talks and discussions are on and I have heard back from some peeps. I'm hoping to work out a multi-city tour in the early-half of 2019. The release, all the rewards which could also be products later, is my primary concern at the moment and spreading the word out, which as a singer-songwriter you're not the best at obviously but the job is to ensure it reaches out to more and more ears.
I'm quite positive about that and people digging it. If they do and if your readers do end up loving my music, what more can I ask for. Also, I think there are some brilliant people in the touring circuit who really value good music above everything else, and I'm looking forward to working with them and we'll see how the universe responds.
What next?
I have this race with my catalogue that I always win whenever I lose. So, I have like way too many songs and putting it out, the whole shebang is quite time-consuming and requires resources and so on. So, the number of tracks one can put out is always pathetically being defeated by the many that's being created more often. But definitely more singles releases in 2019 and an album as soon as possible, and of course more shows to take your music to people everywhere and play it live for them.