Rohini Kejriwal, speaks to Anirudh Sharma, on his extraordinary invention that turns vehicular emissions into purified carbon rich pigment to make art
In a day and age when innovation, technology and change go hand in hand comes AIR-INK, a unique product developed by Graviky Labs, a start-up that sprang out of MIT Media Lab, which captures and converts air pollution into safe, high-quality ink for art.
Nearly four years ago, MIT graduate Anirudh Sharma, co-founder of Graviky Labs alongside business lead Nikhil Kaushik, was busy with a research programme on augmented reality, future human evolution and how to technologically go back and create superpowers in humans. On the side, he was intrigued by a simple observation—when pollution is emitted from any source, the source and its walls are get dirty. "Incomplete combustion leads to carbon and pigmentation. You see a car pumping out vehicular pollution and these nanoparticles go into our breath and settle in our lungs. That was the starting point," he explains. That sparked off an idea, to create a technology that harvests printing ink from the polluting sources affecting us—cars, buses, trucks, generators, engines.
He tried a demonstration using a candle and a printer, the idea was to see if the sucked candle smoke by the printer could be printed on paper. Instead of building a career in the field of augmented reality like he'd intended, Sharma, threw his passion behind this side project and seeing his sense of trial and experimentation, he started to get a lot of interest from people in the field. His next step was to organically put together a team comprising of a diverse set of people who started rethinking around experimentation to make a real impact.
KAALINK, a proprietary device that captures the soot that is already being emitted from vehicles was invented from this project. KAALINK, is retrofitted to the exhaust pipe of vehicles/generators to capture the outgoing pollutants. Once captured, the soot undergoes various proprietary and detoxifying processes to remove heavy metals and carcinogens, the end product of which is a purified carbon rich pigment.
According to the team, it takes just 45 minutes' worth of vehicular emissions captured by the device to produce 1 fluid ounce of ink—enough to fill one of the AIR-INK pens. He adds that each KAALINK is reusable and allegedly filters "between 85-95 per cent" of soot emissions from a vehicle.
Understandably, it was not easy to arrive at this technology and it took the team nearly three years of trial runs and iterations to perfect the process. "The exhaust that you see in engines are mostly cylindrical in nature. So we wanted to attach a retrofit design that passively captures the pollutant before it enters the environment to then harvest pollution. There were a series of iterations on the design and countless number of trials. The main challenge being, that while it's one thing to test it in the lab, applying it to real life has a lot of constraints. For instance, the performance of the vehicle should not be impacted, factors like speed, humidity, temperature should not affect it, the design itself should be aesthetic and user-friendly," he says.
What about the safety aspect, and ensuring that the ink isn't harmful to the user? Sharma explains that when the vehicular particles are released into the environment, it's not 'pollution'. It's harmful because they're so tiny that they goes into the lungs. "We can't filter them through our biology, and it goes directly into the breathing passage and then kills you. By virtue of capturing the particles and binding them into ink, they stops being suspended and flying around. So you're no longer breathing them in. The other aspect is that when combustion happens, there are heavy metals involved and those are chemically toxic. But we take them through a detoxifying process and have invented a method to create a carbon based-pigment that isn't harmful. Since it's an international product, we have based it very strongly on our industrial and scientific understanding."
How come nobody ever thought of something like this to save the environment? Unable to answer this, Sharma, reflects that a problem interests people because it's real but when they look at how big the problem is, they always wait for a top-down solution from the government. "We don't look at problems as problems but as opportunities. In nature, there is no waiting. Whenever combustion happens, air pollution is caused. But you can repurpose all that bad stuff and that's all we thought of. When you apply bottom-up thinking, as scientists, designers, innovators, we take action. Solutions are lying around, it's just a matter of building them," he shares.
The rich black pigment is definitely a solution of the future, and after numerous rounds of prototyping, their first AIR-INK products are ready for the market and are being offered on their Kickstarter campaign. Currently, the team has created seven different grades of AIR-INK with different applications— 2mm round tip and 15mm, 30mm and 50mm chisel tip markers, acrylic, oil-based, and screen printing ink.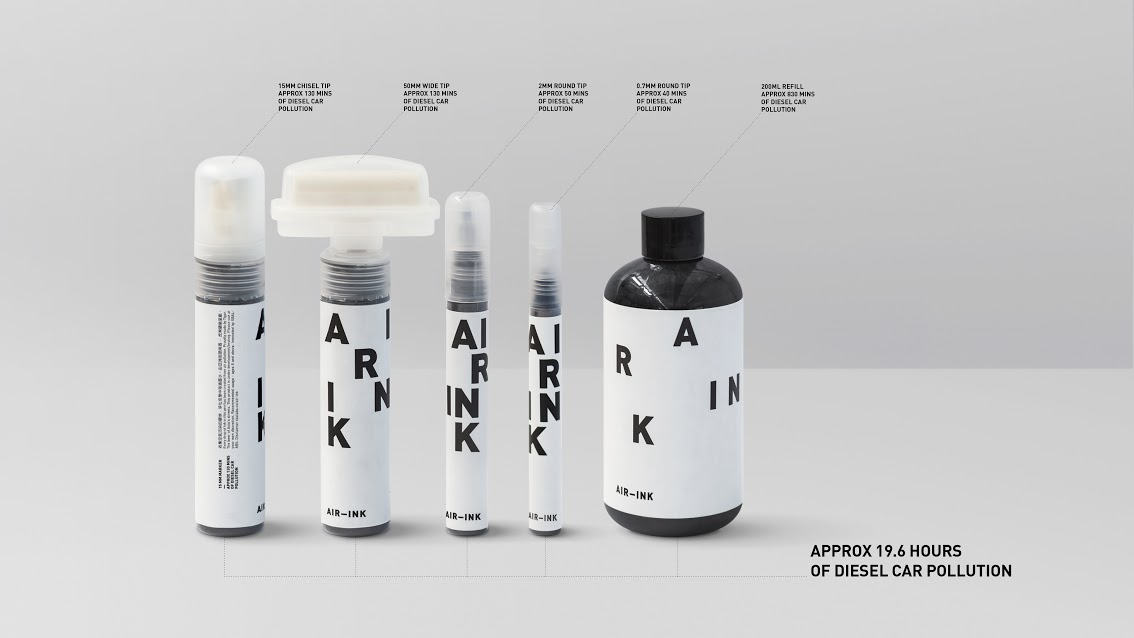 This is clearly one of the most beautiful ways of artistic environmentalism, by reducing air pollution that could have been in the lungs of millions of people and creating art instead. Last year, the team provided markers for street art to a group of artists in Hong Kong like Cath Love, Lei Lei, Caratoes and the results were overwhelming.
Having moved to India to carry out the operations, collaborations with Indian artists and fashion designers is also on the cards. "All our early artists and adopters are joining hands and using the inks in unimaginable ways, opening up entirely new possibilities. We're working with different designers and artists, who are looking at creating artworks and clothing lines based on sustainability and screen printing experiments with the ink. This will be great because when that printed shirt comes out, we can quantify that 'this shirt is responsible for cleaning up the environment by a specific amount!"
On the business model and future plans, Sharma says, "The Kickstarter campaign was to take ink to the early adopters more than for funding. We're thrilled that 700 artists around the world have backed us and created an artist connection to use our ink. The funds we've collected will go into scaling the operations and for the pollution deployment process, which is investment-heavy. We're already a profit-making company and sure that we want to move forward and go large-scale. Currently, the inks are priced higher than regular inks because the cost of making it is very high for us. But eventually, we'll be able to bring it down to the same price as regular ink. The inks are directly proportionate to how much pollution we capture."
Is the AIR-INK model replicable anywhere? "Pollution doesn't know any boundaries. It flies like a free bird. Similarly, KAALINK can work everywhere. We're going to London and Berlin this month for doing live pollution captures. These talks and demonstrations are happening wherever we're getting interest to solve the pollution problem and recycling emissions in an interesting and artistic way. We're waiting for someone really passionate about this from the government of India to come approach us. But speed is our challenge, since we do iterations very quickly and the government takes its own time to tackle problems." Having said that, he adds that all the capturing so far to create the inks and the fabrication itself have all taken place in India.
Going beyond the many layers of AIR-INK— environmental preservation, the artistic element, activism and technological advancement—what's the biggest personal takeaway for Sharma, in creating such a revolutionary product? "It's very satisfying to make something that you see artists using and communicating with. It's a whole new way of looking at pollution. More importantly, the kind of community that's building around it is the beginning of a movement. We've had 40 million hits and close to 500,000 shares on social media. So it's all very exciting. Our end goal is to be out of business, because that means there is no more pollution." he wraps up.