NorBlackNorWhite's new line is all about taking on sexual harassment
The designer duo has launched a new collection of Totes and T-shirts stating, "A Woman Was Harassed Here", in collaboration with Aqui Thami, the brain behind Pink Posters—a street art campaign addressing sexual harassment. Thami posted bright pink posters scrawled with the words, "A Woman Was Harassed Here," across public spaces across Mumbai where she or someone she knew had faced harassment. The digitally printed posters were in both, English and Hindi and faced a strange backlash, where they were taken off soon after, sometimes staying up for less than a day.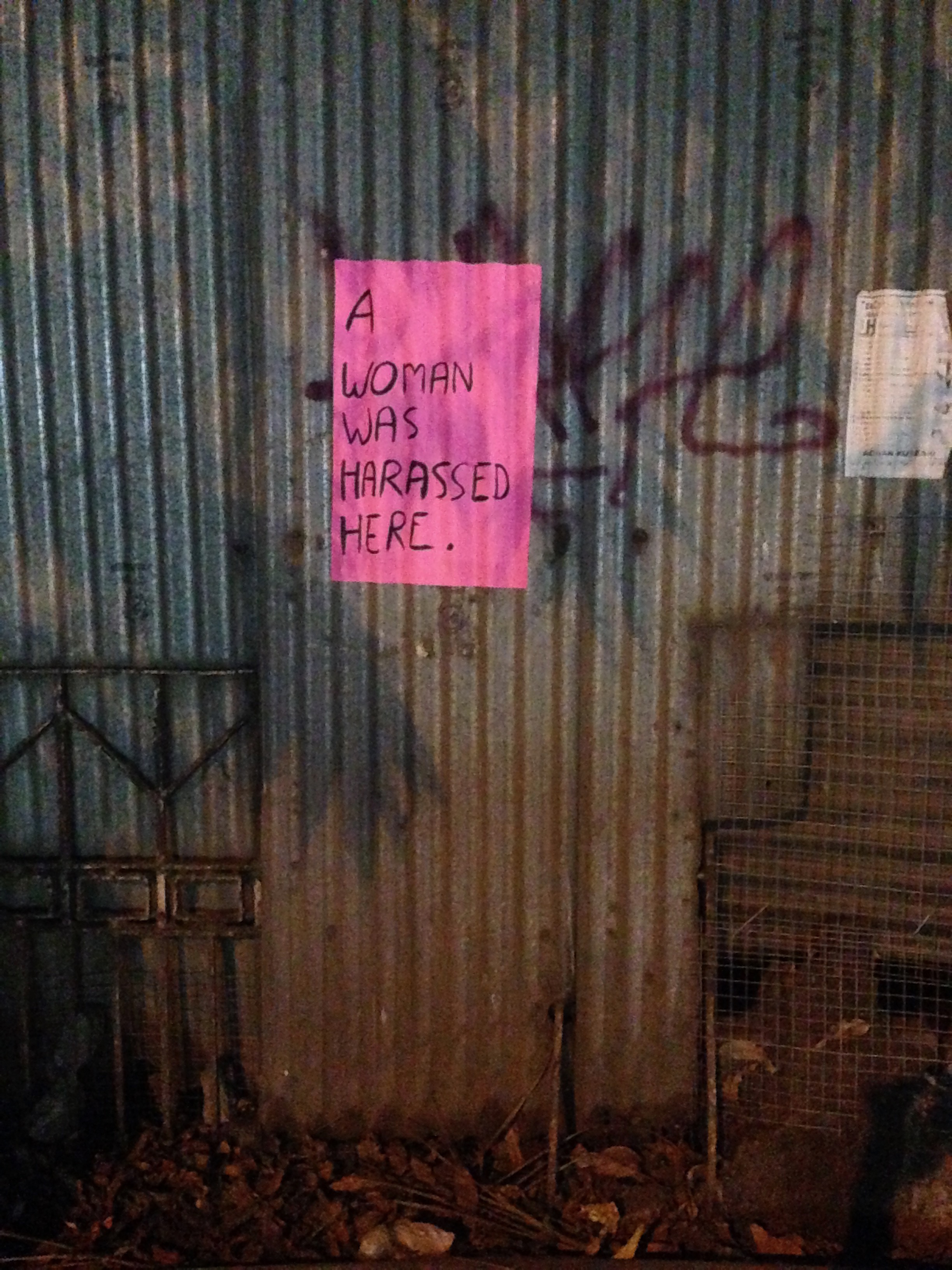 This almost violent resistance to a woman's voice wasn't something unexpected, as openly speaking about sexual harassment is still considered taboo in Indian society. Which makes the NorBlackNorWhite (NBNW) and Thami collaboration an important one, as it forces you to discourse on a subject which is uncomfortable to most Indians. Thami says that, "this collaboration allows my work to be in spaces where the posters cannot be, addressing the same issue at its heart and dismantling it. It is also in a way taking a step further by asserting that a woman was harassed in this body at this space. My posters in the street were not tolerated for even half a day, but the t-shirts will not be removed. This for me is feminism in action."
In order to understand more about the collaboration and their reasons for it, sbcltr spoke to NBNW. Read the excerpts below.
Tell us a bit about this collaboration with Aqui Thami
"A Woman Was Harassed Here" began as a street art project pioneered by Aqui Thami, who runs Dharavi Art Room – a safe space committed to using art as a tool for women and children to have a voice and express themselves. We have been friends and collaborators with Aqui since our time in Mumbai, and like a lot of women we love and care about she experiences harassment on a near daily basis. The original project began she started wheat-pasting posters in vivid pink on city walls, Aqui marks the places where she or the women she knows have experienced harassment. The Pink Posters bore the uncomfortable testimony – "A Woman was Harassed Here". She subsequently started to share stickers with women sharing the same message.
The idea is to engage women in a discourse on harassment. By marking these spaces in vivid pink, the project showcases the pervasiveness of harassment, not just limited to the streets that women navigate on a daily basis but also homes and workplaces.
We're all equally tired of society's complicity and silence in burying these stories and shaming women when they speak up, and in supporting her, we want to raise the women that speak up and choose to change their narratives from hushed whispers to hot-pink, impossible to ignore truths.
We were in talks over this collaboration for a long time, and we're glad to have finally presented it to the world especially at a time when there is a global conversation about gender violence.  NBNW has created a limited series collection in collaboration and support of this project in order to spread Aqui's universal message far and wide.
Funds raised through the sale of these collaborative t-shirts and tote bags will support The Dharavi Art Room, give a voice to the women who are silenced everyday, and is an homage to people who have lost their lives in the name of harassment and gender based violence.
Clothes have always played an important role in the dialogue around sexual assault, are you trying to subvert that narrative by taking it head on?
In this dialogue, we are working with the t-shirt being a voice to a message that leads people to stop and think for a moment. How people dress is always brought up in the redundant talks about what not to wear to attract unsolicited attention, however hopefully some of those same unwanted gazes will stare right at this message and in turn become the uncomfortable one.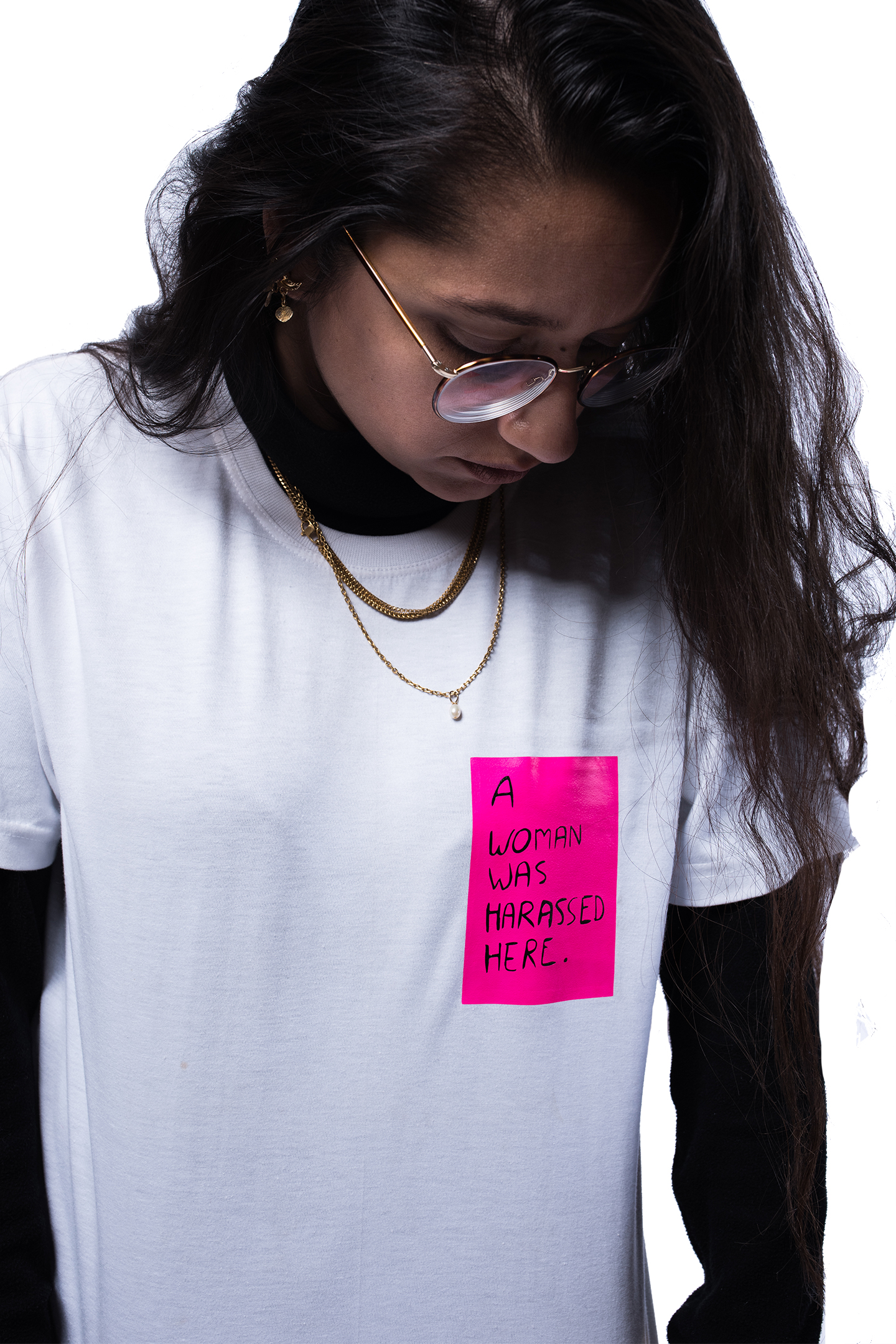 The whole world is talking about women right now, from the "Me too," to "Time's Up" movement, what do you think India can learn from these movements and where is it lacking?
This is an age—old narrative that is having another public moment right now. There have been many past versions of up-risings, when women have said enough is enough. This is simply the digital version of this and is stirring up industries that are often revered & celebrated in lieu of the dark foundations of the systems on which they are built.
In Hollywood, it's nice that women now feel safe enough to be able to speak out, come together and stop being afraid to kick powerful people out. That all takes time though while context and environment change the dynamic how this plays out in India. We all are aware and have been for a long about the culture of casting couches, the harassment & all the types of garbage nonsense that happens behind closed doors, not just in the film industry but in all areas of life. It's sick, it's gross and so sad that it's 2018 and we are still only chipping away at the beginning of these changes but still honouring that it IS happening slowly. It just recently became legal to drive as a female in Saudi Arabia, just think about that.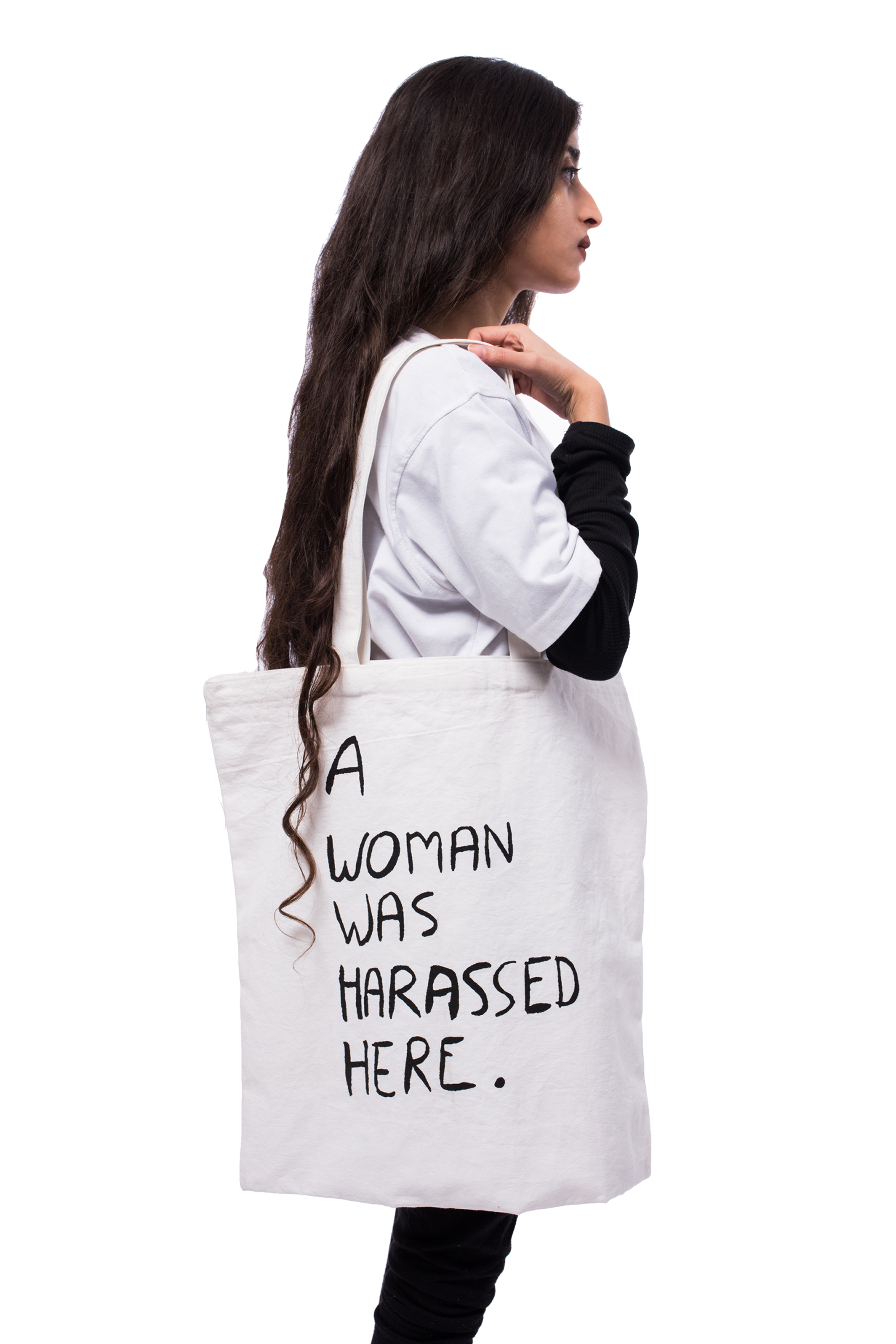 Traditionally, people have a very narrow view of fashion and sometimes, this narrow purview makes them assume that fashion is trying to appropriate a movement, but, of-course fashion also ends up playing an important role in taking these issues head on, (Dior, We Should All Be Feminists etc.) How do you respond to that criticism?
This conversation is important for us to facilitate as throughout the years of travelling & sourcing handcrafted textiles, while working in a heavily male-led industry, there were one too many experiences in which we questioned our design journey in lieu of our safety.
We used to joke about adding a "Harassment Tax" to our costing, as it was a very real expense. This project is an effort to wake people up, even if it's just for a split second. Hoping for the public to get uncomfortable and spark real feelings when they see their friend, their teacher, sister, mother, and really any woman dressed in this shirt or carrying a tote honouring an honest yet painful statement. This is our idea of using feminism in action while using art and design as a powerful tool.  It's not taking over any movement, it's just adding to the conversation through a different medium.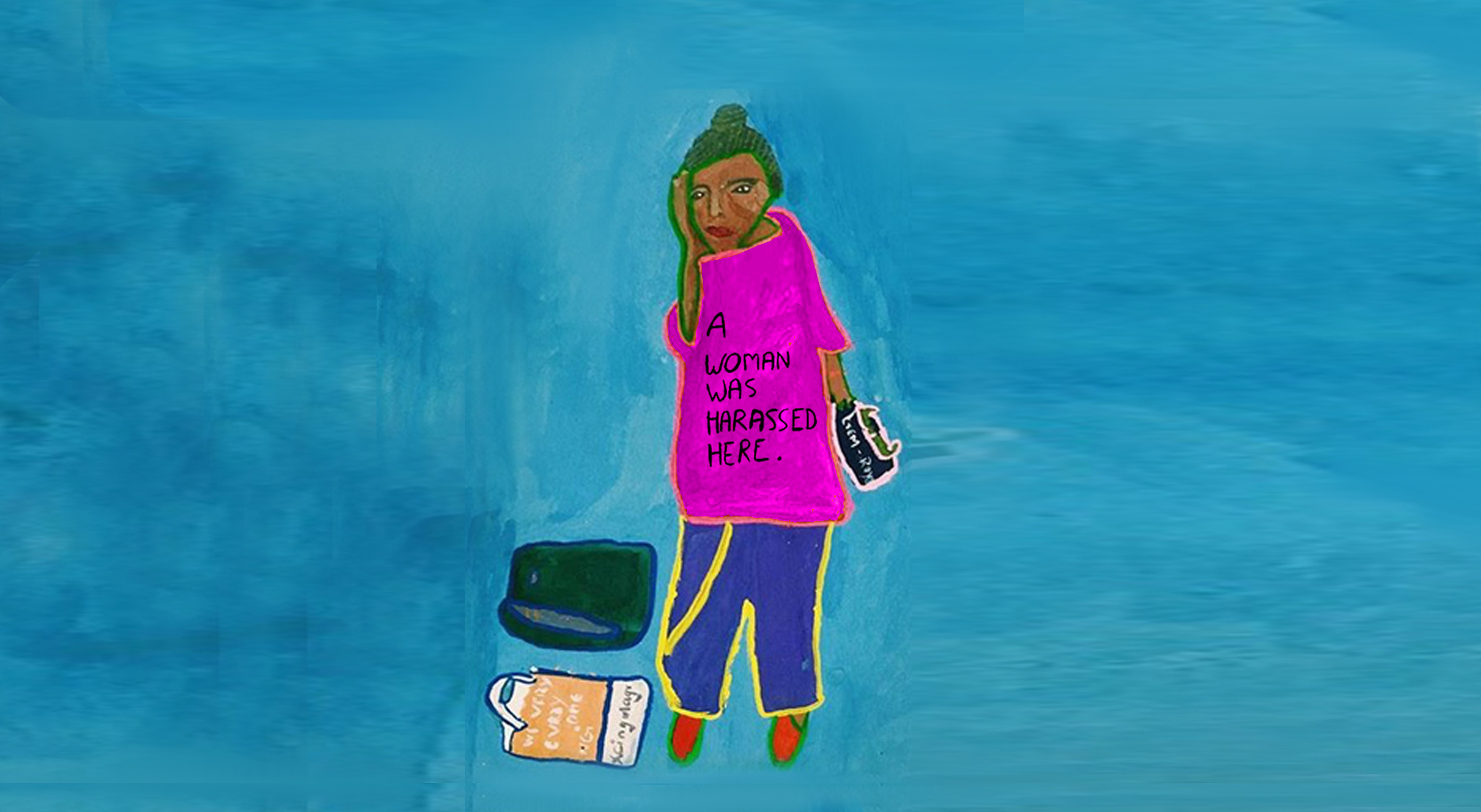 Above all, can you please tell us if you will be collaborating on more such projects and what else can we look forward to from NorBlackNorWhite.
We have an upcoming collaboration with Backdoors Festival—the music festival in which they're bringing down amazing artists like Anderson Paak. We're very excited for this collaboration with Backdoors for many reasons, firstly because we feel Anderson Paak is the past, present and future and it's exciting that there's an audience big enough in India to have him play here and share the magic that he and the other performs will make.
The organisers at Humming Tree are teaming up with Amnesty to program a festival with a cause, and the theme is around gender violence. This platform they're creating is important because right now is the perfect time to discuss all the real things that are popping off here and through waves around the world. Festivals and large events can often become places where a lot of unwanted behaviour can occur, blurry lines can be crossed and it's great that it within the festival space these themes are being addressed. We'll be talking about our roller-coaster ride of a journey as female entrepreneurs and the vision behind 'A Woman Was Harassed Here' at that festival on 14th Feb, at Jio Gardens in BKC, Mumbai. Gender based violence has been too real and it's exciting more and more people want to talk about it, share stories, create safe spaces to tell and be heard.
To buy the collection, click here