Priya Bhattacharji, spoke to the founding members of Crow, a one-of-a-kind company that combines theatre with interactive story-telling
In Nikolaus Geyrhalter's cleverly titled documentary, Homo Sapiens, the post-apocalyptic, human less world is depicted through images of abandoned spaces. This edgy expression of worn out gentrification paradoxically enlivens the ephemeral, stone-cold alienation that permeates city life.
Unsurprisingly, alternative culture breeds in these abandoned spaces often, to refurbish them as covens of art and music. Dilapidated warehouses turn music venues, forlorn corners of the city dress up as exhibition grounds, and ghostly streets are splashed with graffiti. These sites sanction the artist a finite, yet poetic world, which not only infuses new life in the forgotten but also serves to alleviate urban fatigue.
Often there are a talented bunch of story-shapers, who create such worlds in the most unusual places. Director-designer Nayantara Kotian and writer-actor, Prashant Prakash are two such people. They founded Crow in 2014, with the aim of re-imagining spaces with the energy of theatre and the interactivity of gaming. Crow builds multi-sensory worlds that the audience can explore, touch, inhabit and influence. sbcltr caught up with these pioneers of immersive story-telling.
Read the excerpts below.
How is the Crow Experience different from a usual theatre experience?
Our work is set in a specific space where we construct a certain world. The audience is expected to discover the rules of this world and the stories it is comprised of. In our brand of theatre, the audience isn't sitting at a distance or stuck to their seat. We give our audience the agency to participate and inhabit the particular world we create for them.
Tell us a little more about your work
Crow's first production was The Floating Market. We did this in Feb 2016 as part of an OML festival. It was created at the end of a parking lot, covered by a wall. Audience entering the space did not know what to expect. You'd step in and discover people selling the most unusual things. The idea we had was to create a magical marketplace experience where everything was based on barter.
In April 2017, we created, A Tall Tale. We stumbled upon this tall, narrow house in Hauz Khas Village, adjacent to the monument. And we knew a tall, lanky actor who'd suit the character of this house. Then we weaved a story of a man who always wanted to live in a tower, and used a marvellous serum to grow his own. This man then got called away on other business, but the tower kept growing and attracted some curious occupants over the years. In A Tall Tale, the house was the central character, an eccentric, living tower in need of adoration. In that experience, the audience toured this fascinating monument and also interacted with its inhabitants. Earlier that year, we also created, The Hungry Hearts Supper Club, an immersive dining experience for singles around Valentine's Day. Our works are site-responsive and have a fantastical element.
How does the audience respond to such experiences?
For the large part, we have found our audience to be open and willing to engage. In a way, they take on an added level of responsibility for the work because their active presence and the choices they make affect it in turn. We think our audience is more than ready to do this. No one else that we know of is really creating immersive experiences of this kind in India. For us, it is a continuous process of building new ways to communicate as artists. Finally, we do what we do because we love our audience. I don't mean that we love to have an audience to lap up whatever we may churn out, but when people make the investment of time and money to come to one of our shows, we strongly want to give them an experience that's as rich as possible. We hope that our work has something for everyone, whatever state they may be in—shy, impulsive, dreamy, cheeky, candid or reserved. But it helps if they are curious. The curious, the ones open to a sense of wonder are most likely to be suitably rewarded. Of course, as I said, that is our responsibility.
You've collaborated with some interesting brands, but does that hinder your creative process?
We are happy to work with brands as long as there is a potential to create. We consider ourselves storytellers. If there is a right fit for a brand, we are always open to communicating with the audience to tell stories.
In your opinion, what is the relevance of such immersive experiences, given there are so many entertainment options today?
We aim to offer unique, rich, multi-sensory experiences. The audience numbers here are limited; people can make choices and actively inhabit and interact with the work. They forge their own stories within an alternative world. Also, in an age overly dependent on technology, inordinately populated by screens—like the one you're staring at right now—we want to provide a tactile experience.
Are you involved with traditional theatre? What made you take to immersive theatre?We were both working in a traditional theatre set up. We did form a company, Quaff Theatre, which worked mostly with original scripts. We performed The Skeleton Woman, Kalki (Koechlin) and I wrote that play, and some others such as Tom Stoppard's, The Real Inspector Hound and Satellite City by Irawati Karnik. A few years ago, Nayantara decided to pursue performance design in London, which is where she got exposed to immersive theatre work. I happened to visit her there and was introduced to it too. We had the urge to do something like this in India and so we started Crow.
You've moved base from Bombay to Delhi. How has the shift been?
So far, we've had a good time working in Delhi. We have a pool of wonderful actors who want to do theatre because they want to do theatre. They aren't as film-obsessed as a large number of actors in Bombay for whom camera work is the end goal. We've got some kick-ass designers working with us at the moment- people who are wildly imaginative and totally committed to their work, the sort of collaborators it's a privilege to have. Also, you end up finding interesting spaces here- exciting venues for site-specific immersive work, like the site of our new show. That's a nice thing.
Tell us about your upcoming production
Well, it is sort of an updated version of The Floating Market we did earlier. It's called The Emporium at the Edge of Certainty. The show is set in an old, abandoned office building that we have revived as a sort of 'indoor shopping mall'. The production opens on the 3rd of February and runs on all weekends of that month. Here, the audience will discover people selling a wide variety of things. There is an estate agent, who sells houses that you can visit in your dreams. Someone else offers custom-made headaches (you might go to a gym to exercise your body, but the right kind of headache is an unbeatable workout for your brain). Then there is the word hospital, where dying words are treated; the audience members can help to keep these words alive. You'll also find an extremely unorthodox pest control guy, selling all kinds of household pest control measures. The Emporium works on barter, not on currency, so to make a trade you will have to exchange whatever the seller demands.
There are over a dozen actors involved in this production. They each have their own histories, wares and agendas, which means there will be a number of different experiences for the audience to discover and engage with.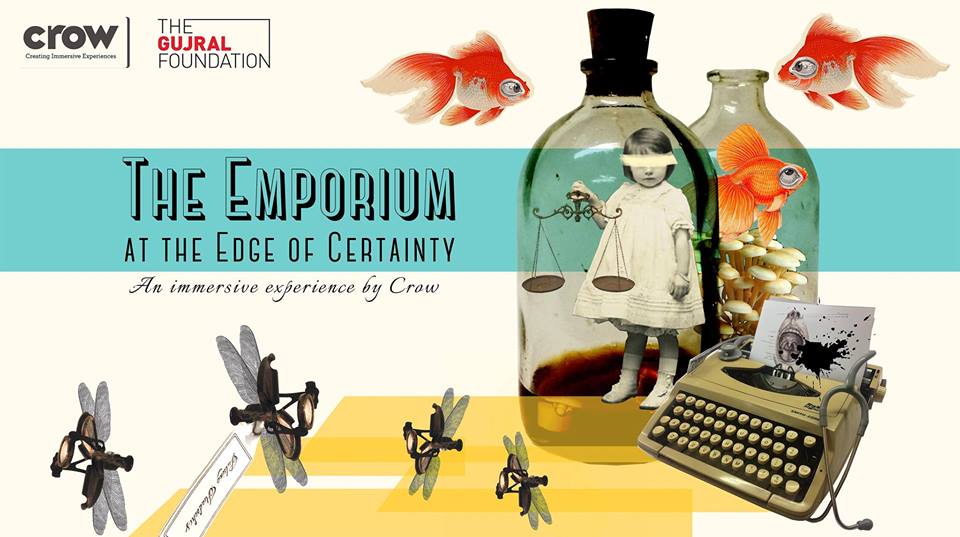 Where is the site for this production?
The Emporium is at the Crow HQ in Okhla, New Delhi. It is a space that has been provided to us by the Gujral Foundation. This will be our base until the end of March.
Is the title a dig at a luxury mall in Delhi?
 Not in particular but the show definitely takes a look at our consumption based capitalistic society and the future we are heading towards. We may be closer to reaching a crisis point than we think, with our over-dependency on technology, the rampant destruction of our natural environment, our inexorable exploitation of resources, the invasion of our privacy, the poisoning of the air we breathe –take your pick! People who ply their trade at The Emporium are people who have slipped through the cracks in the city. It is these hidden people- all survivalists of a sort- and their experiences that will be at the forefront of this production.
How do you plan to go about the publicity and promotion of this?
We don't have a marketing team or a website as of now. We've relied on word-of-mouth through social media and our networks and that's worked for us so far. Our productions demand a limited number of audiences. I'd like to think we are slowly building a cult audience for our work.
---
The Emporium at the Edge of Certainty open on 3rd Feb and runs on weekends through the month. It will also be a part of the India Art Fair on the 10th and the 11th of Feb. For tickets, click here