Taking cue from the Iranian concept, an anonymous group in Gurugram is donating clothes, shoes and other basics of life to those in need, writes Alice Sharma.
Niki, a twelve- year-old, was delighted to find a dress her size and choice. She clutched the garment and ran excitedly towards her mother, begging her to look. Her mother walked up to me, glassy eyed at the display of such spontaneous joy. "She really liked it, if you have more clothes that you don't need, please give them to us," she said. She also explained that Niki had wanted a dress like the one she grabbed for a very long time and it was only today that she got lucky.
For a while, I had mulled over my decision to give away my favourite birthday present I got when I was Niki's age. But after seeing her uncontained excitement, I felt I had passed on a legacy of sorts. Niki lives with her parents, who work as construction labourers in old Gurgaon. They try really hard to make ends meet, but still, life is tough. Usually they would earn around Rs. 200 each, but since the currency got demonetised, their daily wages are down to zero.
With no money and a cold winter looming large over their heads, they have come to "Neki ki dewar" or "The wall of kindness", to take some donated clothes. The wall is where people donate clothes, footwear and other items they no longer need. These are then taken by the likes of Niki and her family.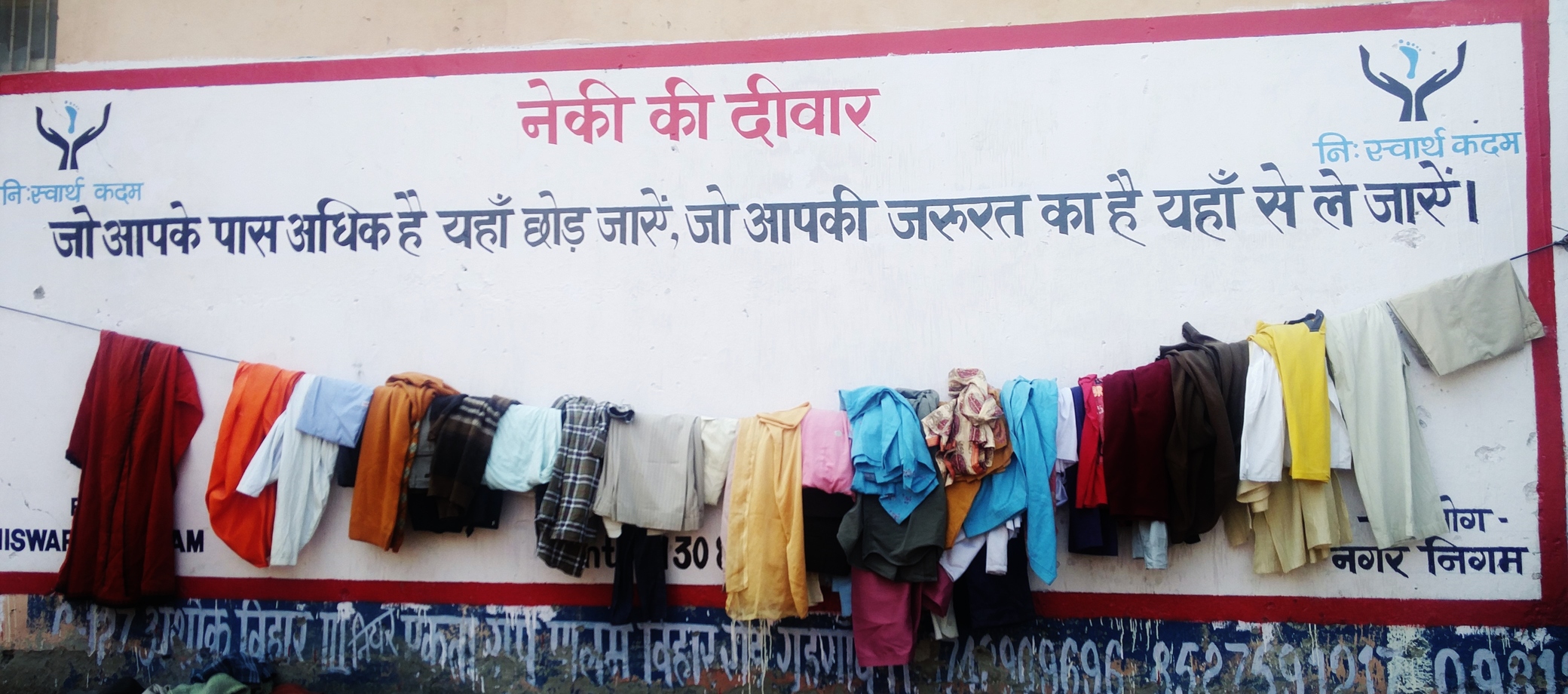 This concept has recently come to the suburb via an anonymous group of people in Gurugram. The idea originally erupted from the north eastern Iranian city of Mashhad, where someone installed a few hooks and hanger on a wall next to the words: "If you don't need it, leave it. If you need it take it."
Since then cities like Bhopal, Bhilwara in Rajasthan adopted this idea.
In the heap of clothes hanging on the wall there are some tattered uneven clothes, "People sometimes clear the mess of their house and leave it here. Who will wear these old torn clothes? We separate them and hang the usable ones." a caretaker of the wall says. The wall in Dayanand colony of Gurgaon reads, "Jo aapke pass adhik hai yahan chod jayein, jo aapki zarurat ka hai yahan se le jayein."
In dismal times, the wall is a solid reminder of how little it takes to make someone happy.