A report by Mihika Jindal on how the Bengaluru based, The Indian Handwritten Letter Co. is bringing the age old, almost forgotten art back to life
The postman knocks on the door, handing over a dusty brown envelope. This letter will definitely get priority over a bunch of unread emails, irrespective of urgency. Even when instant messaging is rampant and each one of us owes an explanation for every missed call and blue ticks, the charm of getting a letter still stands out. Plus, who doesn't love owning a box of handwritten jewels? The Indian Handwritten Letter Co. (TIHLC) understands these emotions.
"My co-founder, who is a friend's friend, and I happened to bond over the idea of writing letters at a random party. And we ended up starting a small blog offering to write letters for people. In about a month, a lot of people wanted us to write for them— they wanted different handwritings, stationery and we were pleasantly surprised. Then we pushed the envelope, literally, and were convinced about this product," says Anubhav Ankit who founded The Indian Handwritten Letter Writing Company (www.tihlc.com) along with Jashwanth Cheripally, early in January this year. Based in Bengaluru, they are a team of four people who are assisted by volunteers, each gifted with a talent ranging from ability to write different fonts to recreating legendary signatures to make a letter authentic, to having the patience to actually sit down and write a letter for others. They don't have an office and operate from their respective homes.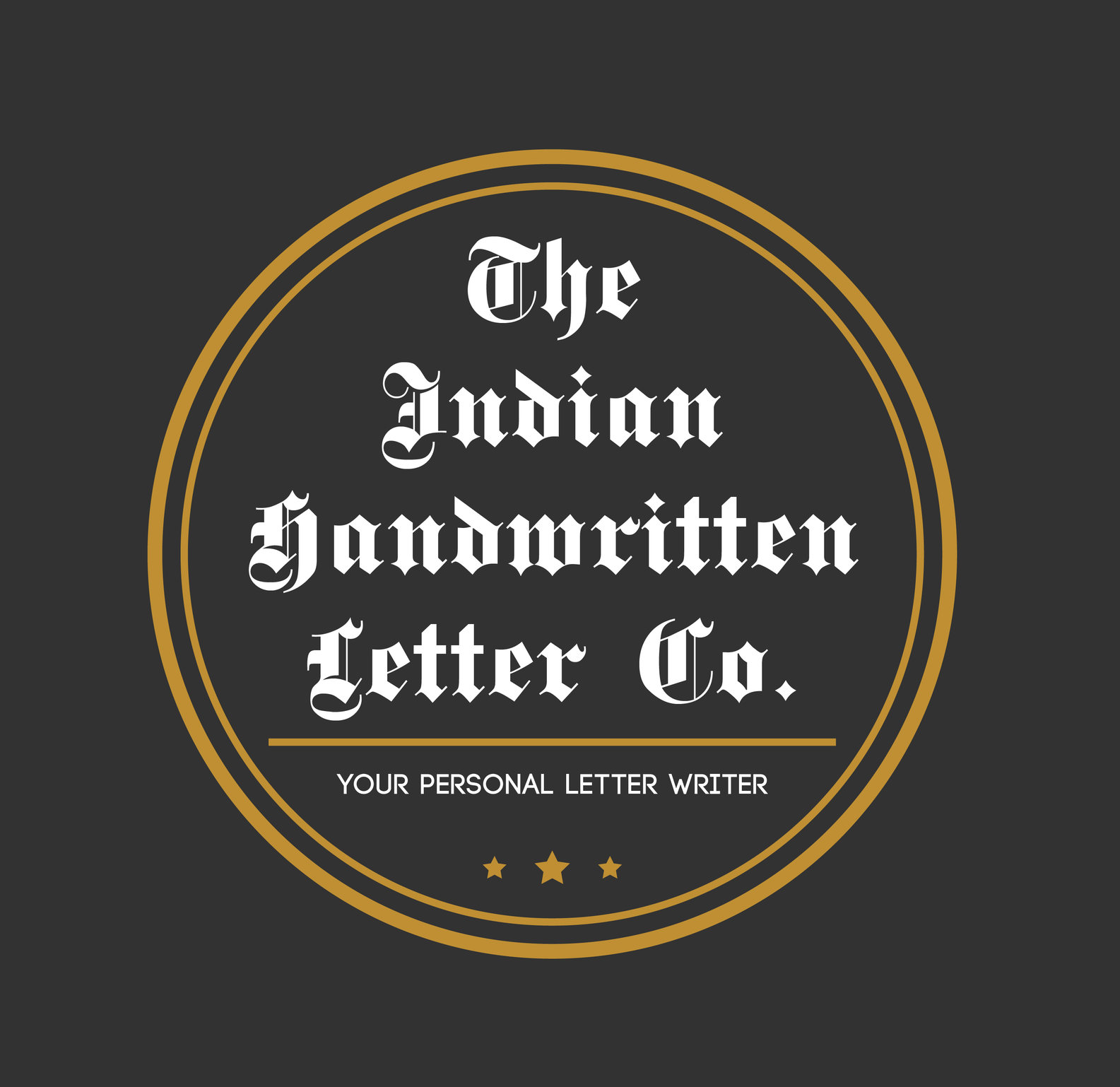 Letter writing came naturally to Ankit courtesy his long stint at the boarding school. "I belong to Odisha and my school was in Indore. STD calls, in those days, were super expensive. I had no other option but to write letters to my folks and grandparents. And not just this, we used to have special letter writing classes in school, where it was mandatory for each one of us to write letters to our parents every week. I just inculcated the habit of writing letters," says Ankit, who thought of translating his personal habit into a public service because even though Facebook, Whatsapp and the like are helping people communicate but that feeling of goodness and that entire effort of writing a letter was a miss.
TIHLC could sound like an ambitious venture but is actually pretty practical and essential too. With a country obsessed with paperwork and written communication, the scope is endless. They offer both corporate and personal letter writing services, with clientele in India and abroad, "people in the west understand and value the art of letter writing in the west. 21% of our clientele is from overseas," he says. Their letter artists are equipped to write in nine languages – English, Hindi, Oriya, Bengali, Malayali, Tamil, Telugu, Kannada and Marathi. "English is comparatively less tricky; even if I switch two odd words the feeling remains the same. But it's not so for regional languages, a word here and there and everything changes. So for personal letters in regional languages, we request people to tell us exactly what they want, we translate and write it and then send it for final approval."
Ankit is convinced that people are still fond of writing letters; it's just that most people don't have the time and are actually lazy to pick up a pen and a paper. He attributes TIHLC's success to two things, "when there are easier and cheaper ways to get a message sent across, why even get into the entire rut of it. Secondly, there is always koi kar raha hai, inse hi kara lete hain logic, which is what portals such as Ferns 'n' Petals applies. It's obvious that you, the sender, can bake a better cake but you don't question it because the gesture matters more than how it is. Similar is our case. We offer multiple styles of fonts which include shabby handwriting, those I do myself. Our endeavour is to work with more writers who'd be able to match the sender's writing as closely as possible."
When asked about the kind of letters TIHLC is doing for people, Ankit mentions there is all sorts, "we do general correspondence, cover letters, resignations, apologies and even school applications for leave, but aashiqon ki chhithhiyaan jitni hain, utna kuch nahi hai. People love to express and we offer the bandwidth. I am telling you the old school love still exists, you have to really know the amount of love letters we end up writing." With Tier-I cities, people exactly know what they want written and are tech-savvy which makes it easier for TIHLC to work with them. The challenge lies with Tier-II cities where people have broad requests. "Love letters are the trickiest. They just request us for one. We have to explain to them that if we write a letter to your love interest, the letter will really be from our side. So we ask them to give us pointers; jotting down what they feel. We then draft it properly and send it to the client for approval. We make required corrections, re-write the final version and ship it out. It is a collaborative process – we can improve a draft given to us, and they give the final nod."
Speaking about an interesting experience, Ankit mentions this request from a person in Britain; she wanted to quit her job and wanted TIHLC to convey it to her boss because she didn't have the guts to do so. A nice letter was written to her manager which she received and said nothing. The manager, instead, posted a reply letter from her cabin to the employee's desk. The letter read that they were sorry that they didn't value her talent for the last few years and weren't able to promote her.  Adding further that they had now decided to give her a 64% hike, offering her to stay. The woman continues to work for the company. Amongst many other stories, this one episode of a 10-year-old sending a request on TIHLC's website is particularly heart-warming. Her message read,
"Hey Guys, My mother is never home when I come back from school and that is why I never get hot lunch. Can you please write a letter to her employer asking them to leave her quickly?"
"We were caught off-guard. We spoke to the mother and she told us that her boss was a nice man and we could actually write this letter. We drafted a really nice letter, and we say nice because the mother is now allowed to come home for lunch to feed the child, send her to her evening classes and then head back to work. And we obviously did this one particular thing for free."
The good part is that it is impacting people; when it is handwritten, people take out time to read it and that's the value TIHLC brings to the table. Think about receiving a letter from your company and compare it with possibly receiving the same communication on the company's letter-head, handwritten with the signatures of the concerned authority; the entire difference lies here.
That is how TIHLC has been helping corporates too. One of their artists recently crafted a bunch of Hogwarts letter that their client in Bengaluru wanted to give out to Harry Potter fans at a launch party of the Cursed Child. "They gave us barely two days to get this done. But we have an artist, who is a genius, made and mailed 20 letters which were perfect in every way including Professor McGonagall's signatures and none of this is printed. We work with some amazing talent."
They are starting out right now and are not so focussed on the unit economics; the vision is right now to understand the acceptance of these handwritten letters. "Currently we make a consolidated Rs. 5 on each letter. We write 100 words for Rs. 99 which includes stationery, premium packaging, writing, and speed post to ensure that the letter doesn't go missing."
They are in the process of trying different revenue models to assess what works best. They are not intending to earn through this right now, they instead want to be in the reach of common people to revive the entire concept. "In all of this we only have one request: we want people to understand that we are not an e-retailing portal that can do express deliveries. We actually do these letters personally, post it with as much care and affection as one would ideally do, which takes time," Ankit concludes.