Sonali Verma meets the best-selling author who was in New Delhi last week to participate in Long Nights of LiteratureS, a European Literature festival.   
"I'm writing this in Norwegian because I have to. Some of you will need it translated, but it has to be done this way because that was once my language and I need to hear my own voice now. I am writing in Norwegian because I've been speaking English for twenty years and there was so much I was never able to say. I'm writing in Norwegian because this is the language I left behind, I thought it would be mine forever….I'm writing this in Norwegian because I'm homesick and it is too late to go home."
In Johan Harstad's latest novel Max, Mischa and the Tet Offensive, Max, the protagonist, is a theatre director on tour across the United States who hasn't been home for over 20 years. In an obscure hotel room in Minnesota, the life he has made is slowly disintegrating in a mental breakdown. In an attempt to hold on to what is remaining, he talks about his love for Mischa, a Canadian girl seven years elder to him, his life and work.
"The novel is about homelessness in all aspects of the word," says Harstad. Friendship, exile, love, war and art, the book has it all.
For the uninitiated, 37-year-old Johan Harstad is a Norwegian author, graphic designer, playwright and drummer known for his books such as 172 Hours on the Moon and Buzz Aldrin, What Happened To You In All The Confusion. He's been Norway's most obvious talents for many years and a Brage-Award-winning author, Harstad was here in India on Friday, the 23rd of September, for the third edition of Long Night of LiteratureS at Instituto Cervantes, New Delhi. The format of the night draws along the lines of speed dating in which authors from Austria, Belgium, Germany, Hungary, Italy, Norway, Poland, Spain and Switzerland read to a small audience for 20 minutes and have close interactions with them.
Earlier that day, Harstad addressed a group of students studying literature at Janki Devi Memorial College. Dressed in his usual no- frills way—a black t-shirt and blue jeans, he made his presence as a quite unassuming man with simple tastes. He didn't hold back in talking about his life and his books and the room ringed of occasional fits of uninhibited laughter.
A poet at heart, who believes that poets stay true to their ability to condense literature, Harstad, spent his childhood in Stavanger, on the west coast of Norway, home to exquisite mountains, glaciers and deep coastal fjords. He grew up writing extensively—majorly poetry, which slowly turned into prose, which turned into novels.
Max, Mischa and the Tet Offensive, his latest novel is over a thousand pages and took seven years to write. When he started writing, he expected it to have no more than 500 odd pages, but a lot changed in the course of writing, as he went deeper into the subject, the more he wanted to explore. "A novel is like a suitcase. You can pack whatever you want till the time you can put the lid on it," he says.
He also confessed that he undergoes a crisis with every book he writes. "There are times when everything seems as if it's falling apart and I wish I had a different and easier job but that is when experience comes into play. I tell myself that I've been through this before and came out a victor so this too shall pass. It can be quite difficult to find motivation when everything around you and your life keeps changing in the process of writing a book, but in the back of my mind, I know this is what I love", he told one of the students who asked him how he found the motivation for the seven years he was writing the novel.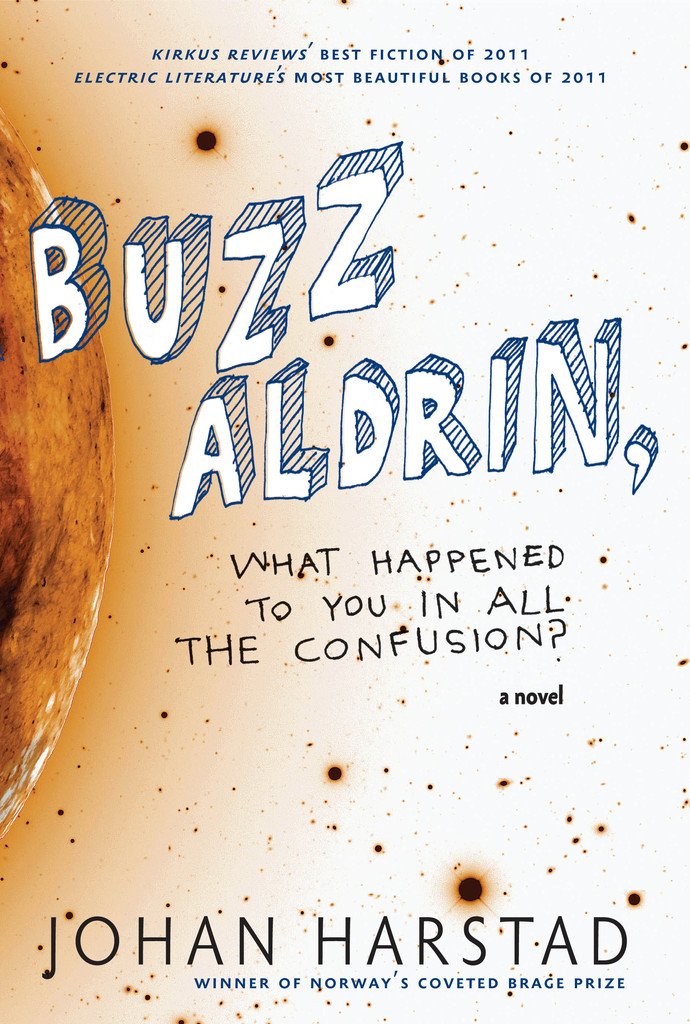 He's been a professional writer for 15 years, but confesses that he finds the word 'professional' rather strange.  "In Norway, we don't use that word", he says. An avid reader in his childhood, he says that he did most of his reading before he turned 30 because he feels that his own voice will get lost if he reads other writers. "Subconsciously, you try to copy their writing style."
Writing became full-time quite unexpectedly for him. He sent thirty pages to the biggest publishers in Norway and to his surprise, they asked for more and it turned into a novel. Buzz Aldrin, What happened to you in all the confusion? was published in 2005, which tells the story of Mattias, a thirty-something gardener living in Stavanger, Norway, whose idol is Buzz Aldrin, second man on the moon. It was later made into a television series in Norway and translated into english much later.
In 2008, he published 172 Hours on the Moon, a sci-fi/horror novel. "When I was asked to author a children's novel, I wondered what will interest kids. Since I was into horror and sci-fi when I was young, I planned I'll try to scare children as much as possible", he chuckles. "It was a joy to write that one though. No crisis there", he adds.
Harstad was hired as an in-house playwright at the National Theatre of Norway in 2008.
During his time there, he worked on a two- part play which was published in 2010 as Osv.(Etc.) and for which he received the National Ibsen Award. He admits writing a play is tougher than writing a novel. "I learnt the humility of understanding how a play is different than fiction and that only text is nothing without movement."
Harstad works from his living room at his home in Oslo, where he lives with his wife and a two-year old daughter. "My wife and I decided to convert my work space into my daughter's room and I had to shift my desk to a small corner in the living room. I feel so homeless now", he jokes.
He was also a drummer in a band back home that would perform in concerts only in Germany for some reason; however he refutes the claim made by many that he is an 'international sensation'. The one common thing about all his works, apart from the fact that they are all brilliant pieces of art, is that the protagonist always has an ordinary job and is seemingly an ordinary person.
Harstad is also a graphic designer who designs his own book covers.
Reading out at the Long Night of LiteratureS from Max, Mischa and the Tet Offensive, first in Norwegian and then the English translation, Harstad was quite simply spellbinding with his poetic prose. "You don't know how weird it is to read your language to people who don't understand it", he joked  He read instances of the applicability of Vietnamese guerrilla warfare in Max's life; which had affected Harstad in his personal life, even though he was born 5 years after it. The war has a mention in almost every book of his, in some form or another. "I've been reading extensively about the Vietnam war. Even though the war had ended, the effect was still visible", he said. He then read Max's opinion on theatre and its audience, the failure of socialism in practice and about the weather being nicer in early mornings. A low chuckle could be heard when Harstad read, "Most things look better in the morning, actually. People are the exception."
Harstad read to a set of different audience every time with the same gusto as before and by the time the night got over, I had listened to the text so many times, I almost had it memorised, yet my heart wasn't satisfied. I wanted Max and the night to go on in an endless loop.
That is the thing about good literature. One can never get enough.
---
The Long Night Of LiteratureS was held in New Delhi (September 2016). Max, Mischa and the Tet Offensive will be available in English only in a couple of years. All his previous titles have been translated into English and are available worldwide.