Academics Harmony Siganporia and Nosipho Mngomezulu share their thoughts on student protests from India and South Africa
Have you heard from New Delhi? Have you heard from Cape Town? Every day this week, we have been online voyeurs, watching our phone screens, waiting with bated breath to hear from friends and colleagues who are at the face of the struggles at Jawaharlal Nehru University (JNU) and University of Cape Town (UCT), two world-renowned universities. We find ourselves intimately invested in these protests. But we are in Ahmedabad, watching in awe and horror the contestations over the meaning of the present in the theater we have come to call the post-colonial nation.
Here's a detail no one seems to have noticed. The 'cultural evening' a handful of students at JNU were trying to organise on campus on February 9th was named for Kashmiri poet Agha Shahid Ali's heart-wrenching collection bemoaning the loss of his homeland,Country Without a Post Office. At this event, they meant to speak against the capital punishment meted out to Maqbool Bhat and Afzal Guru, "in solidarity with the struggle of the Kashmiri people for their democratic right to self-determination". By now, what happened next is familiar – if constructed in tendentiously contested narratives – to most people. Suffice to say, there was sloganeering. Uncomfortable sloganeering. Slogans which may or may not have come from JNU students. Slogans which may have called the territorial integrity of this shape of India (and we forget how recent and dynamic this construct is) into question. Slogans which may have dared to question Afzal Guru's conviction for a crime he may or may not have committed in 2001: to us, this is almost beside the point. Following the Delhi Police's intimation that "anti-national sentiments had been echoed on campus that evening, the University administration proceeded to allow them entry into JNU on February 11th. On February 12th, they arrested Kanhaiya Kumar, President of the JNUSU (JNU Students' Union), on charges of sedition and criminal conspiracy. Twice since, when he was taken to the Patiala House court, lawyers and other self-styled "nationalists" launched physical attacks on Kanhaiya, his teachers, journalists and other supporters; all in the presence of a completely inert police force, happy to play spectator to the absurdist drama unfolding outside the courthouse. On February 19th, the Supreme Court refused to hear Kanhaiya's bail plea, suggesting that it was "not the appropriate forum" for such an appeal .
The ground shifts a little.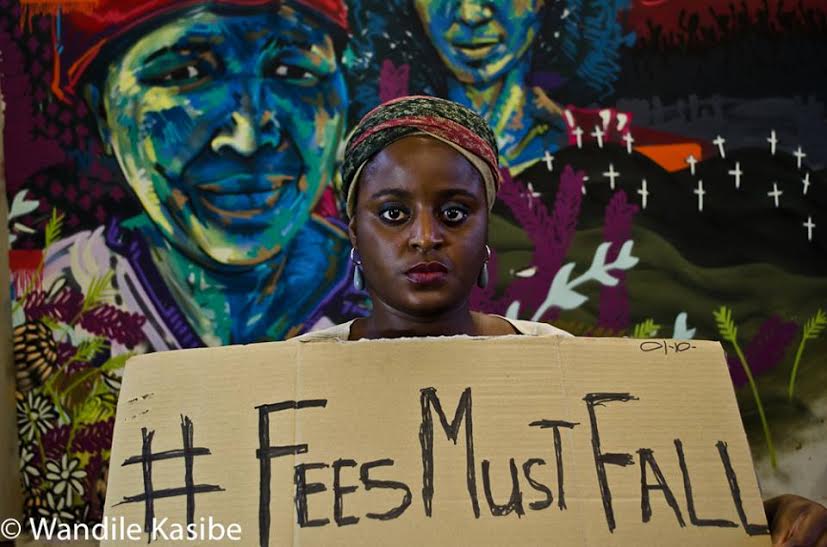 Over nine thousand kilometers away, on the 16th of February, UCT Rhodes Must Fall (RMF) students erected a shack on Upper Campus, a visual representation of the housing crisis Black students excluded from residence annually find themselves facing. They called it #Shackville. According to RMF's Facebook page, "Shackville is a representation of Black dispossession, of those who have been removed from land and dignity by settler colonialism, forced to live in squalor…It is necessary, therefore, to impose this image onto our campus where there is a purposeful attempt by UCT to hide away from its complicity in the violence experienced by those in shacks and townships throughout the country." I had briefly seen pictures of Shackville and other creative disruptions, calling for the UCT administration to address these grievances with urgency. I saved the posts to read later, and ran to give a class on community engagement. When I finally got back to my room to catch up on reading about #Shackville, I was greeted by images of burning tires, zinc strewn across the Jammie stairs and the unmistakable sounds of shots fired. My skin recoiled. Again. This is happening again. The next day, my timeline was flooded with images of students burning paintings on campus, and righteous indignation from yesterday's allies now turned to spitting venom: these kids have gone too far, a black artist's work is destroyed, these kids have no direction, we can't erase history, these kids have lost our sympathy. Three and a half hours ahead, I was left behind. What was going on here?
Core Issues
Our intention here is neither to rehash nor re-create our version of the events that took place at JNU and UCT. Both were undoubtedly dramatic, and have elicited visceral responses from all sides of the political spectrum. We, however, were neither in Delhi nor Cape Town. Our purpose here is simpler– to break our own helpless voyeurism and articulate what these events mean for us, as two young scholars from South Africa and India. While these contexts are eerily similar, we find ourselves also asking how they are different, and where the continuities lie. We find ourselves asking, if we are indeed in the post-colony (and this is no trite jab at the governing powers of these states) where, when, how and why do these contexts meet each other in such similar ways?
We have been thinking for two weeks now what academic output would come of our time together in Ahmedabad, but our abstract musings have been brought crashing back to earth by the urgency of the moment. We can't breathe, and everyday it becomes harder and harder to wait for the smoke to clear to write: it is imperative to write in the now. Inspired by Finnish anthropologist Samuli Schielke, who blogged during the revolution in Egypt, we cannot claim disinterested objectivity (what does that even mean anyway?). Rather, we too straddle a tactical relationship with truth: we are not neutral, but with the only tools we have, we draw on our scholarship on nationhood to unpack and try to make sense of the ever shifting moment we inhabit.As the hours and days pass between the ruptures at JNU and UCT, the three core questions as we see them unfolding are:
What is the conceived purpose of state-subsidised higher education in post-colonial states? Are our campuses to be viewed purely as a utilitarian means to an end? (in most instances, churning out workers who feed into and perpetuate the neoliberal superstructure which governs the present moment). Are they spaces which cultivate the critical faculty of questioning; analysing the structural underpinnings of society at a given moment, and engaging in a discourse which confronts the reality of polyphony? Even this question itself is something of a false binary, for in all institutions, there is an uneasy confluence between the forces outlined above, and we are then forced to ask, by what means are these competing interests to be reckoned with? Central to this is looking at the necessity of conflict and its close cousin, violence, in creating this space. At both JNU and UCT, it has been intimated that the means of protest are abhorrent forms of violence, pushing us to ask what forms violence takes, and which forms of violence are deemed more 'acceptable' than others.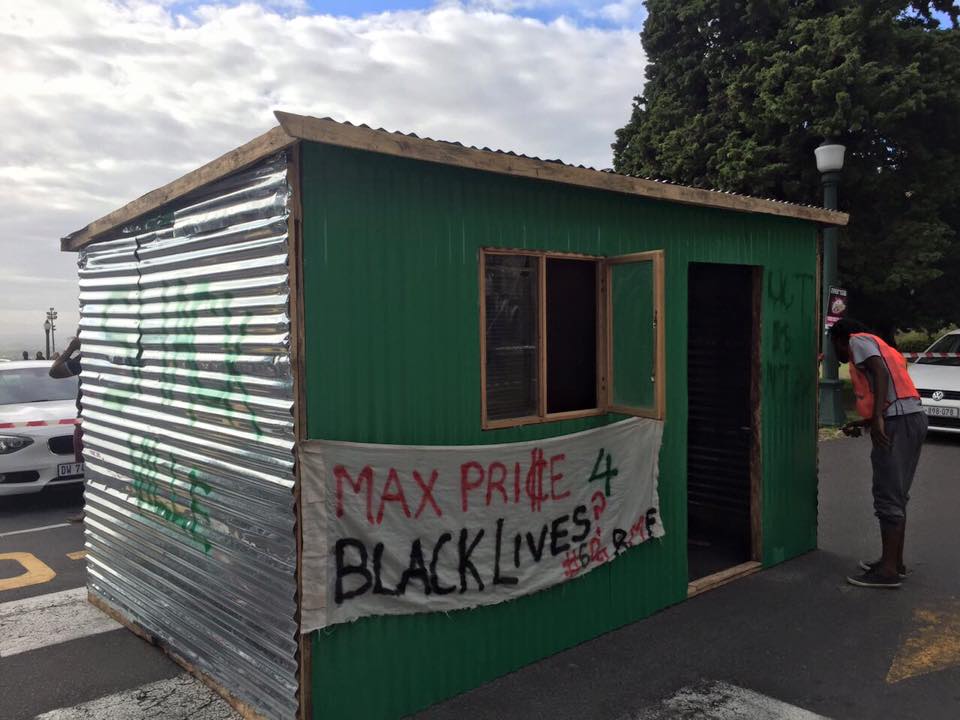 There is a strong push for dissenters to adhere to the respectability codes of their oppressors. It is no coincidence that police violence against students, while critiqued, is often treated as par for the course, whilst anything less than passive non-violence from protesters garners the ire of those who wish to belong to the moral community of the non-prejudiced (spoiler alert: we are all tainted). When respectability politics becomes the central question in times of conflict, a moral equivalence is made between powerful aggressors and those who resist oppression. While we can agree that the means of engagement are never palatable to everyone, it smacks of bad faith to equate the power to shoot, arrest, charge and even hang, as equivalent to burning paintings or shouting slogans. We are not talking here of an isolated brawl between two equally powerful parties: historical and contextual consciousness cannot be divorced from the conflict. Within JNU and RMF, there were students who wholly supported and others who decried the actions of their comrades. That moot point to us is a red herring, it is taken for granted that no movement is homogeneous in its composition and no movement ever speaks for every member's personal experience at all times. The conversation about whether the means of protest (without a conversation about means of repression and silencing) should intrinsically disqualify the validity of protest action is distracting. Students cannot simultaneously be the cause and consequence of their oppression. If we wish to discuss the means of protest, we cannot divorce it from the conditions under which marginalized voices protest at all; how they are rendered marginal in various overt and covert acts or deeds.
The discursive field that delimits what is and is not available for us to inhabit or occupy as subject positions also alerts us to another concept it shares with the construct we know as 'nation'. This is the shared code of the boundary, inside which the various ideas that constitute 'nation' operate optimally, in shared symbolic capacity. It queers the 'anti-national' narrative to draw attention to this inconvenient fact, but draw attention to it we must. Following Satish Deshpande, it is worthwhile asking, what makes a nation a nation? If it can only be defined in retrospect, it is a tautological construct: a nation is a nation when it becomes one, and till it remains one. This notion is particularly challenging to contend with in the post-colony, where it remains an imported construct, simultaneously referencing its legacy (colonial, product of the Enlightenment etc.) while lending itself equally to the chauvinism of indigeneity. As the inimitable Nivedita Menon so enticingly reminds us, "a nation is a daily plebiscite" . Gopal Guru outlines for us the spaces between the nation, the state (which he holds is an 'essence'), and the government (a functionary mechanism of aforesaid essence) in his own 'open lecture' at JNU on February 17th, cautioning us against the co-option of these categories by a Centre which is attempting to assert a monolithic narrative upon what it means to be Indian today.
From saffronisation to the 'rainbow nation', both imagiaries are found wanting in their ability to answer the unavoidable questions posed by young people on either side of the Indian Ocean.
Concluding Thoughts
It would be ridiculous however to think of 'the youth' as an undifferentiated mass. This far and no further, our students seemed to say yesterday, when we spent the day in classes and sessions turned over to analyzing the present moment. It was impossible for some of them to move past the rhetoric which cast slogans against India's territorial integrity as 'anti-national'. This meant that we heard, in the same breath, "I believe in freedom of expression and the right to dissent, but" – and there was always a 'but' – "how can I possibly support something that cuts at the heart of the country I live in?" or "how can I get behind a bunch of students who attempt to turn a terrorist into a martyr?" oblivious to how 'terrorist' and 'martyr' are also constructs located in contexts of lived oppression, state tyranny, and the loss of that very mythical beast we seem unable to move beyond, a 'homeland'.
The issues we raise in this piece are ones which have long lingered in the 'political unconscious' of both South Africa and India. That they have now arisen because of happenings in universities long deemed to be conveyor belts for social mobility alerts us that we cannot pretend that these issues are not interconnected with the ongoing struggle waged daily by marginalized groups to make the 'daily plebiscite' meaningful. We mean to respond to this call to pay attention, and moreover, to meaningfully contribute to the conversation of the means by which we will become post-colonial. The abstract imaginings of nation are being made and remade. On Tuesday, February 23rd, the Joint Action Committee for Social Justice has put out a nation-wide call to march from Jantar Mantar, to end caste discrimination in educational institutions. In South Africa, student protests for full and equal access to education combine with labour movements. As we walked back from the 'open dialogue' initiated by our students last night, what stayed with us was the notion that freedom cannot be given or apportioned by the state or any other body: what students in South Africa and India are showing us is that it can only be occupied.
---
Harmony Siganporia calls herself an academic mongrel, and draws from her training in culture studies, literature and social history. Nosipho Mngomezulu is an anthropologist interested in youth identification practices and nationhood.
---
For more, see:
http://indianexpress.com/article/india/india-news-india/jnu-row-feb-9-and-after-authorities-present-their-side-of-story/#sthash.NtlimtYN.dpufhttp
://www.theguardian.com/commentisfree/2013/feb/10/hanging-afzal-guru-india-democracy
http://scroll.in/latest/803832/jnu-row-live-supreme-court-refuses-to-hear-kanhaiya-kumars-bail-plea
https://www.facebook.com/RhodesMustFall/?fref=ts
http://www.unipune.ac.in/snc/cssh/HistorySociology/A%20DOCUMENTS%20ON%20HISTORY%20OF%20SOCIOLOGY%20IN%20INDIA/A%202%20Crisis%20in%20sociology/A%202%2004.pdf
http://www.dailyo.in/politics/jnushutdown-delhi-police-shehla-rashid-nivedita-menon-ayesha-kidwai-kavita-krishnan-abvp-afzal-guru/story/1/9064.html