We had a conversation with Delhi band The Pilgrim. We talked about inspirations, fellow musicians and minimalism.
From a jam band at SPA to winning the first ever battle of the bands in 2013 to working with the legendary Miti Adhikari, what does 2016 look like for The Pilgrim?
2016 looks to be more promising than ever. We are waiting to record at least 5 more songs which would complete our album, early this year.
How did the underground scene shape you guys individually and as a band into who your guys are today?
We are not so sure of what the underground scene is, and how it is too different from the rest of the scene. But we started out by playing with another band called Temur Gang at SPA and other small shows. Having like-minded people around made it possible for us to share ideas, music related or otherwise, outside the band. We practically jammed together with Temur Gang. We weren't competitors and it helped both of us have a good time.
There's elements of disco, swing and rock n roll, was they ever a set sound in mind, when y'all hit the studio?
We just work with whatever equipment we own, which is minimal at best. Yes we figure out what we want it to sound like during jam sessions and refine it in the studio. Having a MIDI synth used like any other analog instrument makes our rock and roll jam band style more exciting. Our sound keeps evolving and we make sure everybody knows about each other's current listening lists. After all these years we've learned to think in unison..:) We feel like a seasoned football team.
What does your sound mean to you? Where do you find inspiration for the music you create?
Our sound is an extension of ourselves, while operating within the limits of our equipment. Our current set of songs is, perhaps, the Delhi avatar of The Pilgrim, full of rampant energy and chaos. We do feel like pulling at our hair and screaming loud at our jams, after a day in the city.
It's not too hard to find inspiration when you enjoy doing something and there's nothing more in our daily lives that we enjoy more than making music.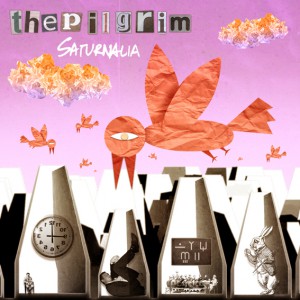 You guys have constantly experimented with an audio visual, give us an insight into the ideology behind that?
We work with in association with our friends at Jobless Studios films for our videos. They filmed a couple of our live shows earlier and also helped us make our first music video for 'Special Case of Love'. Our live audio visual journey has just started. It'll take a while before we get out ideas in place. We are going to try out our ideas out show by show.
You guys have a very DIY aspect to what we see and hear, tell us a little more about your approach to the music and videos that we see as The Pilgrim.
We do it ourselves at the moment as it's the only way to get things done and we get to keep our creative control intact. We enjoy collaborating with people, be it cartoonists, filmmakers, or other artists. Bringing them into the fold and giving them a bit of The Pilgrim spirit makes it great fun for all of us. They become a part of the band. We had been discussing ideas with Smanla Dorje Nurboo from JS films for about two years before the Special Case of Love music video got made. It's like now he's one of us.
Tell us about crew, the guys behind your success?
Anju Wakhley and Abeer Murtaza have regularly worked with us for live photographs.
You can follow the band here: www.facebook.com/shout.pilgrim